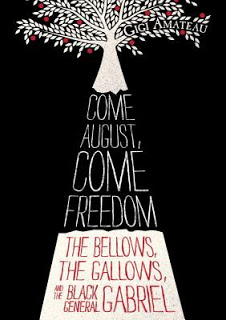 By Gigi Amateau
While writing my first historical novel, Come August, Come Freedom: The Bellows, The Gallows and The Black General Gabriel (Candlewick, 2012), I scoured primary and secondary sources for a self-guided crash-course on eighteenth-century blacksmithing.
Court documents at the Library of Virginia describe how my main character, Gabriel, used his blacksmith forge to ready the countryside for a slave insurrection. Testimony told how Gabriel and his brother, Solomon, turned scythes for cutting hay into double-edged swords for slitting men's necks. In this way, the forge at Brookfield Plantation became the command center for Gabriel's Rebellion during the summer of 1800.
In my research, old books and instructional videos brought the workings of the blacksmith forge to life. The hiss of the bellows keeping the fire hot. The clear strike of the anvil – an annunciation to the village that the smithy was open. The atmosphere of darkness-in-daytime to show the intensity of the fire and the true color of the ore. Stacks of old horse shoes and scrap iron piled up outside the forge for later repurposing.
Eighteenth and nineteenth-century blacksmith logs showed the comings and goings of the men of Richmond. The forge was crucial to every business and domicile in the city.
An aide bringing in his Excellency's horse for two new shoes. Doctor William Foushee – a member of the courts of oyer and terminer that tried Gabriel for hogstealing [sic] in 1799 and insurrection in 1800 – bringing his horse to be shod. And thousands and thousands of nails for the growing city.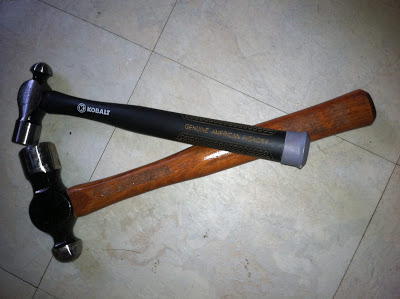 Ball peen hammers
As much as these amazing sources taught me, understanding Gabriel's
trade seemed crucial to understanding Gabriel himself. What did it feel
like to fire and bend iron? How did fire change this man in body, mind,
and spirit?
In blacksmithing and metalwork classes, I used fire, clamps, an anvil, pliers, and a ball peen hammer to bend, twist, draw, upset, taper, and smooth iron and copper. I used water to set the changes.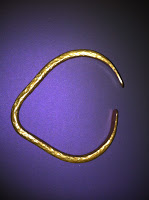 Copper bangle bracelet
In the course of just twenty or so hours of classes at The Visual Arts Center
here in Richmond, I burned myself a few times, misjudged my strike
often, grew a big blister on my thumb, and watched callouses start to
emerge on the pad of both palms. For most of those hours, I was slow and
awkward with my hammer. Too tentative, then too hard.
The best job I finished was a bangle bracelet for my husband. Eventually, I found a steady rhythm; the metal accepted my strikes, sometimes with resistance and sometimes with surrender. I love how it feels to press a pencil against my middle finger, never releasing until the scene, the page, the story is done. I kept hammering, too, and watched how the fire changed what I thought could not change. How the water sealed the deal.
This idea that fledged out of hours forging – that fire and water transform together – became an anvil of sorts for drafting the story. My finished product from metalwork class – a strange-looking copper bracelet – mattered little because I learned something Gabriel knew well: Fire changes everything.
Cynsational Notes
Gigi Amateau is the author of Come August, Come Freedom: The Bellows, The Gallows and The Black General Gabriel, a work of historical fiction for young adults (Candlewick, 2012), selected by SIBA as a Fall 2012 Okra Pick.
She also wrote the young adult novel, A Certain Strain of Peculiar (2009), a 2010 Bank Street College Best Children's Books of the Year and Chancey of the Maury River (2008), a William Allen White Masters List title for grades 3-5. Her debut novel, Claiming Georgia Tate (2005) was selected as a New York Public Library Book for the Teen Age. All three of these novels were published by Candlewick.
She was born in northeastern Mississippi and raised in Mechanicsville, Virginia, just outside of Richmond. A graduate of Virginia Commonwealth University with a degree in Urban Studies and Planning, she worked for nearly twenty years in Richmond's non-profit community.
Gigi lives in Richmond, Virginia with her husband and daughter.
See also Author Interview: 20 Questions with Gigi Amateau from There's a Book.
Cynsational Giveaway
Enter to win one of three copies of Come August, Come Freedom: The Bellows, The Gallows and The Black General Gabriel by Gigi Amateau (Candlewick, 2012). Publisher sponsored. Eligibility: U.S. only.