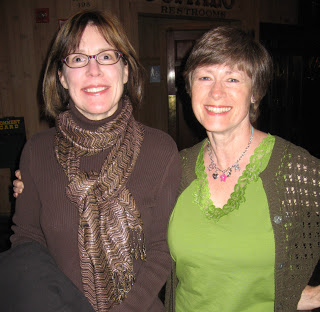 Joan and Suzanne
A high concept book/series hook should be original, unique, and have wide appeal. It's a fresh spin on a universal situation or premise. The best hooks will cause others to think, "Wow. What fantastic idea. Wish I'd thought of it."
Joan Holub and I had already written and published the first half-dozen books in our Goddess Girls series (Aladdin, ages 8-12) when we decided to try writing another Greek mythology-based fiction series.
We wanted to aim this new, concurrent series at both boys and girls, and at a younger audience. We already knew our subject—Greek mythology. And we knew our demographic—boys and girls ages 7 – 11.
But what would our series hook be?
Honestly, we didn't know.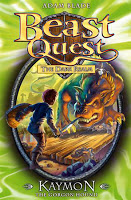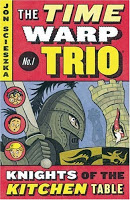 We discussed some existing adventure-fantasy chapter book series that we enjoyed or that booksellers had told us were popular with our demographic, such as Beast Quest and Time Warp Trio.
The fast-paced adventure and short chapter book length appealed to us. "We can do that," we said.
Each book in our Goddess Girls series is loosely based on one or two existing Greek myths. We knew from the outset that we wanted to do something similar with our new series, Heroes in Training.
Next, we brainstormed our main characters, choosing a ten-year-old Zeus as our main character. After all, he's king of the gods and ruler of the heavens! Who could possibly be more intriguing?
Our secondary characters would be other Olympians: Poseidon, Hades, and Hera, for example, all the same age as Zeus.
So now we knew our general subject, our demographic, desired book length and reading level, main characters, and that we wanted the books to have lots of fast-paced adventure. "They've got to be funny too," we said. (We like to laugh when we write, and kids like to laugh when they read.)
Still, we didn't have a firm series hook. It was time for a marathon phone call.
We talked for two hours and came up with: the Titans vs the Olympians. King Cronus and his Titan henchmen vs ten-year-old Zeus and the other Olympian boys and girls.
The hook is unique and a fresh spin on a universal topic (Greek mythology) because our series' Olympians are all ten-years-old, yet they're pitted against an army of adult Titans.
Cronus and his evil henchmen—an army of half-giants and Titans, and various "Creatures of Chaos"—pursue our young "heroes in training" from one book to the next as they recover magical items (a magical lightning bolt, for example), solve a dangerous problem in their universe, and rescue their fellow Olympians from the clutches of their enemies.
Here's how we stated our overall series goal in the proposal we sent our publisher:
When he pulls a magic thunderbolt from an encrypted stone, ten-year-old Zeus discovers his destiny as King of the Gods. He goes on a quest to rescue his fellow Olympians (who've been imprisoned in various realms) in order to defeat the ruling Titans, thus halting their plans to dominate the world and reign havoc on mortals.
We included the following in our series proposal:
Series title and titles of individual books (publishers occasionally change titles)
Genre, age group, reading level, length of individual books
Overall series synopsis (1/2 page, includes your hook)
Overall series synopsis (1-3 pages)
Main characters (individual descriptions, about ½ page each) Synopses of individual books (we usually aim for four books)
–first three chapters of book one
If you've never written a series before, you'll likely need to submit an entire first book manuscript along with synopses (one-to-three pages in length) for other proposed books. Most series start with two-to-six books and build from there.
Does your series absolutely need a high-concept hook? Not necessarily. The appeal of some books is only evident upon reading and cannot be understood by a three-sentence statement of premise.
But if you can write a wonderful book/series that is also high-concept, you'll likely hear, "Wow! What a fantastic idea!" And even more importantly, you'll soon have lots of happy young readers!
About the Heroes in Training Series
The terrible Titans—merciless giants who enjoy snacking on humans—have dominated the earth and put the world into chaos. But their rule is about to be put to the test as a group of young Olympians discover their powers and prepare to righteously rule the universe….
Cynsational Giveaway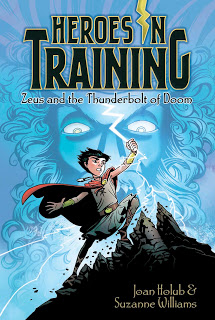 Enter to win a copy of Zeus and the Thunderbolt of Doom (Book One of the Heroes in Training Series) by Joan Holub and Suzanne Wiliams (Aladdin, 2012) From the promotional copy:
Life on the Greek Island of Crete is mega-boring for ten-year-old Zeus. Except for the stormy days when sizzling lightning blots chase him around. He's been zapped dozens of times! He'd like to escape those pesky electric shocks. And he also longs for adventure.


Zeus gets his wish–and more than he bargained for–when he's kidnapped by three half-giants—henchmen of the evil King Cronus. After braving a terrifying ship ride, constant threats of becoming snack food, and some oversized, boy-pecking birds, Zeus finds himself in a showdown with an entire army of half-giants. He grabs the first thing he sees to defend himself from a nearby stone—which turns out to be a thunderbolt with a mind of its own! With the help of the annoying Bolt and a talking stone amulet, young Zeus sets off on the adventure of a lifetime: a journey to find his destiny as King of the Gods.
Publisher sponsored. Eligibility: U.S./Canada.