By Jeff Crosby and Shelley Ann Jackson
Being an outsider can be a terrifying experience, but it's something we've all felt at one time or another.
In Ballerina Swan (Holiday House, 2012), Sophie the swan has a burning desire to become a ballerina, but is, of course, an outsider in the ballet studio.
Written by famed ballerina Allegra Kent, Ballerina Swan is a clever twist on the idea that ballerinas desire to emulate swans.
This wonderful story about following your passions is complimented by illustrations filled with movement and emotion by Caldecott Medal winner Emily Arnold McCully.
As illustrators ourselves, we were thrilled to have the chance to ask Ms. Arnold McCully a few questions about the making of the book.
It is very common in children's book publishing for an author and an illustrator to have no contact while the picture book is being created. We're wondering in this case where the author has such expertise on the subject, did you interact with Allegra during the illustration phase of the book? Did she proof the sketches for accuracy? What other reference did you use?
I looked at photographs of New York City Ballet children's classes and others but did not visit a class myself. I wanted to convey enthusiasm, dedication and intermediate skill in the pictures.
I did not consult Allegra, but was anxiously aware as I made sketches that she would have to approve them. She made a couple of suggestions and one adamant request for change (a leg position). To my relief and joy, she was generally very happy.
One fabulous photo I came across showed Pavlova and company dancers posing in a swannery in Britain—swans all around them.
The movement and gesture in your characters is wonderful—and a perfect complement to the subject matter of Ballerina Swan. As illustrators, we know how hard these elements can be to achieve. What methods do you employ to keep your illustrations fresh and lyrical?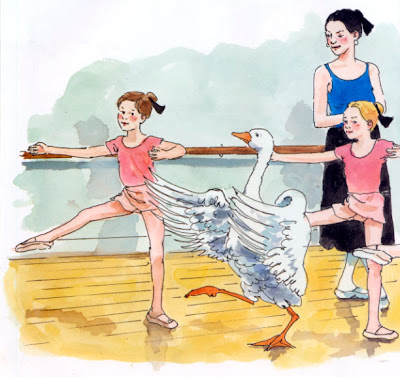 Featured with permission.
The look of spontaneity, "freshness," is the quality I care about most. To achieve it, I make rapid sketches and refine them by tracing. That way I can retain the lines I like without laboring over them. It's a technique I learned as a nine-year-old from a venerable illustrator named Paul Brown, although he didn't use tracing paper but rather plain bond.
I love to draw and arrived at my methods by practicing over the years—I have no academic training.
You have spoken very passionately in interviews about the importance of artistic expression in the world and of dance being possibly the oldest and most instinctive of art forms. You obviously express yourself artistically in a visual way…do you also dance?
I read somewhere that passionate dance audiences have the feeling that they themselves are dancing, even if they are untrained. I feel that way, watching dancers and listening to music. I try to transmit the feeling in my drawings. But no, I don't dance, except socially. I've always been an athlete.
There are intriguing illustration decisions throughout the book, and we wonder if there are any back stories to them that you'd like to share. For example, Sophie appears to be a Coscoroba swan, without the typical black mask that we visualize when we think of a swan. Was this a symbolic decision or perhaps done for simplicity's sake?
Yes, I decided against the black mask because it made Sophie look too sophisticated—even calculating. I was a little nervous about accuracy (as with the dancers) but the editor assured me that this book is fiction and I could do whatever I wanted.
The pianist is quite a character—is she inspired by a real person?
The pianist is a necessary counter to the homogeneity of the children's costumes and the general blandness of the room. There is no person who inspired her.
Is the pigeon who watches Sophie from the windowsill a ballerina at heart, too?
The pigeon is a neighborhood busybody, come to see what has gotten Sophie into.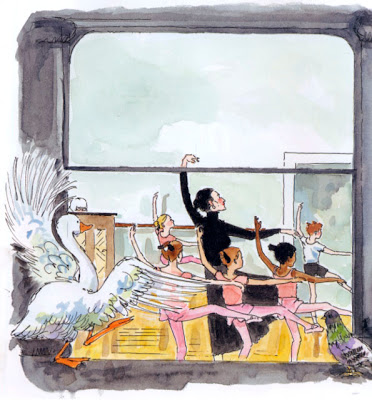 Used with permission.
We look forward to seeing your next project! What are you working on now?
I am working on some early readers for Holiday House—a pig who refuses to eat his mother's green slop; ducklings washed down a drain and pursued by their mother. Also a picture book about Strongheart, the first movie star dog, who paved the way for Rin Tin Tin.
Soon to appear: two YA books: a biography of the muckraker Ida M. Tarbell and a fictionalized youth of Sacagawea's son, Jean Baptiste Charbonneau.
Cynsational Notes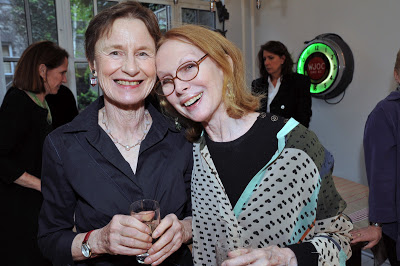 Emily & Allegra
Emily Arnold McCully was born in Balesburg, Illinois and raised in Long Island, New York. At
a young age she decided to become a naturalist and inspired by her
hero, John Muir, kept notebooks of her writings and drawings. Her keen observation of the world around her no doubt helped her to become the award-winning illustrator that she is today.
Of the many prestigious awards she's received are the Caldecott Medal for Mirette on the High-Wire (Putnam, 1992) and the Christopher Award for Picnic (HarperCollins, 2003).
Emily holds a bachelors degree from Brown University and a masters in art history from Columbia. She currently lives in New York City and Chatham, New York. Emily has two grown sons.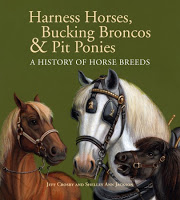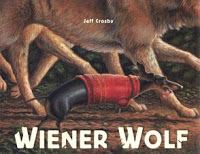 Jeff Crosby and Shelley Ann Jackson are husband and wife author/illustrators who work both individually and collaboratively.
The couple's love of dogs inspired them to write and illustrate their first collaborative picture book, Little Lions, Bull Baiters & Hunting Hounds: A History of Dog Breeds, recipient of a non-fiction research grant from the Society of Children's Book Writers and Illustrators and winner of ForeWord Magazine's 2008 Juvenile Nonfiction Book of the Year award.
Jeff's Wiener Wolf was recently selected for the Texas Library Association's 2 x 2 Reading List. The couple's most recent joint project is Harness Horses, Bucking Broncos & Pit Ponies: A History of Horse Breeds. Jeff and Shelley live in Austin with their daughter Harper and three dogs.
In the video below, join Allegra inside the Holiday House library with her editors Grace Maccarone and Pam Glauber to discuss Allegra's first picture book, Ballerina Swan.