Andrew says: "I'm an associate editor at HarperCollins Children's, having come over from Penguin Young Readers last summer.
"I started working at Penguin immediately after graduating from the University of Chicago — my family drove back to Georgia loaded down with my possessions while I flew up to New York with a smile and a suitcase.
"That more or less set the pace for what working in New York would always feel like."


What kind of young reader were you?
I started with big, sweeping classics because they were worth the most accelerated reader points and because I so enjoyed getting lost in other worlds — I never wanted the books to end!
When I described this problem to my savvy local bookseller, she pointed me to the Redwall books in the children's corner. "These books never end," she said.
I became obsessed with Redwall and other fantasy series — Lord of the Rings, Wheel of Time, Diana Wynne Jones…I even wrote Redwall fan fiction, although thankfully it's no longer online.
What inspired you to make children's-YA book editing your career focus?
I studied German and philosophy in college, but I spent my downtime in the kids' section of 57th Street Books, desperately seeking respite from the often dour, heady reading I was doing for class.
When I spent a summer in Germany, I found myself in the kids' sections there, too, devouring books that were both fun and foreign-reader-friendly. I became very interested in what German kid lit had to say about German culture (and as a fantasy reader, German kid lit is a treasure trove), and this enjoyable critical thinking turned me onto the idea of children's books as a career.
What do you see as the role(s) of an editor in the publishing process?
Definitely roles, plural. First and foremost, my role is to help my authors tell their stories in the clearest, most engaging way possible. And since editing is always a conversation, never just a red pen, that one step involves a lot of communication.
After that, my role is to share my enthusiasm for projects within my house, so that my house in turn can share that enthusiasm with the world. Then, I remain the liaison between my authors and my house, making sure that we're doing everything we can for each book, getting it into the hands of the right readers.
What are its challenges? What do you love about it?
Challenge #1: There are only 24 hours in each day. I wish I could offer thorough feedback to every author I meet, because truly, I've met so many talented authors, but if you couldn't tell from that last question, there is so much to do for the books already under contract that my job is frequently a herculean balancing act.
What I love most is helping authors discover new things about their own writing, whether it's a particular strength they hadn't realized or a recurring motif they've repeated unconsciously.
I also love seeing the reactions my authors get from kid readers. I've seen letters from parents and kids who say that a book I've worked on has changed their life, and let's be honest, that feeling never gets old.
If you could go back to your pre-editor self, what advice would you give him?
Master yoga. You'll need it later, and even the evening classes won't fit into your schedule.
What sort of manuscripts are you interested in and what about that type of book appeals to you?
I work exclusively on middle grade and young adult novels.
In middle grade, I love series with expansive world-building and offbeat characters. If I need charts, graphs, and encyclopedias to edit it, I'm there. I'm also drawn to off-kilter humor and books with macabre sensibilities, like Coraline (HarperCollins, 2002) or A Tale Dark and Grimm (Dutton, 2010).
I'm a genre guy in YA, too, from horror and thrillers (I was a Lois Duncan fanatic in middle school) to slipstream and fantasy. My favorite YA writers are the ones who clearly value every single word, and who know that "young adults" and "older kids" are not the same thing at all.
Could you tell us a bit about your latest and/or upcoming books?
I have the privilege of working with career funny-man Chris Grabenstein on a series called Riley Mack and the Other Known Troublemakers, the first of which just came out this month. It's a caper comedy that we're describing as "'Ocean's 11' for tweens," and it makes me laugh every time I read it.
The first series I signed up myself at Harper is called Case File 13, and volume one, Zombie Kid, goes on sale next January. I wish I could go back and give it to my 10-year-old Goosebumps-loving self.
What books, along the lines of those you publish, would you recommend for study?
Diana Wynne Jones' writing defines my idea of good plotting, with character arcs, subplots, and minor details all coalescing into climaxes that will boggle your mind every time. Kelly Link's twisty, razor-sharp prose consistently sets my brain on fire, and I can't think of higher praise than that. Dan Gutman, whose My Weird School books I have the privilege of working on, makes the most brilliant and hilarious wordplay seem effortless. I'd start with them.
What other recommendations do you have for writers interested in working with you? With your house?
Write the story that sets your brain on fire, not the story that you think will sell.
What are pitfalls to avoid?
A common pitfall I see is an overly ornamented voice undercutting what might otherwise be a good story. I attribute this to the legacy of writers like Roald Dahl, J.K. Rowling, and Lemony Snickett, who can pull off that sly wink to more sophisticated readers while still giving us characters we can care about.
To be clear, I love those authors' books, but that kind of arch storytelling isn't inherently interesting to my mind, and often I see writers get lost in their clever language to the detriment of their plots and characters.
As a reader, so far what are your three favorite books (not including your own) of 2012 and why?
As much as I've talked about middle grade, my three favorite books so far this year are all YA:
1. The Fault in Our Stars by John Green: Read with a box of tissues, and prepare for a paradigm shift. It's a book you'll finish and then immediately call everyone in your phone to tell them how much you love them.
2. Black Heart by Holly Black: When you read for a living, it's rare for a plot to surprise you, but every book in this Curseworkers series has been truly unpredictable. And Holly Black pulls off an incredibly difficult feat in creating a world populated almost entirely by anti-heroes who all manage to be likeable despite their grievous shortcomings.
3. Bitterblue by Kristin Cashore: Cashore is a master of weaving complex mysteries rooted organically in complex characters, and this third book in the Graceling series takes the "sins of the father" theme of the first two books to all new heights. Not since high school has a book made me forget to eat, but during the weekend I spent reading this, I'm pretty sure I stopped existing in the real world.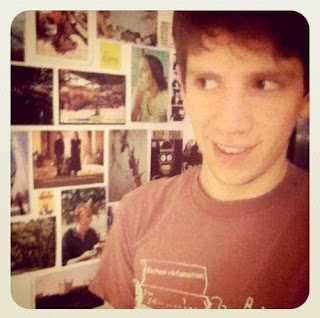 Twitter pic shows off one of Andrew's signature collages.