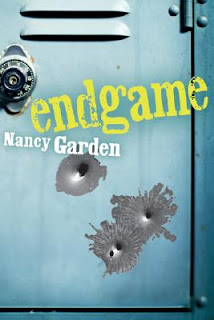 Learn about Nancy Garden.
What first inspired you to write across forms in children's-YA literature?
I'm not sure anything in particular did. I think the ideas came first, and they dictated the form and the age level.
I don't think I ever sat down and said, "Now I'm going to write a mystery," for example, or "Now I'm going to write a nonfiction book–what shall it be about?"
Once an editor asked me write a middle-grade book about a kid with two moms, and I did (that editor didn't publish it, though another one did!). But I'd been thinking about doing that anyway.
As far as my books about LGBTQ characters and issues are concerned, however, I did decide to write a picture book because I felt there was a need, and I've felt that about other areas as well–so perhaps I should say that sometimes a perceived need sometimes leads to a form.
I should also say that the desire to write an occasional adult novel is usually with me, but only once has that materialized in an actual published novel (Nora and Liz (Bella Books, 2002)). Ideas for adult books rarely occur to me, and when they do, they rarely stick with me for enough time to make them feel viable. So the story idea (or subject, since I've written a little nonfiction, too) is more important, and I think that's really always true.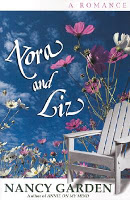 What have you learned from writing in a variety of formats?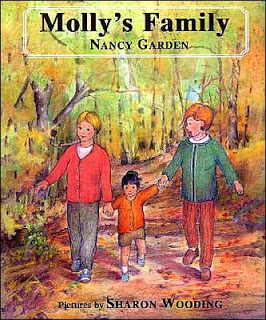 That's an intriguing question!
When I wrote my (so far!) only picture book, for example, Molly's Family, illustrated by Sharon Wooding (FSG, 2004), I had to concentrate so much on learning how to do it that I didn't think much at first about what I was learning that would be useful elsewhere.
But I know it helped me become even more conscious of the need for economy in all other forms, for I tend to be, er, longwinded. Short stories help me practice that skill, too. Writing fiction I think helps anyone who writes nonfiction, especially nonfiction for kids. At least it helps one try to make nonfiction vivid.
Here's another thing: I haven't written much in play form, but I did a little when I was just starting out and I did work on revising a script someone else wrote. And I have an extensive theater background, mostly in acting, directing, and lighting design.
My directing experience in particular has I know helped me with scenes in novels or stories that involve several characters at the same time, and my acting experience has helped me develop characters, for, as an actress, I used to write an "autobiography" of each character I played, and I usually do that with main and important other characters in novels as well.
What do you think about the pressure on authors to brand themselves by writing a certain kind of book?
I don't like it much; it's like typecasting in theater. I'm known primarily for writing LGBTQ YAs, and in a way, that's been very helpful to me, and of course in many ways I'm proud of being know for it. But I fear my other books have suffered, because reviewers, especially, and perhaps some publishers as well expect me to write only LGBTQ books.
Don't get me wrong; those books are very important to me! But so are the others that I write!
Cynsational Notes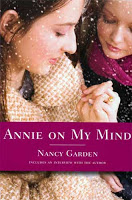 From Two Lives, "Nancy Garden is the author of around 35 books for children and young adults, a number of which have to do with gay and lesbian kids and families. She and her partner divide their time between Massachusetts and Maine."
In 2007, FSG published the 25th anniversary edition of Nancy's groundbreaking YA novel, Annie on My Mind (1982).
From FSG: "Of the author and the book, the Margaret A. Edwards Award committee said, 'Nancy Garden has the distinction of being the first author for young adults to create a lesbian love story with a positive ending. Using a fluid, readable style, Garden opens a window through which readers can find courage to be true to themselves.'
"The 25th Anniversary Edition features a full-length interview with the author by Kathleen T. Horning, Director of the Cooperative Children's Book Center. Ms. Garden answers such revealing questions as how she knew she was gay, why she wrote the book, censorship, and the book's impact on readers – then and now."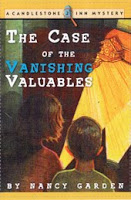 Nancy's recent releases include The Case of the Vanishing Valuables (Candlestone Inn Mystery #2), illustrated by Danamarie Hosler (Two Lives, 2010)(ages 7-up). From the promotional copy:
A new group of guests has checked into Candlestone Inn, and the Taylor-Michaelson family – Nikki, Travis and their moms – have their hands full with their innkeeper duties.
When valuable objects start disappearing, Nikki and Travis start investigating – is it one of the new guests, the new maid, or could it be – a ghost?
See also The Case of the Stolen Scarab (Candlestone Inn Mystery #1)(Two Lives).
The Writing Across Formats interviews were originally conducted in support of a keynote address by Cynthia Leitich Smith at a fall 2009 SCBWI-Illinois conference.