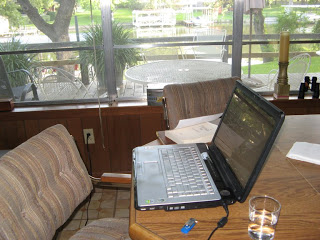 I joined three fellow Austin writers–Bethany Hegedus, Julie Lake, and Donna Bowman Bratton–last weekend for wonderful writing retreat at Donna's family's lake house in Kingsland, Texas.
It's about an hour and twenty minutes northwest of Austin–a nice, sunny drive.
We settled in Friday night over homemade spaghetti and caught up on each other's news.
Here's the sun room where I spent all day Saturday working on the Eternal graphic novel (Candlewick, forthcoming). I was at the computer early, and we all put in a full day.
It's soothing to be away from the distractions of home–the ringing phone, the pile of laundry, the pressing errands to run. Adios, Internet!
Being at the lake house was extraordinarily productive and yet restful.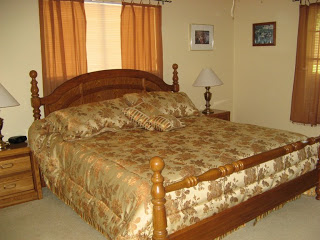 I didn't snag a lake-front room, but I did end up in the California King with a private bathroom. And I wouldn't have had it any other way. Lakes are spooky at night. Well, at least if you've just listened to Donna's ghost stories!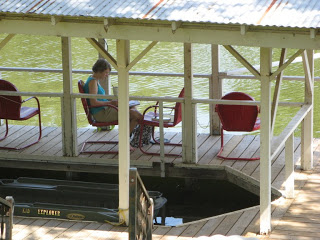 Here's Julie on the pier.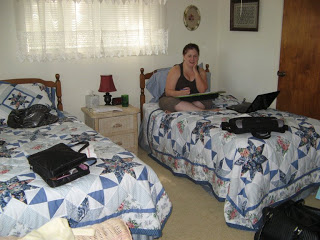 Bethany in her bedroom.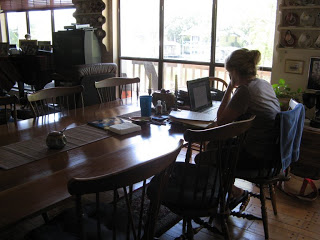 and Donna at the dining room table. A warm and gracious hostess, Donna treated us to pancakes, yogurt, blueberries, strawberries, bacon, the ultimate deli sandwich spread….
Spoiled. She absolutely spoiled us.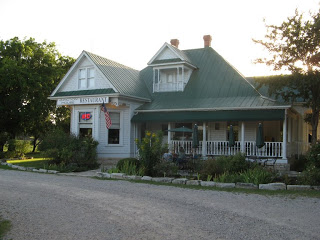 On Saturday night, we indulged in a well-deserved dinner at the Junction House Restaurant. I had the grilled shrimp and catfish combo.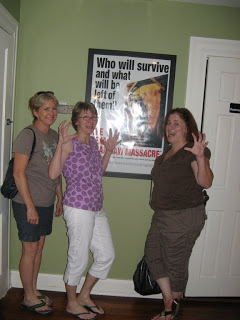 Some of you may remember the house from "The Texas Chainsaw Massacre."

Sunday morning, we read in turn from our works in progress.
In the absence of illustrations, I was a bit baffled as to how to do a reading for a graphic novel. Finally, I decided to provide my own drawings for clarity and held up each to correspond with the applicable character dialogue. Pictured above are Zachary, Radford, Harrison, and Freddy from Eternal (Candlewick, 2009, 2010).
No worries, the incredibly talented Ming Doyle is illustrating the actual graphic novel adaptations of the series.
Cynsational Notes
Envious of our writing retreat? You don't have to be!
Donna's family is open to renting out the lake house–which sleeps six-to-eight–on a word-of-mouth basis to members of the children's-YA writing and literature community. Write her directly for more information.