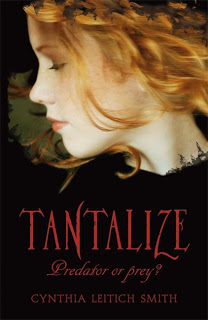 Tantalize is now available in paperback from Walker U.K.! The cover is almost the same except that it includes the "Predator or Prey" kicker.
Here's the Walker U.K. version of the flap copy:
Terrific teenage gothic novel – vampires and werewolves abound!
Orphaned and in her uncle's care, fiercely independent Quincie may be the most over-achieving high-school student around, but even she has her hands full with a hybrid-werewolf boyfriend and the opening of Sanguini's, her hip vampire-themed restaurant, which turns out to have way more bite than she'd intended.
Cynsational Notes
Thank you to YA urban fantasy writer Karen Mahoney (Karen's LJ) for sending the photo below of Tantalize live in the U.K.! This shot was taken at Borders on Oxford Street in London. Tantalize is also available in paperback from Walker Books Australia and New Zealand (2007).