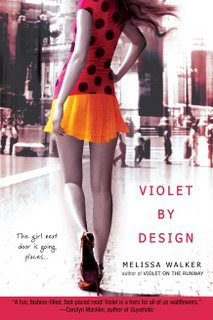 Enter to win one of three copies of Violet by Design by Melissa Walker (Berkley Jam, 2008).
From the promotional copy: "I was going to get out of the modeling business for good.
"But now I'm having trouble sticking with my decision. After all, if it weren't for modeling, I might still be the invisible wallflower. Hot guys like Paulo wouldn't be interested in me. And I'd never have seen Brazil or Spain–and now France! On the other hand…
"I also wouldn't have to choose between my best friend from home and my agent's shrill demands. Or anguish over my body the way only runway models do. Not to mention all this trouble I'm getting into for speaking out in the press about eating disorders.
"Maybe the life of an international model isn't for me. But if I quit for good, I might always wonder… What if?"
To enter the giveaway, email me with your name and snail/street mail address by 10 p.m. CST May 20! Please also type "Violet by Design" in the subject line. One copy will go to a YA librarian (please indicate if you are one in your entry email). Good luck!
Reminder
The Cynsations grand-prize May giveaway is an autographed paperback set of all three of Lauren Myracle's New York Times bestselling Internet Girls novels (in chat-room-style writing)–ttyl, l8rg8r, and ttfn, all published by Amulet!
Read a Cynsations interview with Lauren. Read Lauren's blog, and visit her at MySpace!
To enter the giveaway, email me with your name and snail/street mail address by 10 p.m. CST May 31! Please also type "Internet Girls" in the subject line. Note: one autographed set will be awarded to any Cynsations YA reader.
For Authors
Source: Jennifer Echols:
More News & Links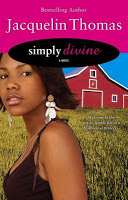 Faith in Fiction by Carla Sarratt at The Brown Bookshelf. Peek: "Within African American Christian fiction, there are several well known authors including Jacquelin Thomas, Kendra Norman Bellamy, Michelle Andrea Bowen, Vanessa Davis Griggs, and Reshonda Tate Billingsley." Read a Cynsations interview with the founders of The Brown Bookshelf, and join the new Brown Bookshelf Forum at MySpace!
The Power of Family Conversation: School and community programs help parents build children's literacy from birth by Laura Pappano from Harvard Education Letter. Peek: "Mounting research that links language-rich home environments with reading success and school achievement is driving educators and community groups to target families long before children register for school." Source: Pen Weekly NewsBlast.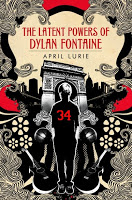 Congratulations to April Lurie on the release of The Latent Powers of Dylan Fontaine (Delacorte, 2008)(excerpt)! Read a Cynsations interview with April!
Blogging helps encourage teen writing: Survey reveals that student bloggers are more prolific and appreciate the value of writing more than their peers from eSchool News. Peek: "Forty-seven percent of teen bloggers write outside of school for personal reasons several times a week or more, compared with 33 percent of teens without blogs. Sixty-five percent of teen bloggers believe that writing is essential to later success in life; 53 percent of non-bloggers say the same thing." Source: Pen Weekly NewsBlast.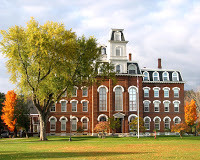 "New Vermont College of Fine Arts is almost ready to take over Union Institute" by Sarah Hinckley from the Barre Montpelier Times Argus. Peek: "The three masters of fine arts programs being purchased from Union Institute and University are in Writing, Visual Art, and Writing for Children and Young Adults. They range in age from 10 to 25 years and have produced several published authors and award-winning works." Note: congratulations to the administration, my fellow faculty members, students, and our partners! Thank you to all who contributed to the establishment of our new college!
Kids' Comics: this blog "is an online publication of RAW Junior, LLC, publisher of the Little Lit Library and TOON Books. The blog is maintained by Bill Kartalopoulos with contributions from TOON Books artists and authors." Source: Anastasia Suen's blog.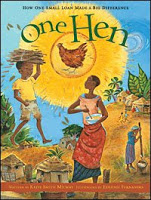 "Child's 'One Hen' Lays Microlending Success" from National Public Radio. Peek: "That part of the story also mirrors Darko's experience: 650 people now work at his farm and he has granted small loans to entrepreneurs such as bakers, dressmakers and traders in his own community. His repayment rate? 98 percent." Note: features One Hen by Katie Smith Milway (Kids Can, 2008). Don't miss the official One Hen website–a model for the best in book sites!
The 2008 Skipping Stones Honor Awards: "recognize 26 exceptional books and teaching resources. Together, they encourage an understanding of the world's diverse cultures, as well as nature and ecological richness. The selection promotes cooperation, nonviolence, respect for differing viewpoints, and close relationships in human societies." Source: Mitali's Fire Escape.
The Nonfiction Author-Illustrator Relationship by Sneed B. Collard III at Interesting Nonfiction for Kids. Peek: "Not long ago, another one of 'my' artists, Joanna Yardley, who lives here in Montana, took an especially daring step." See also "My Tune Has Changed: Writers and Photoresearch" by Tanya Lee Stone.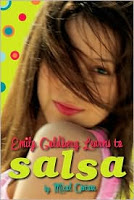 Dialogue: Writing for Children and Young Adults: an interview with authors Linda Urban and Micol Ostow by Carrie Jones from Through the Tollbooth. Peek from Linda: "Longtime friends have a shorthand for things. They speak in private jokes. They tease. They sidestep. They shield." Peek from Micol: "There's always a temptation to cram exposition into dialogue but to do so is to give in to lazy impulses." See also Tami Lewis Brown's discussion this week of showing versus telling and literary time.
Thick-skinned, Thin-skinned, The Skin I'm In: Books about Bullying, Teasing, Relational Aggression and School Violence by Tessa Michaelson from the Cooperative Children's Book Center (2008). Peek: "From books depicting the heartache of gossip and social invisibility to books portraying the struggle of feeling comfortable into one's own skin, these titles will have relevance and resonance with readers." See also BulliesinBooks.com.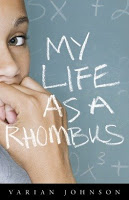 Teacher's Guide to My Life as a Rhombus (Flux, 2008). Note: novel by Varian Johnson; guide by Tracie Vaughn Zimmer. Learn more about Tracie's teacher guides. Need a guide?
Asian American Book List from the National Education Association. Peek: "a bilingual reading list of titles appropriate for K-12 students. The following titles are listed by grade level and include fiction, non-fiction and poetry." Source: NCTE.
The Perfect Blend from Lensey Namioka from Jama Rattigan's Alphabet Soup. Peek: "Lensey's most recent book is a young adult novel called Mismatch (Delacorte, 2006), which I devoured over the weekend. Fifteen-year-old Sue Hua, a Chinese American girl whose family moves from culturally diverse Seattle to a mostly white suburb, falls for Andy Suzuki, who plays violin in the school orchestra. They are seen as an ideal couple since they are both Asian, but this is just one of many misconceptions that are examined and dispelled in the course of the novel."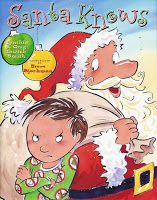 "I'm Talking to You, Corded! The mismatch of technology and picture books" by Erica S. Perl from Slate Magazine. Peek: "And yet there is one place—a whole world, actually—where children are safely walled off from wired and wireless devices. That is the world of picture books." Note: just FYI, my Santa Knows, co-authored by Greg Leitich Smith, illustrated by Steve Bjorkman (Dutton, 2006) featured a more modern take as Alfie takes his campaign to the Web. Source: VCFA.
Attention Austin Writers: author Jo Whittemore will be speaking on "The Great Agent Hunt" at the 11 a.m. May 17 Austin SCBWI meeting at the Barnes & Noble in Westlake, Texas. Read a Cynsations interview with Jo.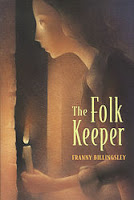 Attention Austin Event Planners: famed fantasy author Franny Billingsley has a particular interest in visiting the Texas Hill Country! Drop her an invite! Check out her newest release, Big Bad Bunny, illustrated by G. Brian Karas (Atheneum, 2008). Read a Cynsations interview with Franny.
Celebrating Young Writers
READ and WRITING magazines present the 2008 Student Writing Showcase. In the Student Writing Center section, check out the honorees. Note: You can hear me read two of them aloud–"Veiled Water" by Nadia Qari and "House at Bodega Bay" by Hari Srinivasan.
More Personally
Attention authors/publicists: interested in submitting a book for Cynsations review/interview consider? See guidelines.
Thank you to Betty Bird and everyone in my warm and enthusiastic audience at the Daughters of the American Revolution–Austin Woman's Club luncheon on Thursday! It was a pleasure to meet y'all. Thanks too for the tour!
On a more dramatic note, Austin is still cleaning up from Thursday's early morning storm.
It hit the center of town between 12:30 a.m. and 1 a.m. with four-inch hail and winds clocked as high as 47 miles per hour.
Trees still block many neighborhood streets (including mine, headed north), three elementary schools were closed yesterday, and up to 40,000 people lost power. More than 3,000 are still without. Here's the latest from the Statesman.
We were lucky, losing only a medium branch and one west-facing second-floor window. West-side windows were hit (and broken) hard across town; at least one east-side apartment complex lost all of theirs. The problem was that the large hail was flying fast and horizontally toward them. If your angle was right, it looked like a blizzard.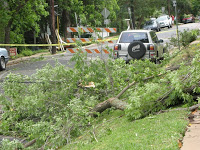 I was on the second floor at the time, rushing to unplug my laptop and grab my flash drive (priorities?) when hail broke the window behind me. We never lost power, though our cable service was out until about 4 p.m. yesterday.
The kitties weathered the storm in their cat carriers in the first floor central hallway, except for Mercury, who was temporarily in hiding and then decided that clinging–claws out–to my shoulders was the only way to go.
Of course many other cities have been hit much worse by spring storms. It appears that none of our funnel clouds actually touched to cause tornado-level damage. From the reports, it appears that our damage was to property–not people. There was time enough to secure animals, etc.
Still, quite a night. See Greg's report and Don Tate's.
Finally
Check out the book trailer for The Gollywhopper Games by Jody Feldman (Greenwillow, 2008)! Read a Cynsations interview with Jody, and learn more about the Class of 2k8!
Don't miss the book trailer for A Difficult Boy by 2k8's M.P. Barker (Holiday House, 2008)!
And take a peek at this new entry for Impossible by YA superstar Nancy Werlin (September, 2008)(author interview):