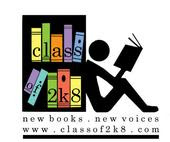 The Class of 2k8 is the home of a group of middle grade and young adult authors, all with their debut novels being published in 2008. Visit the class at MySpace, Facebook, and Jacketflap!
Marissa Doyle on Marissa Doyle: "I graduated from Bryn Mawr College with the intention of being an archaeologist, but somehow that never happened…but I think I've always known that someday I would end up as a writer. I live in Massachusetts with my family, an opinionated pet rabbit, and a collection of books that has strained the joists supporting the second floor of my house. Fortunately, my husband is handy."
Jody Feldman on Jody Feldman: "Imagine an 18-year-old freshman, sitting on a built-in desk, staring out her dorm window, realizing she can't stand her major (psychology) and stressing over what she's going to do for the rest of her life. Picture her mind racing through the list of colleges at the University of Missouri, but pausing every time she gets to their distinguished School of Journalism. Then pausing again and again, knowing she really doesn't love writing.
"Fourteen minutes after I'd first perched on that desk, I hopped off with a new grand plan. I was going into advertising. It turns out that advertising is an amazing background for writing fiction. It turns out I didn't hate writing as much as I thought I did. Fast forward past lots of ads, three works-for-hire, and a guidebook to St. Louis. And here I am, still in my native St. Louis, but with a whole new career ahead of me."
Congratulations on your debut novels! Could you tell us about your books?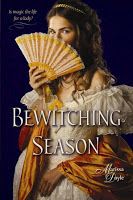 MD: I'm never sure how to categorize Bewitching Season (Henry Holt, 2008), so I stick to just calling it a YA novel…but it's set in 1837 London and features a pair of twin sisters making their debuts in society (which means they were entering the aristocratic marriage market) who end up rescuing their kidnapped governess and the soon-to-be Queen Victoria from an evil plot to control the British throne. "YA novel" is ever so much easier to say than "coming of age-historical-romantic-fantasy."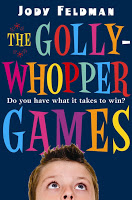 JF: I'm like Marissa in that I never knew how to categorize The Gollywhopper Games (Greenwillow, 2008)…until my publisher had associated it with the word, "interactive." So I'll stick with that and add two words of my own: contemporary interactive adventure. The Gollywhopper Games of the title is a once-in-a-lifetime event that starts with 25,000 contestants and narrows to one winner. What separates the players from the amazing grand prize are puzzles, brainteasers, and physical stunts. (Readers, if they choose, can play along.) Gil Goodson, son of a disgraced ex-employee of the sponsoring company, feels that winning the Games is his chance not only to win the prize, but to find a new life for his family.
When did you find out about your first sale? What happened? How did you celebrate?
MD: My agent had let me know that my editor-to-be was very interested in Bewitching Season shortly after the book was submitted, so the sale was more like the tide coming in than a tsunami. We had sent the book out for submission in early November, which of course meant that the holiday season was coming…and then, right after New Year's Day, my agent said to expect a call from Holt…and then a few days after Kate Farrell and I spoke, the formal offer came in. But it was still an "ohmigod" moment when my agent called and said Holt was offering for two books. It was mid-afternoon, just after my children had gotten off the school bus, so I stood in the middle of the kitchen hugging the three of them and sobbing my eyes out. My husband was on a business trip overseas and said he was completely bummed that he wasn't there to see my face.
JF: My agent loves to tell the story of calling me while I was driving to my haircut appointment in a blinding rainstorm and how I nearly veered off the road when she told me we had an offer. Then I love to tell the part about sitting in the car in the parking lot, making Haircut Guy wait while I tried to call my family. Tried. I couldn't reach anyone. So I sat in his chair with this goofy grin on my face and with this knowledge all to myself for the next 45 minutes. No way Haircut Guy would be the first to know. As for the celebration, I celebrated by barely sleeping for the next week. That same goofy grin kept me awake.
What about being a debut author has surprised you most?
MD: This may sound silly, but I'm always so pleased and humbled when someone says, "Oh, I can't wait to read your book when it's out." I'd been working on writing for publication for two years before selling, wanted enormously to see my books on shelves in bookstores and libraries…but the one-on-one interaction with potential readers is thrilling and touching.
JF: Just two years, Marissa? You were a baby.
I'll agree with the above and add another one, one which shouldn't have come as any surprise at all. I have author friends who have told me this would be true. No, I thought, it won't be like that. Not for me. It won't be hard to find time to write something new. Listen to your friends. It's been hard to concentrate on developing new ideas. Between rewrites and galley proofs and developing a bit of a promotional plan (promotion is not a necessity for everyone, but with a background in advertising, it's something I need to do), the writing has been coming in last. I need to change that.
You're both involved in the Class of 2k8 cooperative promotional effort! Could you explain what this means?
MD: The Class of 2k8 is a group of authors with debut YA and MG books being published in 2008 who have banded together to promote our works and each other. Debut authors don't always have the marketing clout that established authors have, so our goal was to join forces and gain some attention for our books. It's all our work–we decided what we wanted to do and how to do it. There was no publisher involvement, no publicist (though we did hire one to examine our marketing plan)–just a group of authors working together.
Our primary goal is to reach out to what we call "BLTs"–booksellers, librarians, and teachers–to let them know about some fantastic new books and authors and offer them "extras" that will make our books extra appealing. So on our website and blog we have features like downloadable discussion guides for each of our books, meet the author launch parties, book videos, and more.
JF: It also means we have all these different, creative, brilliant, caring minds from different backgrounds and different parts of the country (and one from Canada), and we're accompanying each other on this wonderful, mysterious and sometimes scary journey. It also means we have so many more opportunities. In January, for example, I co-presented a workshop on promotion with fellow 2k8er Debbie Reed Fischer at the Florida SCBWI conference. I never would have been there if it weren't for this group.
What was its inspiration? And what is the inspiration for continuing?
MD: I'll need to back-track a little on this one. 2k8 is the successor to the Class of 2k7, which was founded by Greg Fishbone (author of Septina Nash and the Penguins of Doom, Blooming Tree Press). Jody, Zu Vincent, and I were all originally members of 2k7 but had our release dates moved…and so we decided to found 2k8 with Greg's blessing.
JF: Having worked, ourselves, to help develop the Class of 2k7, then not being able to fully participate in this group was a bit of a letdown. Like digging a hole, and knowing China was just shovelfuls from you, then having the shovel taken away. Although 2k7 hadn't officially launched by the time we left, it was apparent they were already making an impact. We knew we'd have to start from just-past scratch with a new group, but we could see a potential pay-off.
How did the class come together?
MD: Greg started getting e-mails from interested authors about a potential Class of 2k8 when 2007 was barely underway. We put out a formal call for members in April 2007 and immediately got dozens of inquiries and applications. We've had members come and go as release dates have been moved (and the embryonic Class of 2k9 already exists as a result), but our goal was to keep our membership at 28, equally divided between YA and MG.
JF: And we're still getting inquiries. That's a tribute to what the Class of 2k7 accomplished.
Now, if the question, in its second context, is asking how we gelled as a group… Well, do you have a few hours? Truthfully, it was a great, but sometimes overwhelming process involving a series of Class meetings (which means thousands of emails), an outpouring of ideas and the willingness of many of us to at least try a few things that were outside our comfort zones. Also, an understanding that group work is hard, but the rewards can be magnified.
What were the criteria for membership eligibility and why?
MD: We decided to use 2k7's criteria: members had to be first-time children's lit authors (we do have members published in adult fiction and non-fiction) with a YA or MG novel being released in 2008 from a royalty-paying publisher listed in CWIM.
Our goal was to make sure we were presenting uniformly high quality books to BLTs…and though our books cover the spectrum of moods and topics and intended audiences, they
all share the fact that they're debut novels.
JF: Once applicants passed that criteria, we required that they agreed to become a working member of the group. Everyone has at least one role in the Class, and each is expected to participate in some notable way.
Who are your members?
MD: Our wonderful MG authors: Ellen Booraem (The Unnameables), Jody Feldman (The Gollywhopper Games), P.J. Hoover (The Emerald Tablet), Jenny Meyerhoff (Third Grade Baby), N.A. Nelson (Bringing the Boy Home), Stacy Nyikos (Dragon Wishes), Sarah Prineas (The Magic Thief), Courtney Sheinmel (My So-Called Family), Laurel Snyder (Up and Down the Scratchy Mountains, Barrie Summy (I So Don't Do Mysteries), Kristin Tubb (Autumn Winifred Oliver Does Things Different), Nancy Viau (Samantha Hansen Has Rocks in Her Head), and Annie Wedekind (A Horse of Her Own); and our amazing YA authors: M. P. Barker (A Difficult Boy), Jennifer Bradbury (Shift), Teri Brown (Read My Lips), Elizabeth Bunce (A Curse as Dark as Gold), Terri Clark (Sleepless), Marissa Doyle (Bewitching Season), Debbie Fischer Reed (Braless in Wonderland), Donna Freitas (The Possibilities of Sainthood), Liz Gallagher (The Opposite of Invisible), Daphne Grab (Alive and Well in Prague, NY), Lisa Schroeder (I Heart You, You Haunt Me), Regina Scott (La Petite Four), Brooke Taylor (Undone), and Zu Vincent (The Lucky Place).
JF: Also, our members are or have been teachers, professors, librarians, sales reps, freelance writers, attorneys, moms, editors, reporters, talent bookers, human resource directors, engineers, gondola operators, fund raisers, speech pathologists, anthropologists…and it just so happened that we're all female in this particular Class. We had some male classmates, but they needed to drop out for personal reasons. (No. No need to draw any conclusions.)
What is your role in it?
MD: Because of our experience with 2k7, we had a pretty good idea of what worked well and what was less doable. So we formed the broad outline of what the class would be doing and led discussions of how we'd accomplish our goals and came up with a plan. That's easy to say in one neat sentence, but it meant many months of e-mailed group discussions and meetings and re-discussions. Now we're sort of the orchestra conductors–making sure every note in the score (our plan) gets played by the right person at the right time.
JF: Our title is co-presidents, but actually, we're nags, cheerleaders, email addicts (by necessity), mediators, dictators, directors, hire-ers, scramblers, observers, players and friends.
Why did you decide to participate?
MD: Two reasons: Writing doesn't stop being a lonely profession after you sell a book. And first books often need an extra boost in the marketplace. 2k8 for me has meant having so many other authors all going through the same process as me–our e-mail loop is a safe place to ask questions and advice and share our good and bad moments. And it's made me feel like I'm doing my best to give my incipient publishing career a strong launch.
JF: My decision came shortly after I got The Call. I knew Greg Fishbone (Class of 2k7 President and Originator) from an on-line critique group, and I knew him as someone who wouldn't stop until he accomplished whatever he set out to do. Even though I didn't have a release date then, I did know my book would hover the 2007-2008 line. Then once I'd gotten a taste of how such a group could grow, I was hooked, both by the promise of the group and by being a part of a community.
What has been accomplished so far?
MD: Tangibly or intangibly? We've got a terrific website and blog that we hope will help BLTs learn about our books as well as a presence on MySpace, Facebook, and Jacketflap. We're getting mentions and attention from many areas of the children's publishing world…and hopefully that will help our sales. But we've also come together as a strong supportive group of friends with friendships that I hope will continue well past 2008. That's a pretty big accomplishment, I think.
JF: We've also developed a confidence and a trust. We can go out into the big, bad world of publishing promotion and try things that may have been inconceivable without the aggregation of ideas and energies. Even when we wonder whether or not we can, there's a member pushing from behind, encouraging us to try. That not only goes into the group effort, it spills over into individual effort as well.
What have been your challenges?
MD: Trying to accomplish as much as possible on a small budget. That has meant sometimes axing great ideas and plans members have had because we just don't have the resources. That's been hard. And during the member application process we were very upfront with the fact that this was going to be a hands-on, labor-intensive project–thankfully, our members have been fully on-board with that.
JF: It would be so much easier if we could all meet in a big conference room and brainstorm, hammer out ideas, figure out logistics and do it the way traditional companies do. But because we're from Washington to Florida and back up to Maine, we have to rely on email to form all our plans. I don't know that I've ever typed so many words in a year.
What plans do you have on the horizon?
MD: Writing more YA fiction and using what I've learned through the Class of 2k8 to promote my books more effectively…but I don't know what I'll do without exchanging 10 or 20 daily e-mails with Jody once 2008 is over.
JF: I don't think the emails between us will stop. I've made a really good friend in Marissa. In fact, my plans are very similar to hers: to keep writing and keep promoting. I have another interactive MG completed, and I'm halfway through a third. I'm also going to see if I like the school-visit circuit as much as I always thought I would.
What advice to you have for beginning writers?
MD: Write every day if possible, if only for a half hour. Know that your first manuscript will probably be terrible, but don't let that stop you because that's how you learn. Finish that first book and write a second, and then a third. Join a critique group but stay true to your voice. Join groups like SCBWI and the amazing Blueboards on Verla Kay's website and read the posts, because that's the best way to learn about the industry. Be gracious to everyone you meet both on-line and in person, because this is a small industry and you just never know. And I'll stop there…but those are the biggies as far as I'm concerned.
JF: Because I have to say it to keep the mantra alive: Read, read, read; write, write, write. Now, another answer. Find your passion. Don't write what you believe readers want to read. Don't write what you think editors want to buy. Write the type of story that excited you as a child. When you pull up those emotions and turn them into words, your writing will be what the readers and editors want. That's the way it happened for me.