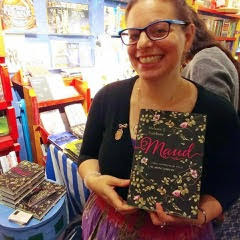 Melanie at Mabel's Fables in Toronto.
This month, Maud (Penguin, 2017) is releasing in paperback. And I feel one thing…Gratitude.
In this unstable publishing climate, not all books go to paperback.
It isn't the natural progression it once was.
My publisher—Penguin Random House of Canada and its imprint, Penguin Teen—continue to support the book with digital ads and worked hard on the paperback edition.
Continue Reading Guest Post: Melanie J. Fishbane on What Maud Taught Me »