A BOY CALLED SLOW by Joseph Bruchac (Abenaki), illustrated by Rocco Baviera (Dial, 1995). A look at the boyhood of a young Lakota who grows into Sitting Bull. Ages 4-up.

CRAZY HORSE'S VISION by Joseph Bruchac (Abenaki), illustrated by S.D. Nelson (Lakota)(Lee & Low, 2000). Bruchac brings his poetic style to this story of young Curly, who would grow into the Lakota hero Crazy Horse. Nelson's illustrations are influenced by the traditional ledger style of his ancestors, and they are powerful. Ages 4-up.
CROSSING BOK CHITTO: A CHOCTAW TALE OF FRIENDSHIP AND FREEDOM by Tim Tingle (Choctaw), illustrated by Jeanne Rorex Bridges (Cherokee) (Cinco Puntos, 2006). Chronicles the important relationship between citizens of Choctaw Nation and those people held in slavery in Mississippi prior to the U.S. Civil War and the Trail of Tears. An evocative story, wonderfully told and gorgeously illustrated. End material includes "Choctaws Today: Two Prosperous Nations, One Strong People" and "A Note on Choctaw Storytelling." Ages 9-up.
I AM NOT A NUMBER by Jenny Kay Dupuis (Nipissing) and Kathy Kacer, illustrated by Gillian Newland (Second Story Press, 2016). Indigenous educator Dr. Jenny Kay Dupuis teams up with award-winning author Kathy Kacer to tell a true and personal story of Canada's residential school past. When eight-year-old Irene is removed from her First Nations family to live in a residential school she is confused, frightened, and terribly homesick. She tries to remember who she is and where she came from, despite the efforts of the nuns who are in charge at the school and who tell her that she is not to use her own name but instead use the number they have assigned to her. When she goes home for summer holidays, Irene's parents decide never to send her and her brothers away again. But where will they hide? And what will happen when her parents disobey the law? Based on the life of co-author Jenny Kay Dupuis' grandmother, a hugely necessary book that brings a terrible part of Canada's history to light in a way that children can learn from and relate to. Ages 7-up. More on this title from Cynsations. Compiled from promotional materials.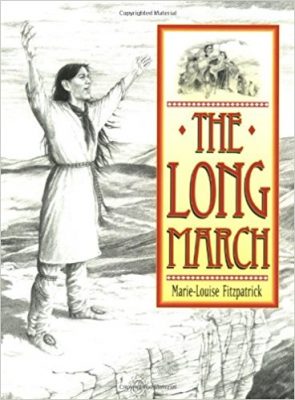 THE LONG MARCH: THE CHOCTAW'S GIFT TO IRISH FAMINE RELIEF by Marie-Louise Fitzpatrick with Choctaw editing and foreword by Gary WhiteDeer (Choctaw), Director, Keepers of the Treasures; Executive Director, American Branch of Celts & American Indians Together (Tricycle, 1999). This is a retelling of the true story of how in 1947 the Choctaw people collected $170 (equal in today's money to about $5,000) from their then scarce resources to send toward alleviating the Irish Potato Famine. Includes Choctaw language and symbols. Ages 5-up.
THE MUD PONY by Caron Lee Cohen, illustrated by Shonto Begay (Navajo) (Scholastic, 1992). In this retelling of a Pawnee traditional story, Mother Earth brings to life a pony made of mud. Ages 5-up.
TALLCHIEF: AMERICA'S PRIMA BALLERINA by Maria Tallchief (Osage) and Rosemary Wells, illustrated by Gary Kelly (Viking, 1999). This picture book autobiography looks at the early life of America's most outstanding ballet dancer. Ages 5-up.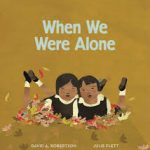 WHEN WE WERE ALONE by David A. Robertson (Swampy Cree), illustrated Julie Flett (Cree-Metis) (High Water Press, 2017). When a young girl helps tend to her grandmother's garden, she begins to notice things that make her curious. Why does her grandmother have long, braided hair and beautifully colored clothing? Why does she speak another language and spend so much time with her family? As she asks her grandmother about these things, she is told about life in a residential school a long time ago, where all of these things were taken away. A story about a difficult time in history, and, ultimately, one of empowerment and strength. Ages 4-up. More on this title from Cynsations. Compiled from promotional materials.
plays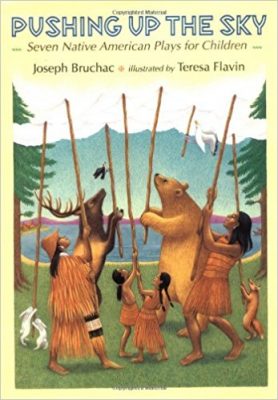 PUSHING UP THE SKY: SEVEN NATIVE AMERICAN PLAYS FOR CHILDREN by Joseph Bruchac (Abenaki), illustrated by Teresa Flavin (Dial, 2000). A collection of seven short plays for children based on traditional stories of the Abenaki, Algonquin and Ojibwe, Cherokee, Cheyenne and Lakota, Cree, and Zuni (among others).