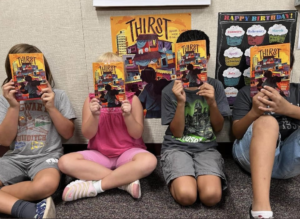 By Varsha Bajaj
In March of 2022, I learned that Thirst (Nancy Paulsen Books, 2022) was a Global Read Aloud pick. GRA was created in 2010 by extraordinary educator, Pernille Ripp, with a simple goal in mind; one book to connect the world. GRA has deservedly grown to make global connections and millions of students have participated.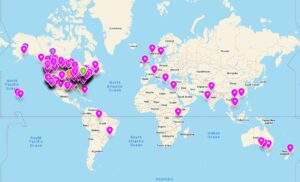 Ms. Ripp, an educator from Denmark [who now teaches in Wisconsin], has said she loses sleep over the list. I'm not surprised, I can't imagine the enormity of the task at hand, given the choice and range of books being published.

Gradually the full impact of the GRA2022 pick dawned on me. My words, the words that I conjured in isolation, would fly into classrooms in eight-five countries across the globe. My words would be read aloud into the silence and occupy space. Minni's story would cross the barriers of boundaries and hopefully she would feel like a friend to thousands of children.
Some of these children might be familiar with the global water crisis. For others it would be an introduction. Minni's story would lead to awareness that the world is diverse and vast and bigger than any of us. In an increasingly global world, collaboration and awareness are crucial. Maybe some of these children/readers might become tomorrow's changemakers. Who knows?
Writing and reading are typically solitary pursuits. Global Read Aloud has built a community around books, word by word. A village that discusses and connects and shares ideas around a shared text in a world where many bemoan the fact that children don't read like they once did.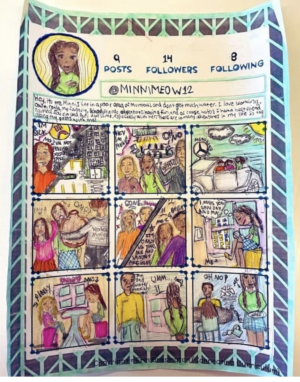 Children have created Instagram posts for Minni, they have transformed scenes into graphic novels, they have tasted new and unfamiliar foods, they've had brewed chai and had tea parties, they've raised money for charities that work for water equity and conservation. I could go on and on. Classrooms of readers have embraced Minni, Sanjay, and Faiza.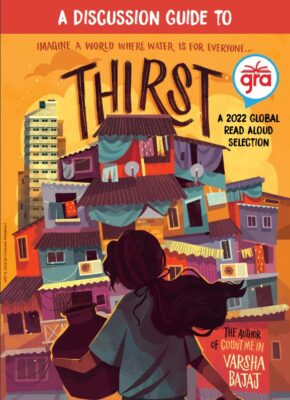 As a writer, a visit to a GRA school is akin to being swathed in a fuzzy blanket on a wintry day. The unsung heroes are the teachers and the librarians who read the words aloud to classrooms and guide their discovery. For every teacher I sing, thank you!
Cynsations Notes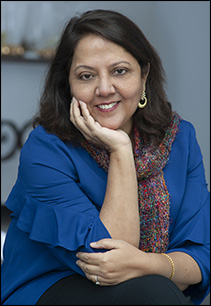 Varsha Bajaj is the New York Times bestselling author of the middle grade novels, Thirst, Count Me In, and Abby Spencer goes to Bollywood, which was shortlisted for the Cybils Award and included in the Spirit of Texas Reading program. She also wrote the picture books The Home Builders (a Dolly Parton Imagination Library selection) and This is Our Baby, born Today (a Bank Street Best Book). Varsha grew up in Mumbai, India; and when she came to the United States to obtain her master's degree, her adjustment to the country was aided by her awareness of the culture through books. She lives in Houston, Texas.
If you'd like your classroom to participate in the Global Read Aloud, visit the GRA website, which has resources for the selected books in all age categories: picture book, early reader, middle grade, middle school and young adult. If you'd like your book to be considered for a future Global Read Aloud, see the criteria here.