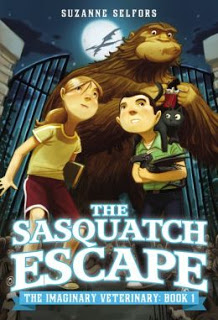 Check out the book trailer for The Sasquatch Escape (The Imaginary Veterinary: Book 1) by Suzanne Selfors, illustrated by Dan Santat (Little Brown, 2013. From the promotional copy:
When Ben Silverstein is sent to the rundown town of Buttonville to spend the summer with his grandfather, he's certain it will be the most boring vacation ever. That is, until his grandfather's cat brings home what looks like . . . a baby dragon?


Amazed, Ben enlists the help of Pearl Petal, a local girl with an eye for adventure. They take the wounded dragon to the only veterinarian's office in town — Dr. Woo's Worm Hospital. But as Ben and Pearl discover once they are inside, Dr. Woo's isn't a worm hospital at all — it's actually a secret hospital for imaginary creatures.


After Ben accidentally leaves the hospital's front door unlocked, a rather large, rather stinky, and very hairy beast escapes into Buttonville. Ben and Pearl are tasked with retrieving the runaway creature, and what started out as an ordinary summer becomes the story of a lifetime.


Suzanne Selfors delivers a wild journey filled with mythical creatures and zany adventures that are anything but imaginary.