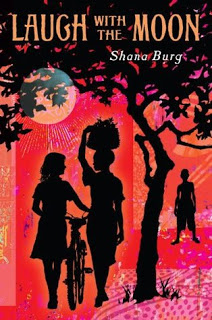 By Shana Burg
for Cynthia Leitich Smith's Cynsations
The idea for Laugh with the Moon (Delacorte, 2012) came from an experience I had when I was in graduate school for public policy. I did some work for a professor at the Harvard Institute of International Development.
She said, "I need someone to go to Malawi, Africa and find out whether girls are getting the same access to learning materials such as pens, paper, and teachers as the boys."
She explained that the government used to charge about three dollars a year for a primary (grades 1 to 8) school student to attend. As a result, a lot of families kept their daughters home to fetch water, clean the hut, and cook, while they sent their sons to school to get an education. Then in the early 1990s, the Government of Malawi began to phase in free primary education. Girls flooded the schools.
I spent months poring over reports about the Malawian education system. Then the week before I traveled, there was a front-page story in the New York Times saying that Lake Malawi was one of the most malaria-infested regions of the world. That night I swallowed my malaria prevention pill with an extra loud gulp.
Soon I found myself in the middle of the Malawian bush in a Land Rover next to Norman, my driver and translator, who quickly became a good friend. Each school day for three weeks, Norman and I traveled to different primary schools, where I spoke with hundreds of teachers, parents, students, and school administrators.
What I found was that no one—boys or girls—had very many learning materials at all.
At most schools, there were not enough classrooms, so students learned outside under the trees, and during the rains, they crowded into other classrooms or went home.
I visited many classes that had hundreds of students in a single room. Because there was hardly any paper, students learned to write with sticks in the dirt, or they made letters using the clay from termite hills.
Often there were no desks, so kids sat together on the floors.
And I'll never forget the headmaster who wanted my address so that he could write to me, but he couldn't find a piece of paper anywhere in his office to jot it down on.
As the years passed, I kept in touch with friends I made in Malawi. Norman, who was in his late thirties and had four young children, wrote and asked me to send a bottle of Tylenol, something he couldn't afford. Soon after, he wrote to say he had Tuberculosis. A few weeks later, I found out he died. My friend Stella was in her twenties. Her husband wrote to tell me she got a bad headache and passed away the next day.
When I taught sixth-grade near Boston, I showed the students my slides
of Malawi. Year after year, they were riveted to learn about their peers
halfway across the world. And year after year, they were moved to act.
They sent books, soap, and medical supplies.
I let them know that they
could learn a lot from the kids in Malawi, so they got pen pals and
exchanged letters.
Once I'd finished writing my debut novel, A Thousand Never Evers (Delacorte, 2008), my editor at Random House, Michelle Poploff, asked, "What are you going to write about next?"
I truly couldn't decide.
Then she said asked these magic questions: "What are you absolutely passionate about? What is it that keeps you up at night, that's been with you for years, that you can't let go?"
I knew there was only one answer. I would write a story about Malawi—about a girl from Boston who learns about joy from the people there, even though death and hardship are all around.
Cynsational Notes
Attention Central Texans! Shana Burg will launch Laugh with the Moon at 4 p.m. June 24 at BookPeople in Austin. See more information.
Cynsational Giveaway
Author-sponsored. Eligibility: international. Note: This is Cynsations' first time using Rafflecopter. Please give it a try. It's incredibly easy to use, many blogs are going this way for giveaways, and you only have to register once.
While we're in this experimental phase, you also are welcome to enter by commenting on this post (to win a fourth copy of Laugh with the Moon, selected separately) and including an email address (formatted like:
cynthia at cynthialeitichsmith dot com) or a link to an email address.
Or you can email Cynthia directly with "Laugh with the Moon" in the subject line. Thank you.