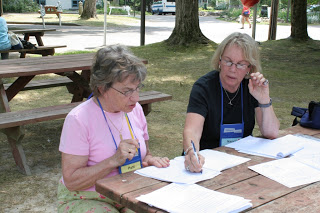 Patti (left) in session.
By the Highlights Foundation
For twenty-seven years the Highlights Foundation held a writers workshop on the grounds of the Chautauqua Institution in Chautauqua, N.Y.
Memories were made, friendships were forged, and, most importantly for the Foundation, writers gained the skills they needed to create meaningful children's literature.
Long time editor and award winning author, Patricia Lee Gauch was a faithful presence at the Chautauqua workshop and will help the Highlights Foundation make the leap this summer from Chautauqua to three week-long workshops.
These workshops will offer the same variety of courses Chautauqua was known for, but now held at the Foundation's brand new facility, nestled in the picturesque Pocono Mountains.


Here, Patti shares some successes from past Chautauqua Workshops and her hopes for the new workshops this summer.
The Highlights Foundation has been working with writers and illustrators for nearly 30 years. What is your history with the Highlights Foundation?
Kent Brown happened to hear me speak at an International Reading Association conference.
I think I shared the podium that day with the author of Seventeenth Summer, Maureen Daly. I loved that book which only proves that my love for the young adult genre really began in my own teen years. I think there was something about my philosophy of education – individualistic – that Kent liked. Maybe my energy, too.
So he invited me for a one-visit stint at the writing-for-children conference at Chautauqua. I loved all of it, teaching outside under the trees, teaching one on one – the conferees are so enthusiastic, so dedicated, and often so talented. I probably gave it my all, and was invited back for another year. And another.
I have always loved the thought process that goes into a good speech, some topics a little off beat but crucial, and I like to give good up-beat, sure-you-can-do-it speeches, so in time I began to give one of the two morning lectures at the conference. Lectures like: "Sassy Is as Sassy Does," which took a good look at the wonderfully feisty heroes and heroines that create our children's literature.
I became a regular faculty member, and began working a weekend a year at Founders (Boyds Mills) in Pennsylvania, too. At the base of my dedication to the writing programs at Chautauqua and now at Boyds Mills, though, is my immense respect for the basic philosophy of the Highlights tradition.
It is child-oriented, reading oriented. Kent Brown programs want fine writers, because they want to create literature that will affect and enhance the life of young readers, perhaps bring them to a new place. Maybe a better place. I like the standards Kent Brown sets, and I like to hold out for the best in writers, too.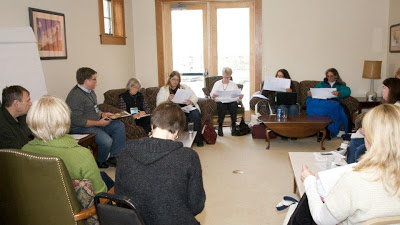 Magazine writer lesson
Many attendees of the Chautauqua Writers Workshop share that the week transformed their writing. Can you share a specific success from your time on faculty at Chautauqua?
I can. I am not sure if we can ever count someone else's success as our (teacher or editor's) success. Not really. For example, there was this handsome young woman who would stand at the back of the auditorium at Chautauqua at our morning speeches; she seemed interested. I don't know that I ever spoke to her, but I saw her there for two, perhaps three, summer conferences.
She turned out to be Sharon Creech; the book that we eventually saw at Chautauqua was Walk Two Moons (HarperCollins, 1994).
Can any of us claim success? No, not really. Sharon is immensely talented. Maybe something we said connected with something she was already trying to figure out. That's good enough for me.
I met Kathy Erskine at three different venues, once at a Washington, D.C. writers' program, once at Chautauqua, and once at the Founders farm in Honesdale for one of those lovely weekend programs on "The Heart of a Novel." But when her manuscript was sent to me at Philomel, even though I had heard she was going to send it, I didn't recognize her or it!
I accepted the manuscript simply because I liked it. I felt this writer had promise. Then I discovered it was the Kathy I knew and had worked with. She won the National Book Award for Mockingbird (Philomel) in 2010, but can I count that a success? Not really. She became a writer on her own.
I am fascinated by the internal energy and movement of a novel; I like to read from the best books, books like Jerry Spinelli's and Kate DiCamillo's, always looking for the best models. I like to share these good models.
But whether a writer turns into a published writer is more truly up to that writer: how he or she listens, what he or she understands, what least-traveled-roads she or he travels to get to their story. The credit becomes theirs.
Moving from the week-long writers workshop at Chautauqua to the week-long Fiction Writing for Children and Young Adults workshop in Honesdale will certainly be a change for both faculty and guests. How do you feel this change will impact writers who choose to join you for this brand new workshop? Faculty?
I loved Chautauqua, every tree and bell and bat of it. I loved what came out of it.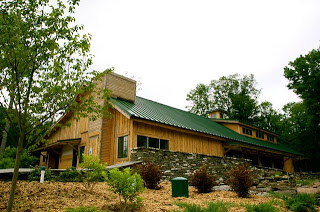 The Barn
But writers look so closely at their world. How could they not see the beauty in the meadows and woods and Barn of Boyds Mills.
There are glorious sunsets; sometimes cows come straggling through the property (lost); once we had a surprise autumn snow. The snow fell in patterns around the big wooden barn, and made lovely pictures as we looked out the huge panes windows.
The food is unquestionably better. Marsha (Dunlop), a CIA graduate, not only feeding us, but nurturing us with creative menus that make us ooh and ahhh.
Perhaps most important, though, the new Masters workshops – and I know newcomers are welcome, too – give writers real time to reflect on what the speakers and mentors say individually to them, and in this venue they will have an opportunity to revise and show it to their mentor. Hurrah!
It was something I always wanted more of. It is a writers' week of the truest sort. Would we call it "total immersion"…in the most writerly way.
As for the faculty? Kent has found a way for the Chautauqua regulars to overlap. I will overlap Joy Cowley's week; she and Peter Jacobi will overlap my week (the Young Readers and Young Adult Fiction).
What's more there are some new faculty coming, like the wonderful artist and writer Robert "Rob" J. Blake, with whom I worked for twenty three years producing books like Togo (Philomel, 2002), winner of The Texas Bluebonnet Award.
What do I think of the new plan: I think it is going to be great. Tell your friends. The week is a life changer.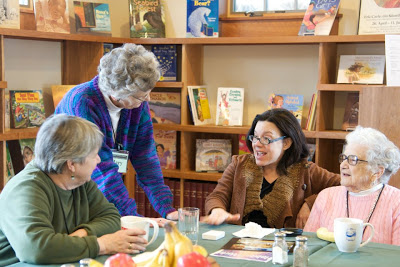 Dining room.
Is there anything else you would like to share with us today?
Aren't editors suppose to condense and simplify?
In my enthusiasm for my subject, I have gone on and on.
The master classes, including Joy Cowley's, imitate the Chautauqua schedule, expanding to include major New York editors and agents. How can that be anything but great?
And there is that time-to-write feature which allows the writers to make practical what they are hearing, and allows the faculty to follow up and follow through.
I suspect since the place itself is like a cozy homestead, everyone will get to know each other better, and everyone knows how much this publication business thrives on "who do you know."
The answer in this case: is, if you are faculty, thirty promising new writers.
In the case of the attending writers, ten to fifteen professionals straight from the New York (and beyond) scene! Just a great opportunity, if I do say so.
Cynsational Notes
Former vice president and editor at large of Philomel Books, Patricia Lee Gauch is now a full-time writer and lecturer.
She has authored more than 40 picture books and novels for young readers, including the highly acclaimed Thunder at Gettysburg; This Time, Tempe Wick?; and Christina Katerina and the Box.
Her most recent title, The Knitting of Elizabeth Amelia, was published in fall 2009.
Patricia holds a doctorate in English literature and has taught children's literature on the college level and reviewed for the New York Times.
Patricia has edited three Caldecott books, including Owl Moon by Jane Yolen and John Schoenherr and So You Want to Be President? by Judith St. George and David Small. She has worked with many well-known authors and artists, including Eric Carle, Patricia Polacco, Brian Jacques, Andrew Clements, T.A. Barron, and Loren Long.
Learn more about the Highlights Foundation.