Lucky me! March highlights included a wonderful trip to Albuquerque and Tuscon for author events.
The first was an in-store reading, Q&A and signing at Alamosa Books in Albuquerque. It's a gorgeous, relatively new children's-YA bookstore, and I couldn't have been more impressed.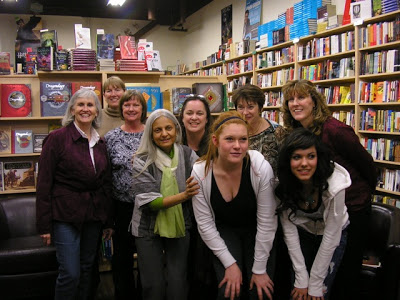 It was a casual, chatty event. Coming and going, I'd guess we had about thirty folks, including kids. Authors in attendance included
Carolee Dean
,
Kimberley Griffiths Little
,
Shirley Smith Duke
, who came all the way from Amarillo, and
Uma Krishnaswami
. Rebecca Donnelly, children's librarian at Rio Rancho Library and of
The Chained Library blog
, also joined in the fun. Note: Uma and Kimberley are long-time pals, and so I was especially grateful for the chance to catch up with them and also meet Kimberley's daughter-in-law Milly and her sister Stephanie.
Special thanks to bookseller Richard Vargas!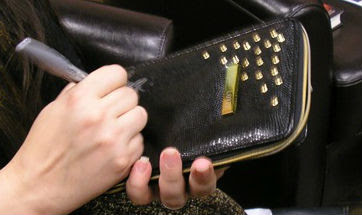 Let history record my first signing of an e-book cover.
You can find signed stock of the Tantalize series and Holler Loudly at Alamosa Books.
The next day I was off to La Cueva High School, home of the Bears, where I had the pleasure of meeting my host, librarian-teacher (and hot-air-balloon enthusiast) Gerri Barnhart, and speaking to a lively, welcoming group of students.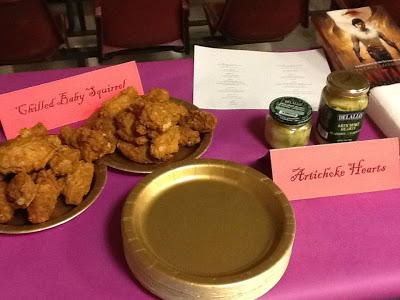 Sanguini's is served! Chilled baby squirrel & artichoke hearts!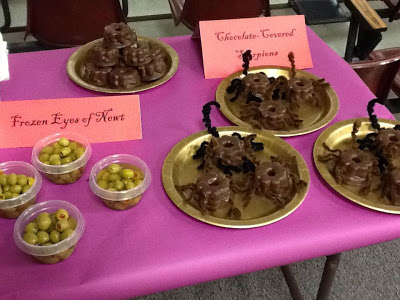 Frozen eyes of newt & chocolate-covered scorpions!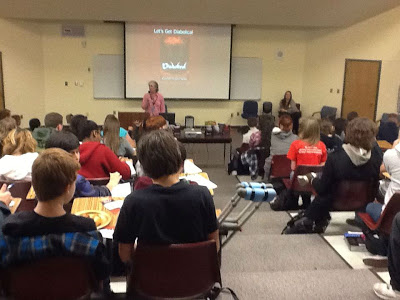 Gerri introduces me to the students
The students had excellent questions.
Then I was off to Tuscon, with a stop at the Phoenix airport, where I visited with fellow YA author Ellen Hopkins while we high-tailed it back and forth between various U.S. Airways gates (our plane was changed twice due to minor mechanical issues).
Marana High School librarian (and supermom) Carrie Dawson was there to greet me at the airport.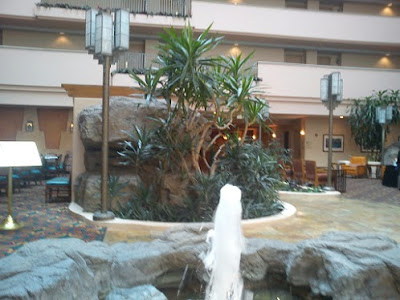 Quick shout out to the Marriott. I have an odd affection for atrium hotels.
The next morning, she picked me back up and brought me to my school visit. I greatly enjoyed speaking to students in the media center and the lunch that followed with the sci-fi/fantasy book club.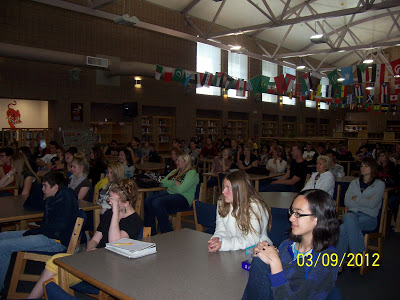 Great listeners & a cool library–the pics turned out a bit dark, but here's a peek at it!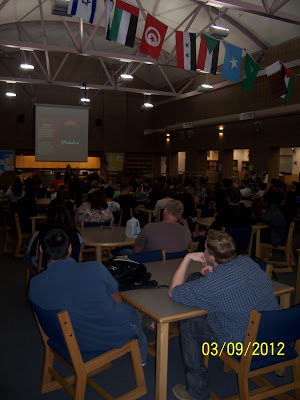 Love the flags!

Great display! This sort of in-school preparation & enthusiasm is key to an event.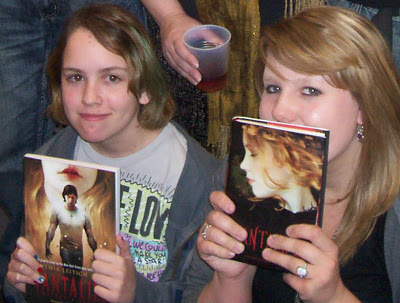 Lunch was a terrific Tex-Mex buffet.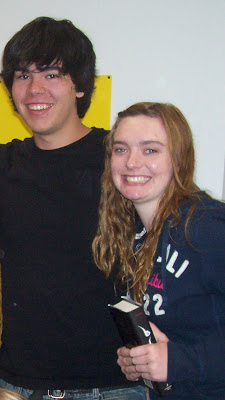 It was such a treat to visit informally.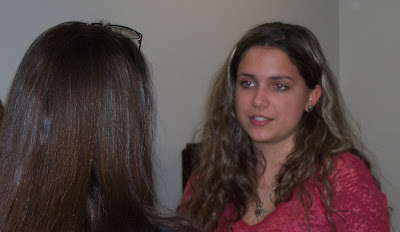 Many of the readers were writers, too.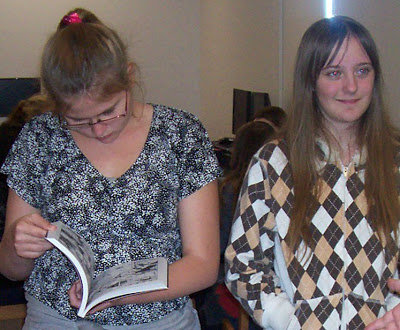 We chatted about writing, reading, publishing, favorite books and more.
Honestly, I would've been happy to stay all day, but alas, they had other classes.
That weekend I spoke several times at the Tuscon Festival of Books on the gorgeous University of Arizona campus. Special thanks to Kathy Short and my host Donna Jurich.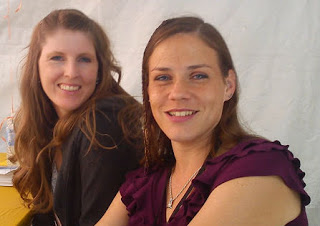 Courtney & Aprilynne at the signing.
The first day was a busy one. I spoke on the "Blood & Kisses: Paranormal Romance" panel with Courtney Rene and Aprilynne Pike, moderated by Donna.
I also spoke on "The Business of Writing for Children: Surviving the Recession" panel with Beth Barton and Monica Brown, also moderated by Donna.
In addition, I had three signings, including one at the Kids Center booth, and greatly enjoyed visiting with festival volunteers, attendees, and fellow authors at the Teens and Author Meeting Place.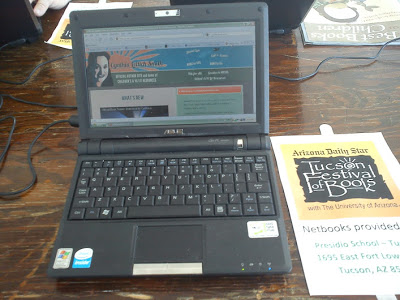 Computers were provided for teens who wanted to blog/tweet the festival.
I continued on to an author reception at Gentle Ben's and then a dinner for the children's-YA authors and illustrators and committee at Pastiche Eatery.
The following morning, I joined my long-time pal Janni Lee Simner, along with Aprilynne Pike, Jeff Mariotte, R.L. Stine, and moderator David Mariotte, on the "Fantasy: What's New and Who's Reading Now?" panel and hit one more signing before heading home.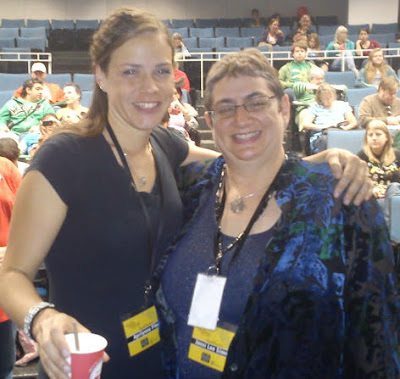 Aprilynne & Janni before the panel begins.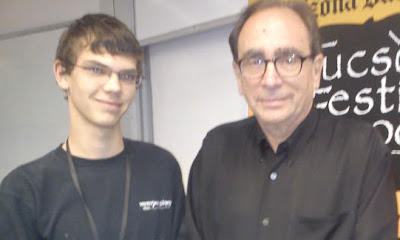 David & R.L. "Bob" Stine
Cynsational Notes
It's my policy not to reference kids, teens, author spouses or other readers by name (unless they're on the program). Public versus private figures and all that.
Thank you to Tracy at Candlewick Press for coordinating efforts and to Candlewick more globally for its sponsorship of my trip! Most appreciated!