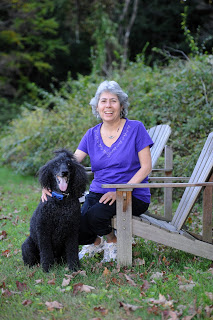 Oggi & Marilyn Singer
By Kate Hosford
Photo of Marilyn & Oggi by Laurie Gaboard of the Litchfield County Times
Marilyn, congratulations are in order. You have five poetry books, as well as a prose picture book, coming out this year:
We'll focus on poetry and talk about two of the poetry books today: The Boy Who Cried Alien and A Stick Is an Excellent Thing, and cover the other three in the second part of this interview.
What was the inspiration behind The Boy Who Cried Alien?
I grew up in the 50's—an era of rather silly (though maybe not at the time) science fiction movies. I also grew up reading fairy tales and fables, including lots of Aesop. Stuff like that tends to stick in my subconscious mind and surface when I least expect it—and that's pretty much what happened with The Boy Who Cried Alien.
In this rhyming picture book, you use a 'silent movie' structure. Could you describe this in more detail and explain why you chose to use it?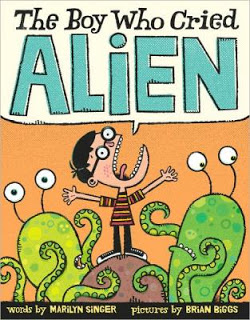 I'm a movie fan. One thing I like about silent movies is the placards that introduce scenes and provide transitions, and I used that device in this book.
I also like how many silent movies keep the plots tight and spare, so that influenced the storyline in this book—which, by the way, I wrote about eight years ago, way before "The Artist" won the Oscar.
The illustrations are cinematic, too, thanks to the wonderful Brian Biggs—different "camera" perspectives and "split screens."
I do hope to see the book performed not so silently, though, in a reading with different people playing the different characters.
You have also invented an alien language that you use for portions of this book, without ever giving up your rhyme scheme. Could you talk about the process of inventing a language that works in rhyme and that children can decode?
Hoo, boy, that was tricky—but, as I said, I like a challenge. Actually, what I did first was come up with how the alien language would work. I chose a simple code—reversing the first and last letters of words (except plurals and past tenses)—knowing that making these words rhyme would be tricky enough. For example, "worthy" is "yorthw," but "liars" is "rials." "Pulled" is "lulped," but "pleased" is "dleasep." And some words aren't translatable, such as "zon," the word for a cow-like creature that lives on the aliens' home planet.
Once I knew what the code for the language would be, I set about writing poems that would rhyme in that language. I think that when we're kids, we like to decode things (maybe more than we do when we're adults—when we seem to be more impatient, have less steam). But so that frustration doesn't set in, it's important to include the key for decoding.
You translate the alien language at the end of the book both literally and poetically. Why did you choose to provide both kinds of translations?
Yes, I wrote not just verbatim translations, but literary translations, the kind that translators would do for books in foreign languages, and those translations also had to rhyme.
I kept going back and forth between the alien speak and the translations to make things work. That was the hardest part, and I did it because a) I've never had to translate anything before and I was curious about how that might work; b) Because I respect the work of translators and how difficult it is; c) Because I'm nuts.
In your poetry collection, A Stick Is an Excellent Thing, you focus on the simple outdoor games that children have played for generations. Why is this topic important to you?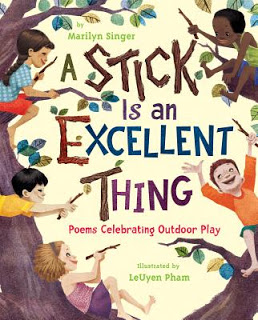 From the ages of 5-19, I lived in North Massapequa, Long Island. We had a small backyard and ample streets with little traffic. All the kids played outdoors in the spring, summer, and fall (and even a bit in the winter).
That was one of the few things I remember loving about growing up in suburbia.
My favorite game was our version of "Statues." I'm not an especially nostalgic person, but I do remember those times with fondness.
I think that children who play outdoors not only tend to be healthier, but more imaginative and definitely more social, able to develop skills that are necessary for a happier adulthood.
I hope that kids reading this book will be encouraged to go out and play—and I hope that adults will join them.
You celebrate a variety of country games and city games in this book. What was your relationship to the outdoors both as a child and an adult? How does this inform your work as a poet?
Besides playing outdoors as a kid, I always liked to watch animals, but I didn't really get to do that in a major way until I was in my twenties and my husband and I were able to travel and go bird-watching and hiking in natural areas.
Nowadays, we not only live in Brooklyn, N.Y.—right across from a public school, where kids are constantly playing games—but also in Washington, C.T., a rural area with lots of wildlife. It's the best of both worlds for us. I spend a lot of time studying the natural world and writing about it.
Many of my poetry collections and all of my nonfiction books are about animals and/or plants. However, I also like to watch and write about people, and the city's great for that.
You have written over ninety children's books in many different genres, but I've read in several interviews that poetry is your favorite. What is your particular attraction to poetry?
I've loved poetry since I was a little kid. My parents both sang popular songs with great lyrics to me, and my mom read me poetry.
Though I don't play an instrument, I am musical. I love to sing and dance. Poetry fits in with my musicality. I'm also fond of words and wordplay—always have been—and poetry lets me fool around with words. I really like the way poems can say a lot in a few lines. I don't like to bore people (or to be bored, for that matter), so the spare quality appeals to me.
Then there's the way that certain poems are photographic—can capture an image, a moment in time. I like the contradiction of both holding on to a moment and knowing that it's gone.
What role did poetry play in your own childhood?
I began to write poems at a very early age. I showed them to my teachers and even read some at show-and-tell (probably to the annoyance of my classmates). I got a lot of good feedback and continued to write throughout high school and college.
During my junior year, I went to Reading University, England, and got some tough love there on my poetry from teachers and fellow students, which helped me enormously. These days, I get that tough love from my editors, fellow poets, and, especially from my husband, a great critic.
What rituals or routines do you build into your day to ensure that you stay inspired and focused?
I usually read, take walks, play with my dog, and research topics that interest me. I go to the Brooklyn Botanic Garden when I can. I spend a lot of time thinking.
I play Scrabble and other word games (against robots!), and I watch TV—"The Daily Show", "The Colbert Report", "Real Time with Bill Maher", series featuring handsome detectives ("Castle," "The Mentalist," "White Collar"), singing competitions, and every dance show on the tube.
My husband and I take swing/ballroom/Latin dance classes twice a week, as well as dance workshops. That helps me get out of my head and into my body, which is very good for creativity.
On a regular, though not daily, basis, I go to the theatre, watch films, garden a little. Maybe I should sleep more?
Cynsational Notes
Don't miss part two of Celebrating Poetry: Marilyn Singer.
Kate Hosford grew up in Waitsfield,
Vermont, and graduated from Amherst College in 1988. She was happy to
return to her home state to attend Vermont College of Fine Arts, where she received her MFA in Writing for Children and Young Adults in 2011.
Before becoming a writer, Kate worked as a foster care worker, a
teacher, and an illustrator.
Kate is publishing three picture books with
Carolrhoda Books, a division of Lerner Publishing Group: Big Bouffant
(spring, 2011), its sequel, Big Birthday (spring 2012), and Infinity
and Me (fall, 2012). She loves writing picture books, children's poetry
and middle grade novels.
She has lived in India, Germany and Hong Kong, but presently resides in Brooklyn, New York with her husband and two sons.