By Lena Coakley
Imagine if it was your job to choose books for thousands of children every year. As a school and library wholesaler, Maria Martella does just that by helping teachers and librarians select books for their classrooms and libraries.
This past December, CANSCAIP, the Canadian Society of Children's Authors, Illustrators and Performers, invited a group of booksellers and wholesalers to their Toronto monthly meeting to talk about how books are chosen for schools and libraries and what (if anything) authors can do to help boost their sales.
Maria, owner of Tinlids, a Canadian wholesaler of children's and young adult books, was one of the speakers. This article is a summary of her talk, shared with permission of all parties.
Maria's introduction to the book industry came in 1982 when she left social work and got a job managing The Children's Bookstore in Toronto, which was both a retail store and a wholesaler. After this iconic store closed, she and Scott Millar founded Tinlids (the name means 'kids' in rhyming slang), which has since gone on to become one of the key library booksellers in Canada.
When Maria first started at The Children's Bookstore, she was amazed and delighted to be working in a place that sold only children's books—a rarity at that time—but she was dismayed by how few Canadian books were being published in 1982; the Canadian section at The Children's Bookstore was only a short wall.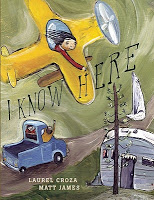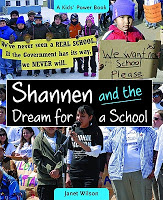 Canadian publishing has come a long way since then. Now thousands of Canadian children's books are published each year. Organizations that support authors and publishers are flourishing, like The Canadian Children's Book Centre, which administers a $25,000 children's book prize and distributes a children's book to every Canadian first grader each year.
These days, a child living in a trailer in Saskatchewan can see her life reflected in a book like I Know Here by Laurel Croza, illustrated by Matt James (Groundwood), and a child living without a proper school in Attawapiskat can read a book like Shannen and the Dream for a School by Janet Wilson (Second Story). These are all changes that Maria is happy to see.
However, the success of the Canadian publishing industry has meant that she has had to become much more discriminating about what books she selects for the shelves at Tinlids. The days when she could buy every Canadian book published are long past.
How does she choose? In two words: she reads. Book publishing reps come to see her every season, making recommendations and leaving samples. Unfortunately, Maria and her staff cannot always read every book, but they get to know the authors and the reps that they can trust. In addition, Maria reads reviews, children's book journals, and blogs, and is on the review committee for The Canadian Children's Book Centre.
When asked about current trends, Maria was quick to point out that her buying patterns are probably different from a retail store, which might focus more on the hot genres like dystopian and paranormal fiction. She caters to teachers and librarians who need to have a wide range of genres to tempt every student. They also have considerations like the school curriculum and reluctant readers to take into account.
With teachers and librarians, Maria finds that wordless picture books are back in, possibly because of ESL needs, and graphic novels continue to be popular. In spite of recent articles bemoaning the demise of the picture book, Maria does not see a decline in her picture book sales. In fact, she sees teachers in higher grades requesting them now, and hopes we will continue to see more "advanced" picture books, dealing with social issues like war and poverty.
One trend Maria finds frustrating is the leveled readers librarians are now requesting. In general, she doesn't find these books well written and engaging enough to inspire a life-long love of reading.
With limited budgets, librarians are having to focus on buying for the school curriculum rather than buying an array of books that will delight and engage many different kinds of students.
The way to create a reader, she says, is to "fill a room with books." She believes that having a variety of books of excellent quality will inevitably tempt even the most reluctant reader. In her 29 years as a bookseller, Maria has hired a number of students who have claimed not to be readers, only to find them reading in the stacks.
Her advice to the authors in the audience: be brave and authentic. Though it seems like everyone these days wants to publish a trendy book with a large publisher, there will always be children who will want the books that aren't trendy, and these children need to be served.
"You can't be too market led either as an author or a bookseller," she said. "Children are more diverse than we think." And as far as having a large publisher goes, having a small one can have its advantages. At Tinlids she finds that it's often the smaller publishers who are more hands-on when it comes to promoting and getting behind an individual book.
To conclude, Maria gave a final piece advice to the writers in the audience: "Understand who is selling your book."
She confessed that she found it frustrating to go on an author's website and find only links to large chains and amazon.com. Unless you are a very well-known author, a large chain is probably not keeping your book on the shelves after six months. But independent booksellers and wholesalers are an author's friends. They are hand-selling books, and they are selling backlists.
"If your book is still selling after five years," she said, "it is probably because a wholesaler cares about your book and is selling it to schools and libraries."
Cynsational Notes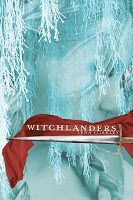 Lena Coakley was born in Milford, Connecticut and grew up on Long Island. In high school, creative writing was the only class she ever failed (nothing was ever good enough to hand in!), but, undeterred, she went on to study writing at Sarah Lawrence College.
She became interested in young adult literature when she moved to Toronto, Canada, and began working for CANSCAIP, the Canadian Society of Children's Authors, Illustrators and Performers, where she eventually became the Administrative Director. She is now a full-time writer living in Toronto.
Witchlanders, her debut novel, was called "a stunning teen debut" by Kirkus Reviews. It is a Junior Library Guild selection and an ABC new voices selection.