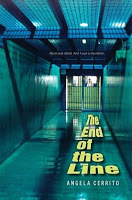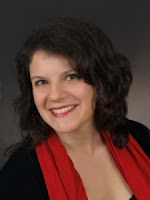 Angela Cerrito writes by night and is a pediatric physical therapist by day.
Her debut novel The End of the Line (Holiday House, 2011) was selected for VOYA's Top of the Top Shelf 2011 and Top Shelf for Middle Grade Readers 2011.
She is the Assistant International Advisor for SCBWI and regularly attends the Frankfurt and Bologna Book Fairs.
When she's not writing, Angela enjoys eating, climbing in caves and jumping off cliffs. She lives in Europe with her husband, two daughters, a big black cat, a little white dog and a talking parrot.
Angela will be covering the children's-YA book scene in Europe and beyond for Cynsations. Read an interview with Angela.