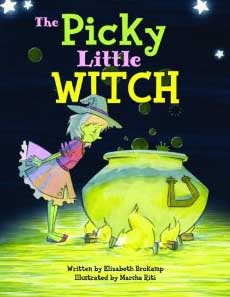 Marsha Riti on Marsha Riti: "I am a freelance illustrator based out of Austin, Texas. I have a BFA in studio art from the University of Texas in Austin. I love to create, and I take inspiration from early comic artists as well as more recent ones with a slight mid-century twist."
Tell us about yourself as a young artist/reader. How does the child you were inform the illustrator/children's book professional you are now?
As a child I was (and still am) curious and observant. Looking under and at everything helps when I need to sit down at the drawing table, and, for example, sketch two alligators on a tandem bicycle.
Also, I never lost my childlike excitement about new things and ideas, which my friends and colleagues can attest to.
Seeing something new is inspiring! My brain starts firing on all cylinders, and I get excited about my ideas for new projects!
How did you develop your artistic skills over time?
I have always been good at drawing. What helped my skills more than anything else was taking classes in life drawing. Also, I am (like most artists) never complacent about the quality of my work. You can always execute a drawing or painting better. Because of that, I am continually working on improving my craft. It's never ending.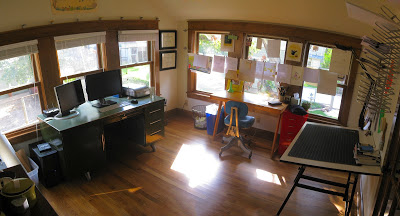 Marsha's office.
Congratulations on your debut picture book, The Picky Little Witch, written by Elizabeth Brokamp (Pelican, 2011)! Tell us about the book.
It is a Halloween-themed picture book about Little Witch, who will not eat the special Halloween stew Mama Witch cooked up for her. Then the tables are turned on Mama Witch when Little Witch is trick-or-treating. There's even a recipe in the back for delicious Halloween Soup!
It's a fun read for kids before they go out on Halloween night.
How did you come to connect with Elizabeth's text? What about it spoke to you?
I connected with the text when I began doing the page breaks. That's when I began visualizing the story. I really liked Little Witch's attitude. I thought she was just hilarious!
What approach did you take in illustrating the manuscript?
After reading the manuscript, I sketched out the characters and thumbnails, which is very standard. While doing this, I kept in mind that I wanted to create a visual story arc that starts and ends in the same spot, but with the characters' attitudes about food changing.
I based my final sketches off the thumbnails (with some revisions). I scanned the sketches into Photoshop, deleted the whites and printed the cleaned-up sketches onto watercolor paper. After painting the foreground elements, I then scanned the paintings in to drop in the backgrounds.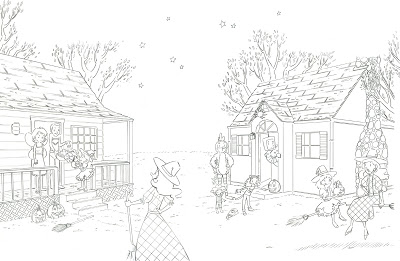 Used with permission.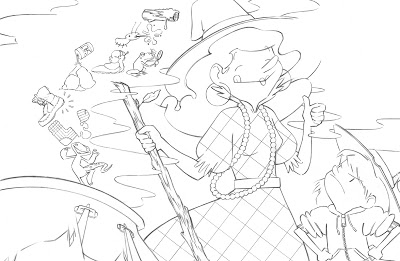 Used with permission.
What was your revision process like?
Because I work both traditionally and digitally, the revisions were a breeze to do.
For example, I originally had Little Witch in a full dress with a "Peter Pan" collar. However, Elizabeth wanted Little Witch to be more contemporary looking.
I just used Photoshop to redo the top for all my drawings. It was no problem at all and made the final artwork better. In fact, all the revisions made the book better. It's extremely helpful having someone give you constructive feedback.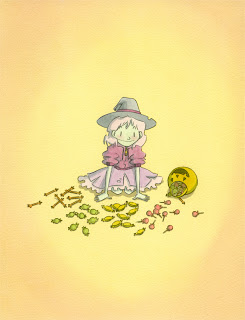 Used with permission.
What advice do you have for illustrators interested in breaking into children's books?
Everyone says this, but I think it's really important: draw, draw, draw! Especially drawings of kids.
Have a great portfolio showing lots of kids, and animals in situations that imply narrative.
Have a good website with your portfolio at the top of the first page. And never ever stop working on your craft or improving.
Other than your own, what is your favorite recent picture book and why?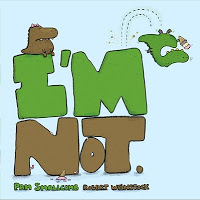 I'm Not. by Pam Smallcomb, illustrated by Robert Weinstock (Schwartz & Wade, 2010). I really love the silly paintings. They're great and make me laugh out loud. The story is just wonderful, it's both humorous and has heart.
The part I like the best is when the main character's friend Evelyn (who can do everything) says, "I'm stinky at spelling." That's when our main character realizes she can do things, too.
It's a great book about being friends and celebrating one another.
What do you do outside the world of books for young readers?
I love to cook! I also hang out with my lovely boyfriend and wonderful friends.
Cynsational Notes
Marsha's launch party for The Picky Little Witch will be at 11:30 Oct. 1 at BookPeople in Austin.