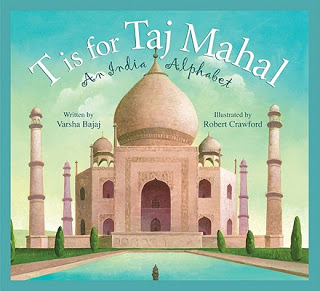 By Varsha Bajaj
I met Amy Lennex from Sleeping Bear Press at a Houston SCBWI conference.
Post-conference over margaritas and fajitas, we chatted about Michigan winters, Writing, "Slum Dog Millionaire" (2008) and my reluctance to refer to Bombay as Mumbai.
Almost a year later, when Amy asked if I was interested in writing an alphabet book on India my immediate response was, "Yes!" It would be a gift to leave for my American-Indian children and future grandchildren.
It was only later that the enormity of the task struck me. I was born and raised in India and therefore felt a huge responsibility to do the country justice. Easier said than done. India is such a diverse and complex country that doing it justice was a daunting task.
T is for Taj Mahal, illustrated by Robert Crawford (Sleeping Bear, 2011), was also part of an existing world series and had to conform to the structure of the other books. A quatrain on the topic was geared to the younger reader, and the more detailed sidebar was aimed at the older elementary age child.
The varying levels of complexity help make the book useable with a wider range of kids, and I hope teachers and librarians will appreciate that. Alphabet books with this unique structure make concepts accessible and more appealing to the reluctant reader as well.
It was my responsibility to address the history, geography, pop culture, sports, and other unique characteristics of the country while always keeping in mind the book's exacting audience, the young reader.
The most challenging task was to choose the word or the topic to represent each letter. I made a chart and then started to juggle concepts around. Some were easy. T is for Taj Mahal was one of the first concepts I put on my chart. I had to include the fascinating and romantic story behind the Taj. B is for Bollywood was a no brainer.
Others were not as easy. Should S be for sari? Should D be for Diwali? How would I include India's cuisine, music, and its many languages?
I was panicked. Was it possible to incorporate everything I wanted within the constraints?
Eventually, after vast amounts of chocolate, many cups of chai, and vociferous nail biting, it all fell into place.
S eventually was for Spices, and it included the section on Indian cuisine. D was for Dress, and it allowed me to include not only the sari but also other forms of dress like the salwar-kameez. And F was for festivals, so I could talk about not only Diwali but other holidays like Holi, which is a spring festival of color.
Robert Crawford's illustrations are vibrant and beautiful and add an amazing depth to the narrative.
My patient critique group made sure that I explained everything I needed to and consoled me when I wailed, "How do you write a quatrain about Export?"
Above all, I am privileged to be a tour guide to India.