By Ellen Booraem
When I was developing the protagonist for my middle-grade novel Small Persons With Wings (Dial, 2011), I was charmed to discover that she was from a family with a history of alcoholism.
Oh, good, I thought. This'll be interesting.
Then Mellie (that's her name) turned out to be overweight.
Then she got bullied.
Whoa, I thought. Choose an issue and run with it, will ya?
But Mellie isn't a one-issue kind of girl. And Small Persons With Wings isn't an issue book—it's about a kid and her family contending with an ancient pact, a moonstone ring, and silly yet dangerous fairies.
Before long, I had a new attitude: Bring on the issues, but don't let any one of them take center stage. Let's make this like actual life, where issues sometimes gang up on you, and often—usually?—refuse to resolve themselves completely.
Issue books certainly have their place on children's bookshelves. If a kid's dealing with a bully or family alcoholism, for example, it's a happy teacher or librarian who can gently recommend a story that illuminates the problem at hand. But people deal with alcoholism and weight issues all their lives—it's part of their routine, like brushing their teeth and walking the dog. There's much to be said for simply incorporating the big issues, even racial relations and sexuality, as part of characters' lives but not the focus of their stories.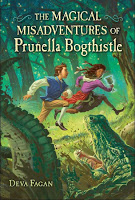 Deva Fagan, a fellow Maine kidlit author, has a brown-skinned protagonist in her second middle-grade fantasy, The Magical Misadventures of Prunella Bogthistle (Henry Holt, 2010). (And Prunella's on the cover! With actual brown skin!) Skin color is not an issue in the book—it's pigmentation, no more. While there continue to be race-related themes that have to be explored in fiction—and have been explored very well—I love the idea of a character's race becoming less a plot driver than a description, like hair color.
How do you do justice to an issue without letting it take over the story? That's nerve-wracking, I'll admit. Problems like being overweight and substance abuse and racial prejudice are extremely important to readers, and to some readers they are all-important. I'd never want to be off-hand about a topic that's crucial to someone else.
The key—as always—is for the story to emerge from characters rather than an intended lesson. If the characters feel real, I figure their troubles and concerns will, too.
In Small Persons With Wings, Mellie's whole family is overweight. After considerable pondering and background work, the character of Mellie's mother turned into a woman who has come to terms with her girth. She doesn't diet, she dresses for "grandeur" rather than trying to cram herself into a smaller size, and she does her best to model healthy eating. But in times of stress she goes for the chocolate chip cookies like anyone else, without excuse or apology. That felt real to me, as did Mellie's father's attempt to break his family pattern of alcohol abuse.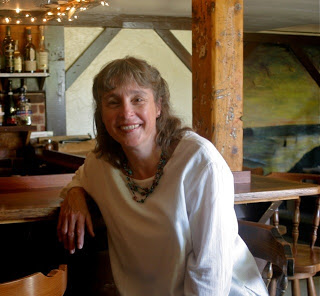 I took my usual route to arrive at the characters and their relationships with their demons: I wrote journals in the characters' voices.
They're often short and inconsequential (the journals, not the characters), but they always get me where I'm going. In this case, the technique clarified everyone's attitudes and put the demons in perspective for me.
I suspect some teachers may question the way the bullying resolved itself. Frankly, Mellie never directly confronts the problem, and certainly never solves it. She simply moves to a new town and tries to start over.
For better or worse, that, too, felt real. Sometimes, distance is your best friend: You don't make a drama out of it—you just go.
Cynsational Notes
Ellen Booraem is the author of Small Persons With Wings (Dial, 2011), a fantasy for ages ten and up that has received starred reviews from Publishers Weekly and Kirkus Reviews. Her debut novel, The Unnameables (Houghton Mifflin Harcourt, 2008) was an ALA Best Book for Young Adults and a Kirkus Best Book of 2008. A paperback edition will be out in March.
Check out the book trailer for The Unnameables: