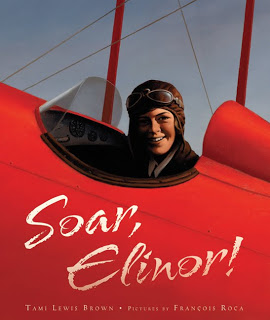 Tami Lewis Brown is the first-time author of Soar Elinor (FSG, 2010). From the promotional copy:
Elinor Smith was six when she first went for a ride in a rickety "flying machine," and she was just sixteen when she earned her aviation license in 1928. But not everyone thought that girls should fly.
When male pilots and newspapermen mocked her, Elinor decided to perform an aerial maneuver they thought was impossible: flying under all four bridges that span New York City's East River.
Gorgeous sweeping illustrations by François Roca show how Elinor pulled off this risky feat skillfully and with style.
Could you describe both your pre-and-post contract revision process? What did you learn along the way? How did you feel at each stage? What advice do you have for other writers on the subject of revision?
From its first spark, Soar, Elinor! seemed meant to be. I grew up in a family of pilots so I'd known Elinor Smith's incredible story since I was a kid. Elinor's fell in love with airplanes on her first flight at age six. By sixteen, she was the youngest pilot in the United States, breaking world records for altitude and endurance. This was a story I had to tell!
Elinor wrote an autobiography (Aviatrix by Elinor Smith (Harcourt, 1992)), so it wasn't hard to pin down the basic facts and write a first draft. But revision was something else.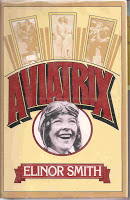 Soar, Elinor! is nonfiction, and for me, that meant not one detail, not one word of dialogue, not even a single image could be made up.
The archivists at the Smithsonian Air and Space Museum helped by pulling out scrapbooks, newspaper clippings, photographs, and articles about Elinor.
I joined listservs visited by actual aviation pioneers–pilots from the 1920s and even earlier. I met antique airplane buffs and learned all sorts of practical things about flying a plane in the 1920's (did you know brakes weren't commonly installed on airplanes until the 1930's?). And I flew with John Corradi, an incredible pilot in Culpeper, Virginia, who owns a restored Waco biplane similar to the plane Elinor flew.
All this very specific research came after that first bare-bones draft. With the new information, I added bits and pieces, took out extras, and polished the words. Dozens of drafts later, I thought the manuscript was ready….
Then I arrived for my last residency at Vermont College's MFA in Writing for Children and Young Adults program. I submitted Soar, Elinor! and was assigned to a workshop led by Margaret Bechard and Leda Schubert. Fate had stepped in again! Margaret's husband is an avid private pilot, and they fly his small plane everywhere. Leda is one of the most accomplished nonfiction writers I've ever met, and her knowledge and understanding of picture books is unparalleled.
Margaret, Leda, and ten talented student writers put me and my manuscript through the paces in workshop, and both Leda and Margaret met with me outside the group, sharing tips for how I could make this story stand out. Leda showed me how to do more sophisticated photo research and how to put together a nonfiction submission package.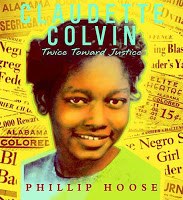 After the residency, I took all the suggestions to heart, made even more extensive revisions, and sent the new and improved Soar off to Melanie Kroupa.
Melanie has edited some of the most beautiful and important nonfiction and fiction published for children- National Book Award winner Claudette Colvin: Twice Toward Justice by Phillip Hoose (2009) was one of her books. She'd been a speaker at that Vermont College residency, and I'd had the opportunity to mention the manuscript to her. Talk about fate! What were the chances?
As it turned out, Melanie loved the idea of telling Elinor Smith's story as much as I did. She was the only editor who saw the manuscript, and she acquired it right away.
Then the real work began. Melanie challenged me to craft every line so the prose would stand up to Elinor's sparkling story. Then she asked me to do something I'd been afraid to do–find Elinor.
I'd searched obituary records so I knew Elinor was still alive, but by that time she was 96 years old. Would she remember her flight under all four East River bridges? Would she be flattered that I was writing her story–or offended? And how could I find a 96-year-old lady with the last name of Smith?
Through a series of what seemed like random coincidences, I located Elinor's son in Northern California. He told me Elinor would be happy to talk to me about her flying days. We had several wonderful phone calls (although years of aircraft engine noise had taken its toll on her hearing.) Then Elinor invited me to visit her–and to look through all her photographs and papers.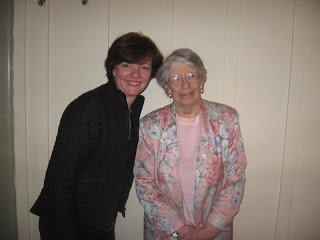 It was a trip I'll never forget. Meeting this grand lady and aviation pioneer was truly one of the most rewarding things I've ever done. She was as bright and spunky as I'd imagined and as agile as a woman half her age.
I struck buried treasure when Elinor's family brought out box after box of scrapbooks, photos, and memorabilia. I bought a scanner and my great writer friend Zu Vincent helped me scan every single photograph, certificate and paper in Elinor's collection.
I even got to wear Elinor's flight helmet and hold her goggles to my face. Wow!
Of course the stories Elinor told me and the gorgeous photographs we found generated a whole new round of revisions, but I knew the sensory details she described–a golden patchwork of potato fields spread across Long Island, engine exhaust that smelled to her like spicy perfume– would make my book even better.
When François Roca presented his beautiful illustrations, I did a final round of revisions.
Writing the text of this picture book was a long process, but every revision brought me closer to the book it is today. Best of all, it honed writing skills I'll use in every book I write.
As a nonfiction writer, what first inspired you to take on your topic? What about it fascinated you? Why did you want to offer more information about it to young readers?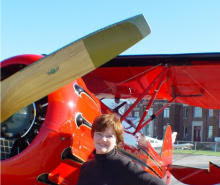 As I said, I grew up in a flying family. My dad, my mom, even my little sister were pilots. I learned to fly, too, owned a plane, and even practiced aviation law for a while.
It was easy for me to understand Elinor Smith's passion for the sky. There's no peace like flying a small plane above the clouds, or landing at a tiny airport at sunset. Some people find flying in small planes terrifying, but I love them.
My father was especially passionate about flying. He passed away just after I started the MFA program at Vermont College. I wanted to write something that would honor his memory, and he would have loved this book.
I was excited about the flying aspect of Elinor's story, but she was so much more than a flier and it's really much more than a story about airplanes and pilots.
When Elinor said she wanted to become a professional pilot, most people said airplanes were no place for a girl. Not only did Elinor ignore them, she planned and executed one of the most daring aerial maneuvers ever accomplished. She flew under all four East River bridges. Overnight she was literally world famous, with her face splashed across newsreels on every continent.
The New Yorker magazine called her a "feminist," and pilots named her the "Best Woman Pilot in America" beating Amelia Earhart and others. She was just a teenager, but nobody ever doubted she was a top flight pilot again. Elinor's determination to break through other people's barriers made her a great example for young people in the 1920s and for our time, too.
Sadly, the stock market crashed, Elinor's funding dried up, and she was forgotten. So many incredible women's achievements have fallen by the wayside. I'm so glad the story of Elinor's accomplishments won't be lost forever.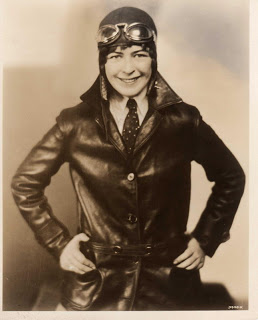 I'm most excited about introducing this pioneer to a new generation. We've created a great Teacher's Guide with lots of fun activities and an amazing kit for Women's History Month (PDF). Both are free, downloadable on my website.
I've also posted actual newsreel footage of Elinor going for altitude and endurance records there, with links to a 1920's radio station that plays music Elinor would have listened to, links to live air traffic control transmissions from airports all over the country, and more.
Every morning, I post a new milestone of the day from women's aviation history to my blog On The Fly.
The book is the main thing, of course, but these materials get kids involved with a story that might seem long ago and far away.
Just this morning I visited a kindergarten classroom where the children spontaneously built a life-sized plane from large blocks while listening to ragtime music. It was a riot! Elinor would have loved their enthusiasm.
Elinor discovered her passion at a young age. Once she had a dream nothing could keep her from achieving it. Isn't that a lesson we can all take to heart?
Cynsational Notes
Nominated for ALA's Amelia Bloomer List
Junior Library Guild selection
"Look out Amelia Earhart… Debut author Brown skillfully builds suspense as Elinor studies each bridge, plans her route, and takes flight, leading to a nail-biting conclusion." –Publishers Weekly (starred review)
"Brown's prose is crystalline, lively and reads well aloud. Roca captures the air and sky beautifully…"- Kirkus Reviews