On the Act of Writing by Cate Tiernan from Teenreads.com. Peek: "I'm trying to interpret the world around me (and the world inside me), and I'm trying to express that in a way that others will understand, and perhaps come to see themselves in, at least a little bit."
Habits of a Working Writer by Kristi Holl from Writer's First Aid. Peek: "You must begin to think like a writer–and that will lead you to acting like a writer. Then you'll build the habits of a writer–and eventually you will get to enjoy the benefits of being a writer."
Books for Children about Grandparents from Cynthia Leitich Smith Children's Literature. Notes: can you suggest some recent releases to add to the list? Grandparents Day is Sept. 12.
Daniel Powers on Picture Books: Part 2, the Physical Relationship Between Text and Image; Part 3, the Conceptual Relationship Between Text and Image; Part 4, Pictures Leading the Narrative from Uma Krishnaswami at Writing with a Broken Tusk. Don't miss Part 1, the Physicality of a Picture Book (and Continued).
Reading Aloud: An Effective Editorial Tool by Mary Lindsey from QueryTracker.net. Peek: "The human mind compensates for errors. When reading, mistakes are missed because the brain anticipates patterns and corrects inconsistencies automatically. Reading out loud forces the reader to slow the rate, which helps identify errors."
The Pirate Code of Children's Literature by Stacy Whitman, Editorial Director, Tu Books, an imprint of Lee & Low Books from Science Fiction and Fantasy Writers of America. Peek: "A lot of editors will suggest that you make your protagonist a year or two older than your anticipated reader. Kids older or younger might read and love the book, but the targeted reader is probably in a narrow age band."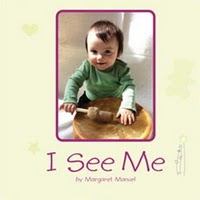 Margaret Manuel's I See Me: a board book recommendation by Debbie Reese from American Indians in Children's Literature. Peek: "The child shown on the cover is on each page. Some pages are about the things all babies do (smile, cry) and some are things specific to Native cultures."
Author Guest Post: Kimberley Griffiths Little on the Book Trailer for The Healing Spell (Scholastic, 2010) from Jess at The Cozy Reader. Peek: "Nua Music wrote the original music for the trailer and created the sound design as well as doing final work on all the images to make them match in color and texture as well as producing the video and doing the opening and ending images, credits, etc." Note: Scholastic is offering the full song as a free download. Listen to "Treater Woman," and learn more about The Healing Spell.
Eleven Great Multicultural Blogs: complied by Mitali Perkins from Mitali's Fire Escape. Peek: "…focus specifically on ethnic and cultural diversity in the Kid/YA book world."
Call for Mentors: Middle Grade and YA from Sacha. Peek: "I am hoping to start a new session of my online mentoring project for middle grade and young adult authors. The plan is to pair up a fledgling writer with a published or soon to be published author." Note: the program runs two months and the anticipated time commitment is about an hour a week. Source: Mandy Hubbard.
Teachers, Librarians and Homeschool Groups: Enter to Win a Skype Author Visit or Six Autographed Books with a Back-to-School Writing Activity by Carmela A. Martino at Teaching Authors. Deadline 11 p.m. CST Oct. 4.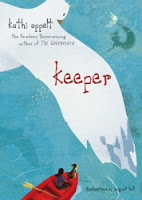 Interview with Newbery Honor Author Kathi Appelt from Bobbi Miller. Peek: "I've begun to consider fantasy in a larger sweep — including tall tales, folk tales, superhero stories, magical realism, etc."
How to Deal with Contradictory Query Advice from Nathan Bransford. Peek: "Consider the source, consider the freshness of the advice, and beware of anyone who tries to tell you that there's one way and only one way to find successful publication."
SLJ's Trailie Awards Asks Readers to Vote for Their Favorite Book Trailer by SLJ staff from School Library Journal. Peek: "Voters must select the best video in six categories: publisher/author created for elementary readers (PreK-6); publisher/author created for secondary readers (7-12 grade); student created for elementary readers (PreK-6 grade); student created for secondary readers (7-12 grade); adult (anyone over 18) created for elementary readers (PreK-6 grade); and adult created for secondary readers (7-12 grade)."
This is Why You Always Meet Your Deadlines by Eric from Pimp My Novel. Peek: "…this business is slow enough as-is, so as debut writers who always want to make the best of impressions, it's in your collective best interest to get your manuscripts and revisions delivered on time." Source: Elizabeth Scott.
Creating Your Main Character by Cynthia Watson from Carolyn Kaufman at QueryTracker.net. Peek: "Does my main character behave logically, i.e., does he have common sense, worthy goals readers can relate to?"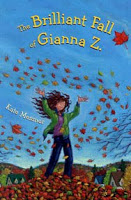 Tweet Round-up by Alice Pope from Alice Pope's SCBWI Market Guide. Note: terrific list; well worth a careful read through. See Author Advice with Kate Messner: Making Time to Write from Lesley Says. Peek: "Along with my teaching job and family, I've managed to write four novels, two chapter books, and three picture books over the past three years." See also 12 Ways to Create Suspense by Gail Carson Levine from Ingrid's Notes.
The Importance of Sitting in One Place and Reading by Craig A. Platt from Art Bystander. Peek: "I am reading. My mouth slightly bitter from the drink I am enjoying. This is a true feeling of calm." Source: @Candlewick.
Hunger Mountain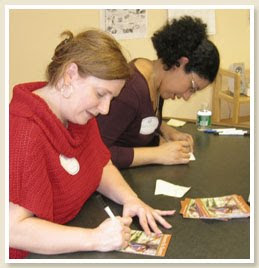 Congratulations to editors Bethany Hegedus (in red) and Kekla Magoon (in purple) on the September issue of Hunger Mountain: Young Adult and Children's Literature. Check out the articles:
The Q in GLBTQ is for Questioning. Don't let it be for Quandary or Quagmire. by Sara Ryan. Peek: "So how do you, as a writer, represent the complexity of sexuality, let alone gender identity?"
Controversy, Catharsis, and the Odd Couple by Alex Sanchez. Peek: "By coaxing, cajoling, and convincing me to write about topics I cringe at, my insistent muse has helped me to heal those old wounds. He's given me the courage I lack."
Releasing Pain Through Writing by Cheryl Rainfield. Peek: "Novels were a big part of my survival in childhood—and a big part of my healing. I was always reading to know I wasn't alone or crazy like my abusers said I was, as well as reading for escape from my own trauma."
What My Last Book Taught Me: A Subconscious Gift by Malinda Lo. Peek: "I wanted it to be not only normal that she fell in love with another woman; I wanted others to envy her romance. Just like Cinderella."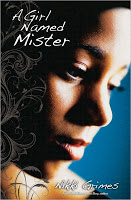 Color Me Perplexed by Nikki Grimes. Peek: "What makes a librarian, or teacher, or a parent for that matter, assume that a book is inappropriate, or of diminished value to a child simply because the character on the cover is of a different race?" Note: Nikki's YA novel A Girl Named Mister was released by Zondervan in August.
GLBTQ Teen Coming Out Stories: Move Beyond Them, or Keep 'Em Coming? by Lee Wind. Note: "An Imaginary Yang and Yin Dialog by One Writer of Two Minds."
Think Like a Director by Sarah Aronson. Peek: "…we see the images as dictated by the viewpoint character. The narrative voice modulates our image of the fictive world. We can jump in time. We can speed up; we can slow down."
Walking the Song Lines–Picture Book Revision: Shaping the Text by Sarah Sullivan. Peek: "I can see now that I needed to tell that story first before I could find a way to build the foundation for what the book was really about. It was in the second draft that I started to discover the theme that would provide the framework for the book."
Authentic Latino Voices by Mayra Lazara Dole. Peek: "When the media, journal reviewers and publishers list books as 'Latino' or 'Hispanic,' instead of, let's say, Cuban-American or Nicaraguan-American, it leads children and teens to believe our culture and celebrations are identical."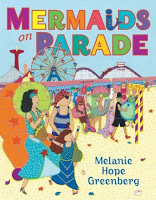 Diversity in Picture Books by Melanie Hope Greenberg. Peek: "Tolerance and democracy are practiced on the New York City subways. This is the world I see on a daily basis. A world that is not homogenized. The characters in my books now have various skin shades, cultures, and genders, reflecting the world that I experience."
Interview with author and publisher Cheryl Willis Hudson, Co-Founder of Just Us Books by Kekla Magoon. Peek: "The stories must be authentically centered in African American life and culture. So we pay special attention to voices from the African American community because they reflect who we are and what we are about."
Cynsational Screening Room
Check out the book trailer for Halo by Alexandra Adornetto (Feiwel and Friends, 2010). Note: from Alexandra's bio Alexandra Adornetto was fourteen when she published her first book, The Shadow Thief, in Australia…. Alex lives in Melbourne, Australia; Halo marks her U.S. debut."
Watch this video interview with author Alexandra Adornetto, age 18, from Macmillan Children's.
Check out the book trailer for Nothing Like You by Lauren Strasnick (Simon Pulse, 2009, 2010).
Reminder: The launch party for Brains for Lunch: A Zombie Novel in Haiku?! by K.A. (Kari) Holt, illustrated by Gahan Wilson (Roaring Brook, 2010) will be at 2 p.m. Sept. 12 at BookPeople in Austin. See also Kari's rundown of the awesome things that will be happening Sunday (including, but not limited to: giant floating ice brains, Kari: zombified).
More Personally

Happy belated anniversary to my very cute husband and sometimes co-author Greg Leitich Smith. I woke up to these roses on Saturday morning. Note: earlier this week, he announced the sale of his next novel, The Chronal Engine: Ahead of Time, to Clarion (2012); see more information.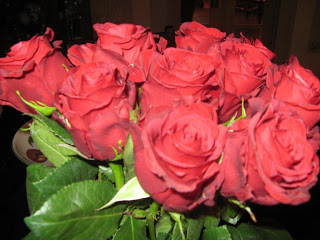 What else? I'm pleased to announce that Turkish language editions of Tantalize and Eternal will be published by Artemis Yayinlari in Istanbul.
My favorite quirky link this week is The Alphabet Carved in Pencil Leads from jama rattigan's alphabet soup.
How They Do It: Guest Blogger Cynthia Leitich Smith on Process from Janice Hardy at The Other Side of the Story. Peek: "I do still exchange manuscripts with…Greg Leitich Smith. We met as first-year law students, and we're much more direct with each other than we'd ever be with anyone else. Imagine receiving a manuscript marked, 'No way is this going out of the house with the family name on it.'"
Giveaway Reminders
Calling all Goddess Girls! Enter to win an autographed Goddess Girls: Aphrodite the Beauty by Joan Holub and Suzanne Williams (Aladdin, 2010), plus an Aphrodite the Beauty swag bag, featuring: 24-color eyeshadow from Claire's; seven lip glosses with faux rhinestones; multicolor bracelet; Goddess Girls bookmark.
To enter, just
email me
(scroll and click envelope) and type "Aphrodite" in the subject line. Facebook, JacketFlap, MySpace, and Twitter readers are welcome to privately message me with the title in the header or comment on this post. Deadline: midnight CST, Sept. 9. U.S. entries only. See also a
Cynsations guest post by authors Joan and Suzanne
.
Surf over to Mundie Moms to read the latest interview with Cynthia Leitich Smith, and enter to win bookplate-signed copies of Tantalize (Candlewick, 2007, 2008) and Eternal (Candlewick, 2009, 2010)! All you have to do is fill out a short form. Deadline: Sept. 15; U.S. entries only.
Holiday Catch-up
For those who may have missed a post or two over the Labor Day weekend: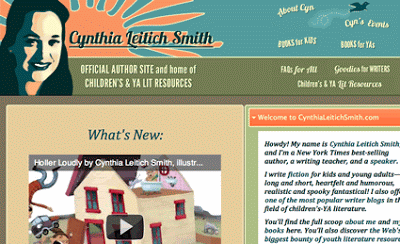 Web Designer Update: Lisa Firke on the Redesign of www.cynthialeitichsmith.com from Cynsations. Peek: "One of the more subtle ways I've tried to distinguish between your role as author and your role as curator of the literature resources is the horizon line in the masthead image."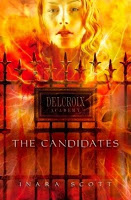 New Voice: Inara Scott on Delcroix Academy: The Candidates (Hyperion, 2010) from Cynsations. Peek: "I did not originally connect the events in my novel with current events. I wanted to challenge the dualistic paradigm usually seen in fantasy novels because I found that fascinating, not because of any particular issue in the real world. Yet at the same time…." See also Cover Stories: Inara Scott on Delcroix Academy from Melissa Walker.

And finally, I posted some pics of a party at my house in honor of Anne Bustard's and Lindsey Lane's recent completion of their MFA degrees in Writing for Children and Young Adults from Vermont College of Fine Arts. Anne and Lindsey graduated in the July 2010 class. Both are published picture book authors.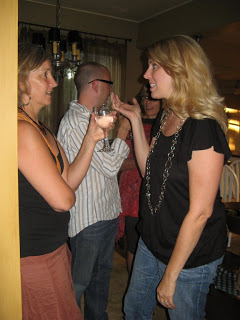 Illustrators Mary Sullivan (in black and red) and C.A. "Christy" Stallop (in black and denim) chat in the foreground while illustrator Erik Kuntz and VCFA grad and author Lindsey Lane visit in the background.
Cynsational Events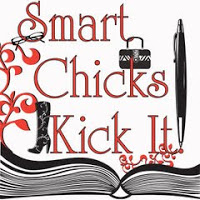 The Smart Chicks Kick It Tour begins in Austin with authors Kelley Armstrong, Melissa Marr, Alyson Noel, Holly Black, Rachel Caine and Cassandra Clare at 7 p.m. Sept. 13 at BookPeople. See the whole schedule from Mary E. Pearson.