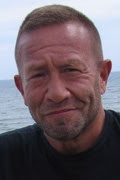 Interview by Jenny Desmond Walters for SCBWI Bologna 2010
Your experience in the book publishing industry spans more than 30 years. Over this time, have you observed that many book trends and topics come and go, or do you think there are classic themes in children's storytelling that never go out of style?
Both. Great stories and great themes never go out of style. But I've been in the business long enough to observe that most everything in this business is cyclical. I've seen entire genres come into fashion, go out again, and then return with a vengeance.
I was at Atheneum in the early '80s when Jean Karl and Margaret McElderry were publishing brilliant work by Ursula K. LeGuin, Anne McCaffrey, Susan Cooper, and Andre Norton.
Then we went through a period when fantasy was pronounced dead, at least until the arrival of a certain boy wizard.
Historical fiction was thought a difficult sell . . . until Sarah, Plain and Tall [by Patricia Maclachlan (HarperCollins, 1985)] came along. Now it's tough again.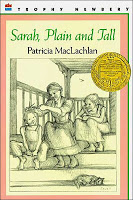 Children's nonfiction was almost by definition an "institutional sale" until DK re-invented the category with Eyewitness.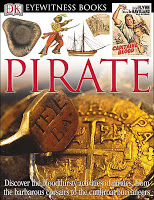 In the '80s, picture books were the machine that drove the industry; sadly, that category has been difficult for a number of years, for a variety of reasons, but I think the tide is turning. I hope so, because most of the books I publish are visual.
I've never paid much attention to trends and simply published books I found irresistible, on the assumption that other people would too. And I'm still employed, so I guess my track record must be pretty good.
As the Editorial Director of Neal Porter Books at Roaring Brook Press, what are some of the specific ways you're involved in finding new authors?
Well, that title sounds awfully grand, especially when you consider that Neal Porter Books consists of myself and an assistant. I wish I could say I spent my days burrowing through material that comes in over the transom, but I live and work in a small New York apartment and I simply do not have the space, or support, to deal with mountains of unsolicited material.
About 60 percent of the books I publish are agented; 20 percent are by authors or artists whom I've long admired who don't happen to have an agent (that usually involves a phone call or query on my part), and the rest have been referred by people I already publish. I love finding new artists.
I'm fortunate in that I've worked with the same designer, the wonderful Jennifer Browne, for the last 16 years. Jennifer has a great eye, and together we scour the Internet, student shows, websites, etc. For me, there are few things as satisfying as finding the right artist for a text, then watching the whole book come together.
Can you tell us what a typical day at work is like for you?
As I've mentioned, for the last ten years I've worked at home, so unlike most people in publishing, my commute consists of walking from my bedroom to a walk-in closet off my living room that serves as my office. Once I've scanned the New York Times, I head for the closet and my computer, and check my e-mail, which often includes messages from European publishers working five or six hours ahead of us.
Just dealing with e-mail is a huge task; I'm glad it's there but am skeptical about whether it's made us more productive as editors. I check in with the office and also with Jennifer, who works from home in New Jersey.
We're small, but we're far flung. Jennifer and I do a lot of our work over the Internet. She'll send me a PDF of a jacket design or a page layout, and then we'll go over it on the phone.
Meetings with authors or artists take place throughout the week, and it's nice to be working around a coffee table in my living room, rather than in a sterile office. The downside is that I have to vacuum more often than if I were left to my own devices.
The day zips by pretty quickly–punctuated by many, many phone calls–some welcome, some not–and occasional trips to the Roaring Brook offices, usually to deliver final art to production.
We have a weekly editorial meeting at Roaring Brook, which I very much enjoy. It's a chance to see what my colleagues are up to and also to get feedback on books I'm either thinking of acquiring or that are in process. It's not an acquisitions meeting per se, just an opportunity to solicit opinions and offer advice.
We also have a production meeting once every other week, where our managing editor attempts to keep all of our books on track.
Sometimes I'll have lunch with an author or agent, but more often than not I'll simply forget to eat. There's flap copy, catalog copy, tip sheet copy to write–the least favorite thing I do because it feels too much like homework.
I save the evenings for reading, and sometimes for answering yet more e-mails. Given the time difference, I often get messages from Australia at around midnight, and I love shocking them (at least those who don't know I work at home) by responding immediately.
Your Wikipedia entry mentions that multiple books edited by you have received top awards and citations every year for at least the last seven years, including awards last year going to the amazing Laura Vaccaro Seeger for One Boy (Neal Porter, 2008) and Yuyi Morales for Just in Case: A Trickster Tale and Spanish Alphabet Book (Neal Porter, 2008).
I'm curious to know what happens next–after a book receives one of the American Library Association's coveted awards, what changes occur in the author's and editor's world, aside from much celebrating, of course? Also, I think it's pretty cool that you have your own Wikipedia entry!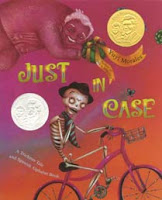 The Wikipedia entry was filed by a good friend who also happens to be an author I publish. I think it just goes to show you that anybody can have a Wikipedia entry.
As for the awards, they're lovely things, and can open many doors, especially if they're given early in an author or artist's career.
The Newbery and Caldecott have an immediate effect on sales, more dramatic than any other literary award, including the National Book Award, the Pulitzer, and even the Nobel. But the less well known awards, the Sibert, the Geisel, et al, also bring excellent work to the attention of a much larger audience, and that's a very good thing.
I have mixed feelings about all of the blogging and tweeting that goes on in the run up to the announcements. It's nice to see so many people excited about children's books. But an author whose book wins the Mock Newbery in Des Moines can be set up for a major disappointment on the morning when the ALA calls are actually made.
I try to ignore it as much as possible and suggest that authors do the same.
Speaking of Laura Vaccaro Seeger, I read an interview by the School Library Journal (July 1, 2007) where she talked about the inspiration for her book, Dog and Bear: Two Friends – Three Stories (Neal Porter, 2007). She mentioned that in this book, you are Bear. That must be pretty special! Can you tell us more about how this story came about and the role you played in helping her shape these characters?
Laura had published three brilliant "concept" books at that point, and we both wanted to do a simple, narrative picture book. I happened to be visiting her one afternoon and encountered a peculiar-looking stuffed bear perched on a high chair in her living room.
I said something highly intelligent and probing like, "What's with this bear?"
And she told me that she'd found him in a thrift shop.
I said, "Maybe he needs a story."
At that point, her frisky dachshund Copper bolted into the living room. And Dog and Bear were born.
Since the stories were so simple, I thought it was important that we get an absolute bead on who these characters were, and suggested that she make a list of personality traits for each.
When she read the list for Dog–excitable, energetic, creative, etc., I said, "That sounds just like you."
And when she read the list for Bear–quiet, thoughtful, timid, a little formal, etc., she said, "That sounds like you!"
And so they were.
When you publish the work of a client, do you generally work with that person throughout their career, or is it more common to work together on a book-by-book basis?
I'm not crazy about the word "client" – it makes me sound like I'm doing all the work, and I really view it more as a collaboration. That depends on so many factors–financial as well as artistic.
Let's just say that the most satisfying relationships are long term.
I reviewed the Roaring Brook Press Spring 2010 catalog (PDF) on the Internet and was excited to see an array of wonderful and interesting titles in the pipeline. I've already made out my wish list of titles that I'll definitely own. What are some of the books you are most enthusiastic about this year?
Laura has a new picture book this spring, What If?, that's really about making choices, and the consequences of those choices. It's also about a boy, a ball, and three seals. The same story is told three times, with three possible resolutions. It's kind of a picture book version of "Rashomon," if you know that movie. And I think it's extraordinary.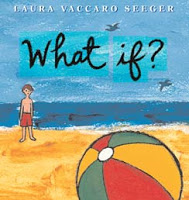 Charles R. Smith Jr. and Shane Evans have done a smashing picture book biography of Jack Johnson, the first Black Heavyweight Champion, that we're publishing on July 4, 2010, the 100th anniversary of "The Fight of the Century." [See Black Jack: The Ballad of Jack Johnson.]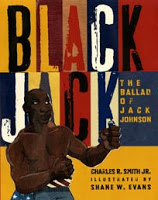 A fall book that I'm very excited about is Jan Greenberg and Sandra Jordan's Ballet for Martha: Making Appalachian Spring, with wonderful paintings by Brian Floca. It's a book about three great collaborators–Martha Graham, Aaron Copland, and Isamu Noguchi, that's been written and illustrated by three great collaborators.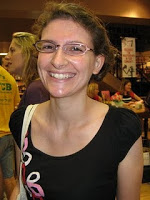 And my pick for quirkiest book of the year is Brains for Lunch, a zombie novel set in middle school that's written entirely in haiku! The author is K. A. Holt [shown], and the pictures are by Gahan Wilson, the great New Yorker cartoonist.
And last, what are some of the personal or professional goals you have for attending SCBWI Bologna and the Bologna International Children's Fair this year?
I have but one goal at Bologna: to be utterly seduced by a book and to publish it. That happened three years ago with Marion Bataille's ABC3D and who knows? Maybe lightning will strike again.
Thank you so much, Neal, for taking time to share your knowledge and expertise with us. We look forward to learning great things from you at this year's SCBWI Bologna event.
My pleasure.
Cynsational Notes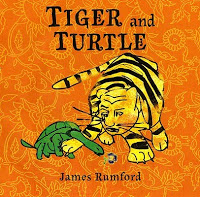 Neal Porter has been in and around the book publishing industry for more than 30 years. After a brief stint in the college textbook department of St. Martin's Press, he moved into trade publishing, where he held marketing positions at Avon Books, Farrar, Straus and Giroux, Atheneum and Scribners.
In 1985, he became Editorial Director of Aladdin Books at Macmillan, and in 1987, he moved to London to become Joint Managing Director of Walker Books in London. He returned to the United States in 1989 as Vice President and Publisher of Macmillan Children's Books and subsequently held executive positions at Orchard Books and Dorling Kindersley.
In 2000, he decided to step away from administration and focus exclusively on editing books. That year he helped to found Roaring Brook Press, where he is currently Editorial Director of Neal Porter Books.
Jenny Desmond Walters is the founding regional advisor of the SCBWI Korea chapter. She is an experienced education professional with a love of learning and literature. She has worked in public television developing curriculum and promoting instructional programs, as well as worked extensively with educational publishers and learning materials companies. For the last several years, Jenny has lived in east Asia where she has become an avid writer and observer of life in Japan and Korea. Her articles have been published in national children's magazines and writing journals, and she has been a member of SCBWI for more than 10 years. Jenny currently resides in Seoul with her husband and three daughters, and she rarely runs out of interesting stories to write.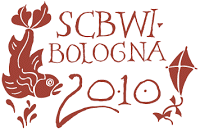 The SCBWI Bologna 2010 interview series is brought to you by the SCBWI Bologna Biennial Conference in conjunction with Cynsations. To register, visit the SCBWI Bologna Biennial Conference 2010. Note: Special thanks to Angela Cerrito for coordinating this series with SCBWI Bologna and Cynsations.