Virginia Hamilton: Speeches, Essays, & Conversations, co-edited by Arnold Adoff (Hamilton's husband) and Kacy Cook (Scholastic/Blue Sky Press, 2010), gives us Hamilton's voice throughout her career, from her first nationally published essay in 1971 to her final speech at a children's book festival in 2001.
Through these pieces, Hamilton explored her creative process and shared her views on the role of the writer as well as insights on the central themes of her work.
Syndicated reviewer Kam Williams praises the book as "a rich portrait of a literary icon revealing her to be a brilliant, opinionated, and fiercely independent soul whose legacy and innovative approach to storytelling deserves to be the subject of study not merely by African Americans but by English scholars of all hues for generations to come."
Kirkus Reviews says, "By any standards, Hamilton was an unusually clear thinker and brilliant wordsmith. Here, a lesser-known facet of her glittering reputation gets a fresh shine."
this is arnold: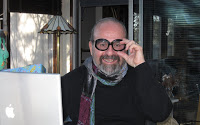 after virginia passed eight years ago, i closed the sliding door to her office and kept it closed….i traveled and spent time with our kids…in nyc and berlin…and mostly ran and ran and ran….
but slowly i began to stay here in ohio for longer periods of time…and i started to confront my own unfinished work…and the unfinished work of Virginia's life….
she and I had often talked about doing a collection of her speeches…but the time never seemed just right: there was always one more novel, a new collection of folktales, that continuing movement forward which was the energy of our life together….
when our son, jaime, began to write and publish for young readers [see Jaime Adoff], i wanted to get out to conferences with him…to introduce him to old friends and colleagues, share a platform, enjoy a joint reading and our spirited public conversations….i began to re-enter the world of books and publishing…
This is Kacy: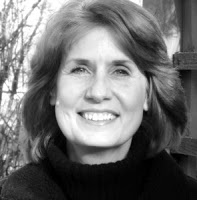 I had been an editor and journalist for about 25 years when I began to look at a lifelong love of fiction and children's literature as more than just a hobby. I spent my spare time writing, and started attending writers conferences for inspiration and guidance.
I met Arnold in 2006 at a conference where I volunteered. One afternoon, he and I found common ground in a lively discussion about having sons in rock bands. In the following weeks, through an email correspondence, he became my mentor and motivator.
When I first visited Arnold in Yellow Springs, he pointed out Virginia's office to me through the closed sliding glass door. I was drawn to it like a magnet, but it was clear that Arnold was not ready to open that door.
Over the next six months or so, I came to realize that that door and what lay behind it was weighing very heavily on him. He well understood the importance and value of the vast collection of Virginia's papers, but he found it difficult to wade back in.
arnold:
kacy gained my trust, and, little by little, moved me forward into that old office…as we began working on collecting Virginia's manuscripts for deposit into the library of congress, we found a number of hamilton speeches and essays…we soon realized that there were more than 150 such files, most of which had never been published….
Kacy:
When Arnold suggested that the speeches and essays would make an amazing collection, I began to think of how I could help him to make that happen. Because most of these files existed as single copies of typewritten documents, I decided to put them into digital format.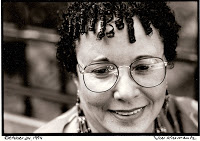 Rather than scan them, I began to type them onto my laptop. It was like a college of one! I had never met Virginia or heard her speak, but over the next several months, she became my constant companion. I learned so much and was greatly inspired by her words, and I became even more excited about sharing this treasure trove with others.
Once we had a digital archive and an outline of all the documents, Arnold and I began an intricately involved and deeply involving selection process.
We wanted to show the greatest cross-section of the breadth and depth of Virginia's life and career, in her own words.
We had a collection spanning thirty years, so we first sought to represent each year. That was the easy part!
Next we looked to portray the splendor of her achievements through the abundance of awards and honors she had received—acceptance speeches for the Newbery, Hans Christian Andersen, Laura Ingalls Wilder and Coretta Scott King awards, among many others, as well as the Arbuthnot Lecture and an address at the Library of Congress.
Of course, we wanted to share her thoughts on her 40+ books and how they were created.
And we attempted to show the many subject areas that were important to her, including family, history, culture, the creative process, and the writing life.
Finally, we wanted to demonstrate the diversity of her audiences (she was invited to speak all over the United States as well as in Russia, Japan, and Europe) and the variety of styles and formats (besides fiction and biography) in which she excelled—lectures, essays and articles, and interviews (both as interviewee and interviewer). Whew!
arnold: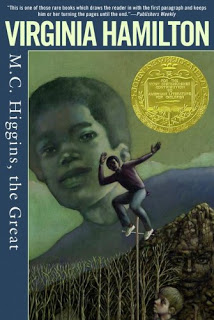 this collection, Virginia Hamilton: Speeches, Essays, & Conversations, is the first of several collections of hamilton nonfiction work….and contains many of her major speeches….(the newbery acceptance speech is included in its entirety at virginiahamilton.com….)
this book shows virginia's vision for a new america of inclusion and excellence….with particular attention to race and gender…virginia was an american woman author, as well as an african american writer who was a woman….(plenty of room for all the labels on a chest….)
she talks about the "parallel cultures" of this america (in a logical and needful attempt to eliminate the judgmental terms of "majority" and "minority" we cling to in cultural desperation(s))…and describes her work as "liberation literature…." for young readers and their older allies….
virginia's novels were "survival manuals" in practical as well as metaphoric meanings… and we would sit around on an afternoon..sipping herb tea and struggling with the simple concept: that our books would never fill a young belly, level a playing field (dreadful expression!) or deflect a bullet…
but we knew we were filling heads and carving steps….
this first collection of some of her speeches and essays presents thought and stance and system to young readers and their teachers and librarians and parents….her voice is powerful and authentic and relevant as the struggles of the last fifty years are relevant to the next….
More on Virginia Hamilton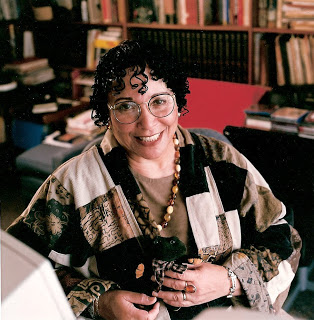 Breaking new ground came naturally to Virginia Hamilton. In 1967, the publication of her first book, Zeely, launched the modern era of African American children's fiction.
Through her more than forty award-winning books spanning multiple genres, in scores of speeches worldwide, and in essays for prominent magazines and journals, Hamilton helped to bridge cultures and generations.
In 2010, eight years after her death, this important legacy continues to grow.
Hamilton's legacy continues through the efforts of her husband, poet and anthologist Arnold Adoff. He has revised and updated her website and is offering there the full text of Hamilton's Newbery Medal Acceptance Speech as a preview of the new book.
Adoff has made Hamilton's papers available to scholars and researchers by donating them to the Library of Congress, and April will mark the opening of the Virginia Hamilton and Arnold Adoff Resource Center at Wright State University's Bolinga Center.
Hamilton is America's most highly honored author of children's books. She was the first African American to win the Newbery Medal, the first children's author to win the MacArthur Fellowship ("Genius" award), and one of only a handful of Americans to win the international Hans Christian Andersen Medal, know as "The Little Nobel Prize."
She also won the National Book Award, the Boston Globe–Horn Book Award, the Coretta Scott King Award, the Edgar Allan Poe Award, and the Laura Ingalls Wilder Award for her body of work, among many others.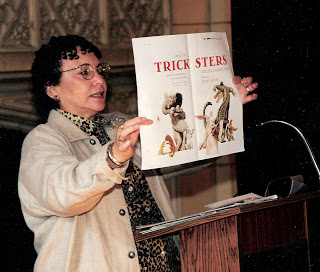 The Virginia Hamilton Conference, held each spring at Kent State University, is the longest running conference on multicultural literature for youth in the country.
Beginning this year, the American Library Association is presenting a new award to honor her memory.
The Coretta Scott King–Virginia Hamilton Award for Lifetime Achievement will be given for lasting and significant contributions to youth or young adult multicultural literature, alternating each year between authors/illustrators and practitioners.
The first recipient of the award, announced Jan. 18 at the ALA Midwinter Conference, is Walter Dean Myers.
Virginia Hamilton book and award: Curating legacy of an American writer by Lauren Heaton from Yellow Springs News in Yellow Springs, Ohio. Peek: "She and Adoff chose to write for children because as the source of change and growth in America, the youth 'were the only place that allowed us a sense of optimism for the future,' he said. They felt their job was partly to help young readers break free from the labels that bound them. Hamilton called her work 'liberation literature.'"
Writers Against Racism: In His Own Words…Arnold Adoff from Amy Bowllan at Bowllan's Blog at School Library Journal.