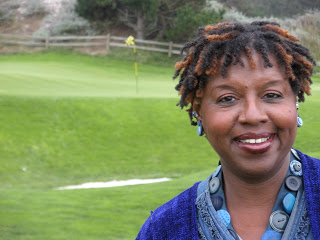 Learn more about Nikki Grimes and her recent releases, Make Way for Dyamonde Daniel and Rich: A Dyamonde Daniel Book, illustrated by R. Gregory Christie (both G.P. Putnam's Sons, 2009) and Voices of Christmas, illustrated by Eric Velasquez (Zonderkidz, 2009).
How do you define professional success?
The notion of professional success is a sticky-wicket. It is almost always defined by those outside of ourselves.
I prefer to focus on defining and achieving personal success, and I judge that in a few ways.
Am I reaching my intended audience? By and large.
Am I having a positive impact on the thinking of my readers? Yes.
Am I introducing reluctant readers to the joy of literature? Yes.
Do I enjoy the respect of my peers? Thankfully.
In the world's eyes, of course, the most important proof success is that I'm making a living at my chosen profession and that I have achieved a degree of acclaim in doing so. But I think anyone who steps out in faith to answer the call of her heart can consider herself on the road to success, because that is where true success begins.
Could you tell us about your writing community—your critique group or critique partner or other sources of creative support?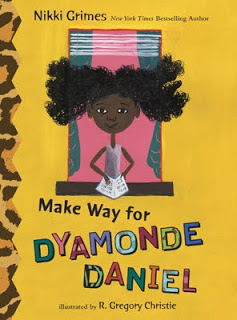 I belong to a unique arts fellowship called Montage. We've been together for about 22 years, so long, in fact, that we now have a second generation of members. A few children of our original members are now budding artists themselves, and have joined our circle as equals! That is very exciting.
Montage is not a writers' group, though. It is a community of artists crossing many mediums. Members include composers, filmmakers, visual artists, performing artists, columnists, essayists, poets, and children's authors. Some of us are professional, but not all.
Ours is a refreshing mix of genres and ages. That mix serves us well. In particular, it benefits me. When I ask for critique of a work in progress, I enjoy feedback from artists who are also teachers as well as artists who are students.
It's an amazing piece of luck for a young adult author to have an articulate 16-year-old in the room when she reads a chapter of her newest YA manuscript.
In addition to Montage, I have a small circle of readers I rely on to critique entire manuscripts. A few of them are members of Montage, but others are writers and literature professors outside of that group.
I cannot imagine achieving the same level of success in my manuscripts without such support! Montage, in particular, is critical to my artistic development in that it encourages members to explore mediums outside of our natural genres.
As a result, I've ventured into the realm of visual art. Whether or not I ever illustrate a book, I am enriched by art, and that cannot help but enrich my writing as well.
What can your fans look forward to next?

There are two new books I'm excited about. One is the second title in my new chapter book series, Rich: A Dyamonde Daniel Book, illustrated by R. Gregory Christie (G.P. Putnam's Sons, Oct. 2009).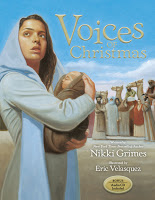 The second is Voices of Christmas, illustrated by Eric Velasquez (Zonderkidz, Oct. 2009)–the story of the first Christmas told in the voices of those who participated in it. This book marks a first for me. It comes with an audio CD of my reading the book, along with vocal artist Craig Northcutt.
This will be a great book for family sharing, I think. At least, I hope so!
Cynsational Photos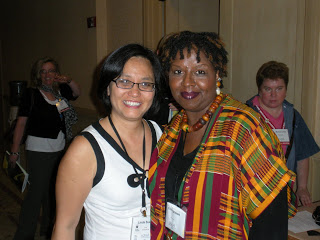 Here's Nikki (above) with fellow author Linda Sue Park at the SCBWI conference in Los Angeles.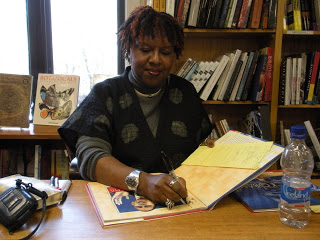 Nikki (above) signs a copy of Barack Obama: Son of Promise, Child of Hope, illustrated by Bryan Collier (Simon & Schuster, 2008) in D.C. during the week of the presidential inauguration.
Nikki (right) steps out with a friend on the way to the NAACP Image Awards earlier this year.
She won for Outstanding Literary Work, Children for her biography of now-President Obama.
From the promotional copy: "Ever since Barack Obama was young, Hope has lived inside him. From the beaches of Hawaii to the streets of Chicago, from the jungles of Indonesia to the plains of Kenya, he has held on to Hope.
"Even as a boy, Barack knew he wasn't quite like anybody else, but through his journeys he found the ability to listen to Hope and become what he was meant to be: a bridge to bring people together.
"This is the moving story of an exceptional man, as told by Nikki Grimes and illustrated by Bryan Collier, both winners of the Coretta Scott King Award. Barack Obama has motivated Americans to believe with him, to believe that every one of us has the power to change ourselves and change our world."

Cynsational Notes
Voices of Christmas – Nikki Grimes: a video from Zonderkidz. From the promotional copy: "New York Times Bestselling Author Nikki Grimes beautifully composes the unfolding Christmas story through the voices of those who witnessed the Messiah's birth. Listen to Joseph's struggle…Rejoice with Elizabeth and Zachariah…Worship with the magi…Hear the fear in Herod's voice…Receive the blessing of Simeon and Anna…and like the shepherds, shout for joy! Illustrated by Eric Velasquez." Note: a peek at Nikki's gorgeous new picture book.
The Craft, Career & Cheer series features conversations with children's-YA book creators about positive aspects of their creative and professional lives.