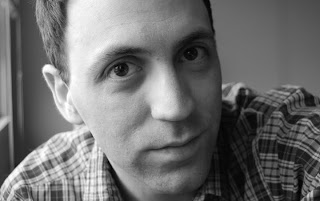 Daniel Kraus is a Chicago-based writer and filmmaker.
He is the director of six feature films, including "Sheriff" (2006 season premiere of PBS's Emmy-winning "Independent Lens") and "Musician" (2007 New York Times Critics' Pick).
His first novel, The Monster Variations, has just come out from Delacorte. His second novel, Rotters, will come out from Delacorte in 2011.
Visit him at www.danielkraus.com and www.workseries.com.
Could you tell us about Booklist and your job there?
Booklist is one of the oldest and most hallowed of all review publications, and I'm not just saying that because I work there. We receive around 50,000 books for review every year and review around 7,500.
Booklist is mainly used by libraries for collection development purposes, but non-librarians use our reviews all the time, too, even if they don't realize it–Amazon.com reprints our reviews for their individual book listings.
I'm an editor in the Books for Youth section, where I write and edit reviews for everything from picture books up to upper-grade YA, as well as the occasional adult book.
I'm also in charge of Booklist's video component; in recent months, we've done video interviews with everyone from Avi to Lauren Myracle, and we're just about to start posting all of the Printz Award speeches.
Usually, though, when someone asks me what we do at Booklist, I refer them to this video:
How does the Likely Stories blog fit into that, and what is its focus?
Booklist has several blogs–including Points of Reference, Audiobooker, Bookends, and Book Group Buzz–but Likely Stories is the unofficial voice of Booklist proper, the place where we editors–brains numb and fingers sore from reading thousands and thousands of pages–can take a few deep breaths and let our hair down for a few minutes.
It's headed up by Booklist Online Senior Editor Keir Graff, but nearly all of the staff editors blog to some degree. Almost anything is fair game: book design, literary feuds, web comics, gossip, controversies, you name it.
Could you tell us about your new series of posts featuring book trailer reviews? What approach do you take?
A couple of months ago, I started a weekly feature called Book Trailer Thursday, in which I embed a book trailer, give it a review of sorts, and make a verdict on its effectiveness.
The trailers I review are wildly different in approach (compare Thomas Pynchon's Inherent Vice travelogue to the fake infomercials for Jessica Hopper's The Girls' Guide to Rocking), so I let my approach be just as fluid.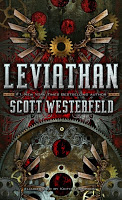 I might be deadly serious if the topic demands it, or I might just make fun of YouTube commenters, as I did when reviewing the trailer for Scott Westerfeld's Leviathan.
What inspired you to begin blogging about book trailers?
Ever since book trailers hit the scene several years ago, they've become enormously prevalent–but not enormously popular.
There are notable exceptions, of course, but in general, book trailers receive low numbers of hits, and yet they keep getting cranked out.
The reason for this seems fairly obvious: in many cases, trailers should work. There are plenty of them that have made me sit up and take notice of a book I might have otherwise missed.
So my goal with these blog posts is to highlight trailers that deserve attention, whether for being unusually effective, spectacularly disastrous, or just really original.
Authors have limited marketing tools at their disposal and, with video so cheap and easy to disseminate, it makes sense that my posts become a sort of "best practices" for videographer authors, as well as serving as a heads-up for interested readers.
What special insights do you bring to the process?
Believe it or not, I'm an old pro at this. I've directed six feature films that have played in theaters and on TV all over the world (and are available for Netflixing, if you find your queue is dwindling).
I've been making movies every since I was a teen (if you don't believe me, check out my horrible high-school horror movies on my Francis Ford Iowa blog) and making films professionally for over a decade. I also used to make a living writing film analysis and criticism and interviewing directors and actors.
So while I may not be Martin Scorsese, I do have a sense of what goes into both mounting a production and watching a movie critically.
Big picture, what are the essential ingredients of a successful book trailer?
First, you have to remember that you're marketing a book (a non-cinematic product) by using a cinematic medium. This will seem strange and even off-putting to a lot of people, so your best weapon is efficiency. Keep it short. Under two minutes is ideal. If you ever, ever hit the four-minute mark, you are doomed. Doomed!
Second, avoid doing the same old same old. Ninety-percent of book trailers are the same exact thing: panning and zooming across still images from the book (or public-domain photographs found on the Internet), inserting a few expository sentences of text, and setting the whole thing to music. Now, you can still do this, but you need to do it, really, really well.
Either way, the key is original content. Create something wholly new. It could be an animation, it could be you talking to the camera, it could be a video diary entry from a character in the book–the point is that it is something that didn't exist before you created it (kind of like your book). Viewers are looking for authenticity and immediacy.
In a sense, that's why people spend all day watching kitten videos on YouTube–you can't doubt the authenticity or immediacy of that.
Third, figure out what makes your book different than other books and then push that.
Look, it's not easy. I made a couple of trailers for my novel, The Monster Variations (Delacorte, 2009), one of them playing up the pastoral, coming-of-age elements, and the other playing up the thriller plot engine.
My approach was not overly different from the tried-and-true images/music formula, but the key was that I shot original footage. It gives the trailers energy and vitality beyond that which would be available from still photos.
Obviously, not all marketing departments provide book trailers and not all authors have a background in film-making or the budget to hire pros. What tips do you have for them, when it comes to making their homemade trailers the best they can be?
Until book trailers begin paying reliable dividends–and that may never happen–very few publishers will pony over a cent for these things.
For the most part, book trailers are the responsibility of enterprising authors, most of whom have no filmmaking experience. That's why they should to keep their efforts focused and simple. It's better to have an evocative thirty-second teaser than a unimpressive epic that ends up making your rich and nuanced book appear cheap and flimsy.
Likewise, many YA book readers–including teens–create trailers for their favorite books. What suggestions do you have for them–especially (as many seem to) if they want to include themselves and their personal thoughts?
This is kind of a different beast, because fans have the right to see what they want to see in any given book. If someone reads The Monster Variations and wants to choreograph a tap-dance routine to it, well, more power to them.
There's only one author, though, which means you have one chance to explicate how you, the creator, visualize the book's content. That's a lot of responsibility, and a lot of pressure, too, because your visualization may not match up with those of your readers.
Just remember what you told yourself during the writing of your book: don't be middle-of-the-road, don't be wishy-washy, don't be boring.
Pick a concept, stick to it, and maybe you'll at least be considered a weirdo auteur. There are worse fates.
Cynsational Notes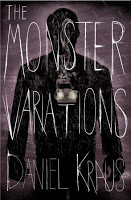 See also New Voice: Daniel Kraus on The Monster Variations from Cynsations. Peek: "With The Monster Variations, I began with this sentence: 'Then he realized his arm was gone.'
"That's exciting to me, that potential of taking something inexplicable and maybe horrible, and then making sense of it, and then, if I'm lucky, making it meaningful, too."