Check out this book trailer for Fortune's Magic Farm, written by Suzanne Selfors (Little, Brown, 2009).
This past week's new releases of science fiction and fantasy for children and teenagers from Charolotte's Library.
Young Adult Speculative Fiction: Science Fiction and Fantasy from Booklists. Links to bibliographies compiled by librarians across the U.S.
Children's & YA Fantasy Novels highlighted by CynthiaLeitichSmith.com. A selection of recommendations and related resources, including links to author interviews. See also Gothic Fantasy & Suspense for Teens & Tweens. Note: it's really more like Gothic fantasy, suspense, urban fantasy, horror generally, and paranormal romance, but who's counting?
Harry Potter giveaway from Sheila Ruth at Wands and Worlds: Fantasy and science fiction for children and teens. Peek: "Now, Harry Potter and the Deathly Hallows will finally be released in paperback on July 7, and I've been given four copies of a Harry Potter prize pack to give away here!" Deadline: July 6. See more information.
Science Fiction & Fantasy Writers of America, Inc.: "SFWA is a non-profit organization of professional writers of science fiction, fantasy, and related genres. Esteemed past and present members include Isaac Asimov, Anne McCaffrey, Ray Bradbury, and Andre Norton."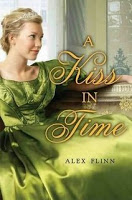 Why Does Cover Art Change? by Parker Peevyhouse from The Spectacle: Authors talk about writing speculative fiction for teens and pre-teens. Peek: "The original artwork for a book cover, however awesome it may be, is sometimes scrapped before the book hits stores. There are a number of reasons for this."
Take a peek at excerpts of A Kiss in Time by Alex Flinn and Hunger by Michael Grant, both 2009 releases at HarperTeen. Read a Cynsations interview with Alex about her new release.
Fantasy and Reality by Laurence Yep from the April 1978 issue of The Horn Book Magazine. Peek: "I don't mean to suggest that having a sense of reality is bad. The error lies in treating our sense of reality as absolute rather than relative. Or in assuming that our imagination is inferior to our sense of reality in dealing with our external world."