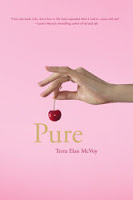 Enter to win an ARC of Pure by Terra Elan McVoy (Simon Pulse, 2009)! To enter, email me (scroll and click envelope) with your name and snail/street mail address and type "Pure" in the subject line. Deadline: May 30. From the promotional copy:
"Tabitha and her four best friends all wear purity rings, symbols of the virginity-until-marriage pledge they made years ago. Now Tab is fifteen, and her ring has come to mean so much more. It's a symbol of who she is and what she believes—a reminder of her promises to herself, and her bond to her friends.
"But when Tab meets a boy whose kisses make her knees go weak, everything suddenly seems a lot more complicated. Tab's best friend, Morgan, is far from supportive, and for the first time, Tabitha is forced to keep secrets from the one person with whom she's always shared everything. When one of those secrets breaks to the surface, Tab finds herself at the center of an unthinkable betrayal that splits her friends apart. As Tab's entire world comes crashing down around her, she's forced to re-examine her friendships, her faith, and what exactly it means to be pure."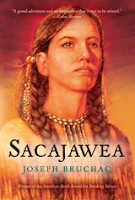 Enter to win a paperback copy of Sacajawea by Joseph Bruchac (Harcourt, 2008)! To enter, email me (scroll and click envelope) with your name and snail/street mail address and type "Sacajawea" in the subject line. Deadline: May 30! From the promotional copy: "Captured by her enemies, married to a foreigner, and a mother at age sixteen, Sacajawea lived a life of turmoil and change. Then, in 1804, the mysterious young Shoshone woman met Meriwether Lewis and William Clark. Acting as interpreter, peacemaker, and guide, Sacajawea bravely embarked on an epic journey that altered history forever. Hear her extraordinary story, in the voices of Sacajawea and William Clark in alternating chapters, with selections from Clark's original diaries." Read a Cynsational interview with Joe.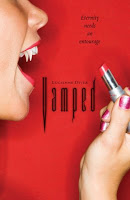 Author Interview with Lucienne Diver and Giveaway of Vamped from Linda Gerber: YA Author. Peek: "When I was young (about six or seven years old), I wanted to be a cryptozoologist–be the person to actually find the Loch Ness Monster and Bigfoot and all that. I think when I grew up that interest in exploration and discovery led to my major in anthropology." Note: see more about the launch from Lucienne's LJ!
More News
Happy Buy Indie Day! Note: "The idea: buy one book—paperback, hardcover, audiobook, whatever you want!—at an independent bookstore near you."
Hugh Jackman on Free Comic Book Day (the first Saturday in May), not to mention, the trailer for "X-Men Origins: Wolverine." Peek: "Free Comic Book Day is a single day–the first Saturday in May–when participating comic book shops across North America and around the world give away comic books absolutely free* to anyone who comes into their stores." *Check with your local shop for their participation and rules.
The 10,000 Hour Secret To Success from Donna Bowman Bratton at Simply Donna. Peek: "I was a competitive child and, when I was as young as eight, I was showing Quarter horses. At that age, I lost more than I won. My parents would soothe the hurt by sharing some wisdom that I didn't quite understand at the time. 'We all have to pay our dues.'"
Novel confections: Author Gaby Triana's cakes are as imaginative as her plots by Ana Veciana-Suarez from The Miami Herald. Peek: "So if you're in the market for, say, a baby shower cake, expect Triana to ask probing questions about the colors you like and how you're decorating the baby's nursery. She is not a pink-is-for-girls, blue-is-for-boys kind of baker. For birthdays, she likes to deliver a product that says something about the honoree–a cake shaped like a bull dolphin for a fisherman, for example." Read a Cynsations interview with Gaby.
Bethany Hegedus Talks About Between Us Baxters: an author interview from from Sarah Sullivan at Through the Tollbooth. Peek: "It is a pet-peeve of mine in books where black and white friendships are portrayed that the white child is seen as 'perfect' or 'noble'–especially in those set in the civil rights era. Polly and Timbre Ann are both flawed but that doesn't make their love for one another any less real; in fact, I hope it makes it more so."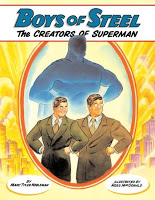 The Golden Age of Picture Book Biography from Mark Tyler Noble at Noblemania. Peek: "Boys of Steel: The Creators of Superman is a picture book and it is shelved in the children's section of bookstores, but I wrote it for all ages. I've appeared at a diverse bunch of venues for it, from museums to comic conventions. At most of them (aside from school visits, naturally), I seem to be signing more books to adults than to kids."
Austin SCBWI-Blooming Tree Writers' Bootcamp Conference Report from Madeline Smoot at Buried in the Slush Pile. Includes links to her handout for an online marketing session and a checklist for critiquers (PDF, scroll to end).
Attention Authors: Link to Your Local Independent Bookstore by Josie Leavitt from Shelftalker: A Children's Booksellers Blog. Peek: "…you've supported a store that has supported you." Note: We should all be actively championing our indies and looking for ways to raise their profiles in our communities. See also Adult Readers in the Kids' Section. Note: about half of my reader mail comes from folks over age 25.
What's Cool about Being a Writer from Carrie Jones. Peek: "Did I mention the whole not-having-to-get-up-early to go to work thing?" Read a Cynsations interview with Carrie.
An Exploration of Dialogue-Heavy Scenes from Varian Johnson from Crowe's Nest. Peek: "…in instances where an author wishes to move a reader through a scene very quickly, the author must cut out as much unnecessary material as possible, while still conveying the thoughts and feelings of the main character." Read a Cynsations interview with Varian.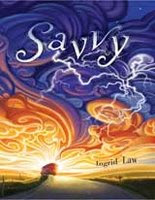 Marvelous Marketer: Ingrid Law (Newberry Award Winning Author of Savvy) from Shelli at Market My Words: Marketing Advice for Authors/Illustrators from a Marketing Consultant & Aspiring Children's Book Author. Peek: "Try from the very start to find a balance between your focus on marketing and your focus on continued writing. It is easy to get so tied up thinking about the marketing of your first book that your next book, or your writing in general, becomes neglected."
Writing Race by Mitali Perkins from Mitali's Fire Escape. Peek: "…ten questions we writers can ask ourselves once we've completed a story." Read a Cynsations interview with Mitali.
Flux Holds Steady Through Changes by Claire Kirch from Publishers Weekly. Peek: "Flux reports a 30% increase in sales this year over last year, and its two in-house publicists have been fielding calls recently from Hollywood agents and producers looking to tap into popular teen reading trends by adapting Flux titles for television shows targeting that market."
SCBWI Annual Summer Conference: see faculty, schedule and more information. The event will take place Aug. 7 to Aug. 10 at the Hyatt Recency Century Plaza in Los Angeles. Note: registration opens May 5. Source: Alice's CWIM Blog.
Check out this book trailer for If I Stay by Gail Forman (Dutton, April 2009) Source: Literaticat.
Cynsational Author Reminder: consider listing your title, byline, publisher, publication date, and illustrator (if you have one) on the dedicated website page for each of your books. It's not a bad idea to include the ISBN too.
Cynsational Author Reminder: you (probably) own the copyright to your book, not to all reviews about it. Don't republish them in their entirety without permission. Note: if you offer a short quote, it's also courteous to include a link to the source.
Blog Central: Children's Book Reviewers from Anastasia Suen's Blog Central. Newly updated. Note: Cynsations doesn't review per se, but rather offers recommendations (positives only) and conversations. See guidelines.
Congratulations to Aimee Bissonette on the release of Cyber Law: Maximizing Safety and Minimizing Risk in Classrooms (Corwin, 2009)!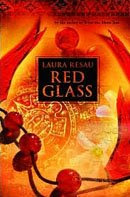 readergirlz Pick of the Month: Red Glass by Laura Resau. Peek: "One night Sophie's family is called to a hospital, where five-year-old Pablo is recovering from dehydration. He was the sole survivor of a group of Mexican immigrants crossing the border. Sophie's family takes him in and comes to love him. A year later, Sophie must take a road trip with an unlikely group of people to Pablo's hometown in Mexico. Full of fears at first, she ends up opening herself to adventure and growing closer to Angel — a boy her age with a secret. When Sophie dares to travel alone into Guatemala to save Angel, she explores whether love is worth the risk of loss."
Congratulations to Tony Abbott for receiving the 2009 Edgar Award for Best Juvenile Fiction for The Postcard (Little, Brown)(author interview) and to John Green for receiving the 2009 Edgar for Best Young Adult Novel for Paper Towns (Dutton)(author interview about previous release). See all the winners and finalists here. Sponsored by the Mystery Writers of America. Source: GalleyCat.
More Personally
Eternal by Cynthia Leitich Smith posted by Mrs. Johnson from Pettus Secondary Library Blog. Peek: "The ending brought a tear to my eye–total selfless love is a wonderful thing."
Congratulations to Austin's own Alison Dellenbaugh on signing with a literary agent!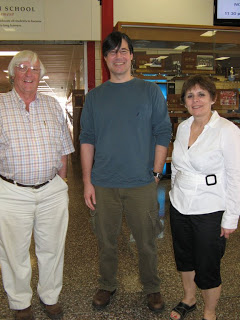 Here's one last pic from the Kansas-Arkansas pic. Here we have Greg with Dr. Bushman of The Writing Conference and Sheryl Servatius-Brown, librarian of Ottawa High School. See my complete event report!