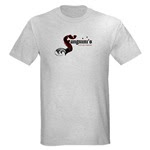 YALSA's Teen Read Week 2008 is Oct. 12 to Oct. 18, and the theme is "Books with Bite."
In anticipation of the celebration, I'm giving away a super spooky prize package made up of the following to a YA librarian who has not previously won a Tantalize-related prize: a signed paperback copy of Tantalize (Candlewick, 2008); a signed copy of Immortal: Love Stories with Bite, edited by P. C. Cast (BenBella, 2008); a Sanguini's T-shirt; and a set of 25 autographed bookmarks. Note: Sanguini's is the fictional vampire restaurant in Tantalize.
To enter the giveaway, email me (scroll and click on the envelope) with your name and snail/street mail address by 10 p.m. CST Oct. 6!
OR, if you're on MySpace or Facebook, you can message me on that network by 10 p.m. CST Oct. 6! But DON'T send in your contact information on MySpace or Facebook. I'll contact you for it if you win.
Please indicate your library and type "Books with Bite" in the subject line!