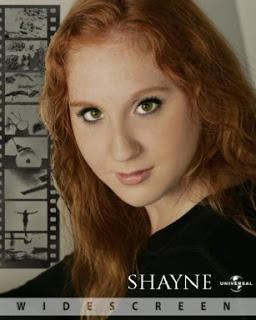 Shayne Leighton on Shayne Leighton: "Since the early age of five, I have been acting in various television commercials such as the SAG International commercial for Nike that aired during the 2005 Olympics. I have also participated in many live-performance venues such as dancing in the 2005 Macy's Thanksgiving Day Parade with the Hip Hop Kids and a touring musical style show called 'Babes on Broadway.' I have recently ventured into the world of independent film with my on screen debut as 'Dana' in Kurt Donath's 'Miami Ghost Tale' and most recently the vampire drama, 'Guardian of Eden' (Deep C-Star Productions) in the title roll, 'Eden.' You can also look for me in future independent projects such as the feature film, 'Rough Winds' from Spoon Entertainment and the online series, 'The Caped Crusaders' from Aberdeen Soldier Productions. I am in the process of writing my second feature length film titled, 'The Dedication,' which will start filming this summer, as well as writing my first full-length novel manuscript, 'Of Light and Darkness'." Visit the "Guardian of Eden" page at MySpace!
Thank you for creating my book trailer (find the code)! How did you come to the project?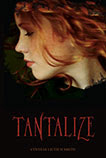 You're welcome! I had so much fun doing it! I think it all goes back to the day I found your book, Tantalize (Candlewick, 2007), on a shelf in my local bookstore. The cover art and the synopsis intrigued me so much that I had to take it home and I was so pleased to find that the story was so…well…tantalizing.
I was captivated by your dynamic characters, and I sent you a fan email singing your praises as an author. I was so excited when you wrote back (most authors find themselves very busy), and over the year I kept in touch, telling you about my various projects.
Recently, I emailed you a trailer I did for my work-in-progress, Of Light and Darkness [scroll to view], that I am still writing, and you wrote me back telling me how cool you thought it was and that you were in the market to have a good trailer done for Tantalize. I was more than excited to bring my creativity to your project, and I couldn't wait to collaborate!
What was the timeline between the start and finish, and what were the major tasks along the way?
We finished the project over the course of about one work week. If I remember correctly, we established that we wanted to create your book trailer sometime toward the end of the week, and then decided to take the weekend to take care of some other obligations.
Then, on Monday, you got back in touch with me and we emailed back and forth all day long. You sent me pictures that you wanted to use, the music file, and a basic outline of what you had in mind for it to look like.
I spent a good amount of that afternoon putting together the first draft of the teaser, complete with text, music, and graphics (even some small animations) and sent that to you in a small file so you could see if you liked what I did and figure out some revisions you wanted to make.
That night, you emailed me a list of some minor corrections that I took care of immediately the next day. By the end of the day on Tuesday, you had a final version of your official trailer, and because we took the time with it, and kept working at it, it seemed to take no time at all.
What did each of us contribute to the process?
It was a lot of fun because it was an extremely collaborative effort. We both brought our different sides of creativity and ended up with something really great. That is my favorite thing about working with other artists; they aren't quiet about their vision, and they are supportive of everyone else's visions.
You provided the choice of song, the outline of what you wanted the textual graphics to say, and the pictures. Then, I took all of these raw materials and put them together. I timed the pictures to the mood of the song, I added the animations to the texts, and I blended the pictures in a way that told a lot about the story, but not too much as to give away anything vital to future readers.
How did we approach revision?
After I sent you a first draft copy of the trailer, making sure that you liked the style and the mood, you went over it with a fine-tooth comb, finding small grammatical errors, recoloring a few pictures differently, and even adding in a few other graphics that we felt needed to be included.
After receiving an email with a list of alterations, I went in and changed the things that needed to be corrected, which didn't take long at all. The second draft of the trailer ended up being perfect, and we found ourselves with a really cool final product!
How did you enjoy the process? What were the challenges? What did you enjoy most?
I greatly enjoyed the process because I love mixing visuals with sound to create something that is emotionally captivating for the viewer. I absolutely love when all the hairs on the back of my neck stand up when I'm watching a really great trailer or film, and that happens when the climax of the music is mixed perfectly with an evocative image. So because of that feeling, I love being able to do it for other people as well.
It's a great outlet for my creative and emotional energy, and when I come home from a particularly hard day at school or on a movie set, I love to be able to sit down at my computer, put on some dramatic music and really tell a story.
The thing that I found challenging was taking someone else's vision and honoring it in the right way. There is always a lot of pressure when you are working with someone else's idea, because you want to do a good job with it and satisfy that other person's creativity.
The thing that I did enjoy most, however, was being able to work with a different brain. There is something magical when two artistic minds intersect, and I love the feeling of one idea blending in with another. It's like painting a giant mural. Someone has to paint the background, and someone has to paint the foreground, and if you have two talented painters, you are going to end up with a fantastic piece of art!
I was especially thrilled by your making two shorter versions of the trailer–one a minute, and one 30 seconds! I can use them not only online but in presentations. What inspired you to offer to do that?
Film trailers are always made in different lengths. Normally, the theatrical trailer is longer, and the trailers advertised on TV are a lot shorter. (Commercials only run 60-30 seconds) Basically, you never know who is going to ask to see your book teaser and where they are going to want to post it. I feel that its best to give them different options.
More globally, what is the appeal of a book trailer to YA readers?
I think that in today's world of vastly changing technology, young adults are more likely to pick up their iPod, or get on MySpace rather than reading a good novel. Reading has been turned into something that is strictly academic for a lot of young readers, and so entertainment is rarely associated with books. But I think if you bring the dramatic entertainment aspect to a great story through advertising with a captivating trailer, young people are going to be more likely to become intrigued.
If you think about it, what makes you want to see the latest blockbuster initially? Most of the time, its going to be a really amazing trailer that makes you want to see more. I think it works the same way with books. If you give them a reason of why they should be interested, then they will become interested, because you can't judge a book by its cover anymore.
What do you think are considerations in creating an effective trailer? Why is each important?
This is a difficult question for me to answer. For me it has a lot to do with having an "eye" for color and balance and technical things like that, but I also think that an effective trailer takes the most dramatic points of your story and amps them up.
When you are watching a trailer for a film, the shots that are always advertised are the heart-pumping, evocative shots. It's the same thing with a book trailer. You need images and key points of the novel to get your reader's attention, and then the perfect song choice to reel them in. Music is so important in the way people view things.
If you think about movies without their soundtracks, the story is not nearly as effective. And when you have recently been broken up with, and your driving down that pretty country road, what really makes you start crying is that sentimental song that comes on the radio.
So, I think the most important aspect of any trailer is the music, because it displays human emotion in the most accurate way. I am a very dramatic personality, and that's how I think when I am making a trailer. I am thinking about the way this is going to affect the viewer.
Do you have an interest in doing book trailers for other YA books?
Absolutely! For me, its just another type of art media I use to express myself, and I would love to have future opportunities with it. Plus, I love working with authors. I'm a writer myself, and I just think that storytellers are so much fun because we have the ability to imagine up an entire world, and imaginary people, and not have society view us as weird! And I love the feeling of taking someone else's imagination and making it real–adding visuals, and other concrete things so that I can bring their world to life.
If so, how much do you charge? Are there be different price points for different results?
Creativity and passion for what your doing is so difficult to come by these days. I have seen a lot of different cases where someone hires someone else for their art, and it turns out, the person they hired really had no passion for it. And in those cases, the finished product isn't as high quality as it should be.
I think that if it is a collaborative effort and the author provides the royalty-free images, music, and a basic outline of what they are looking for, the introductory price (for the next three months) would be $150.
If the author really has little to no experience in visual storytelling, and they asked me to find the pictures and tell their story for them, then the introductory price would be around $200, because it would take a longer amount of time, and a lot more creative energy. Again, I'll re-evaluate rates down the road.
In any instance, the author should always find their own royalty-free music. They can ask for my opinion, but when it comes down to the final thing, the music track is the most personal preference.
What would be included for that price?
For that price, no matter what the instance is, the author is going to receive a first draft copy of what their trailer is going to look like. Then, after making all the alterations until the author is happy with the final product, they will receive a hard copy of their trailer on DVD in 3 forms (2 minutes, 60 sec, 30 sec) mailed to them. They will also receive an HTML code via email so that they can post it onto whatever website or MySpace site they want.
How could people get in touch with you?
Authors can find me at MySpace or contact me at my email address.
You're a YA reader yourself! What are a few of your favorite books and why?
I absolutely love to read. It's my favorite pastime because one story lasts longer than any TV show or movie, and I feel like if the writing is good, it brings you right in to that world, and you can experience what the characters experience. It tears reality away.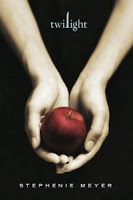 The most inspirational novels to me as a writer started when I was very young with my first fantasy novel, My Father's Dragon (Random House, 1948). Next I would have to say Anne Rice's Interview with a Vampire (Random House, 1976). What got me into writing for young adult fiction recently has been Stephenie Meyer's Twilight series (Little Brown, 2005-)(author interview), and finally, Tantalize.
What's more, you're a writer. What kind of stories do you write?
I have a very large interest in fantasy and romance, though I'll probably never actually write a romance novel. I'm a die-hard romantic, and so I love bringing that aspect into the world of fantastical things.
Reality is extremely boring to me most of the time, and I love to daydream instances where something extraordinary happens to liven up the day. Sometimes, if my teachers or friends possess a particular character trait, I like to imagine them as witches or trolls or vampires.
Life is just way more fun that way, and I think if magic exists anywhere, then it would have to be in books. My first novel and newest project, "Of Light and Darkness," is a fantasy that is loosely based on truth set in the Czech Republic. I am really excited to get that story out to the world.
What do you love most about the craft of writing?
I love getting lost in my own words. Sometimes I'll be writing and I'll start laughing in reaction to something that one of my characters said, or feel my stomach twist if something bad happens.
I like to do a lot of acting, so that makes me an extremely empathetic person, and if I'm reading about seemingly real people, then I will have seemingly real emotions. I think that is the coolest part.
I also like that people can have the opportunity to share their imagination with the world and hopefully evoke readers with a lesson, or something they can relate to. I really just love having the ability to create.
Tell us about "Guardian of Eden!" What is it? What's it about?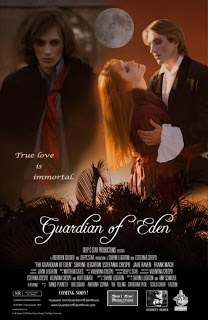 Guardian of Eden is a project that I embarked on over a year ago.
Essentially, because I am first and foremost an actress, I decided to write my own screenplay to see where it would take me. I sent it to two production companies in my area who decided to team up and make my screenplay an independent feature length film.
It's a story about a young girl, who upon the death of her mother, is forced to live with her father in a new town, and go to a new school where she is reunited with her love from another life who is now a vampire.
Along with writing and directing the film, I also play the title roll of Eden Channing. The movie has a possible premiere date for the second week of May at the Delray Beach International Film Festival. Our plan is, after the film debuts at various festivals, we plan on obtaining a distribution deal so that audiences all over the country will be able to see it.
For more information on the film, you can visit its official website or the MySpace. There you will find official photo galleries, cast bios, interviews, a guest book, and a lot more, and I encourage vampire lovers to check it out.
What was your role in it?
I had the pleasure of directing an extremely colorful and fabulous cast that I now consider to be my extended family. Each person brought their own personality to every role, which made the film extremely vibrant and fun to watch. I also played the lead role, Eden Channing, opposite the alluring a captivating Jade Raven. He was so much fun to work with!
What have you learned from the process?
That process was the most educational experience I have ever had. Not only did a learn a lot of life lessons as an adolescent from some extremely experienced people, but I also grew artistically.
I started out very wet behind the ears. Most of my cast was adult, which was very intimidating at first, but once we all got to know and respect each other, building the characters was fun. I won't say it was easy, but it was fun.
I learned a lot of technical things about the craft of film making itself. I learned what it meant to go location scouting, choosing the right wardrobe to compliment the colors of the scene, directing actors and so on. And it was so much fun.
I was only sixteen years old, and I was able to say that I was excited to get up for work everyday. (This was filmed over the course my spring break and on weekends.)
I also learned a lot about myself as a person. With all of those gorgeous vampires running around on set, crushes were inevitable and I was very young. I still am.
I still remember a conversation my "movie dad" had with me about priorities. Whenever I felt myself becoming distracted on set, he would always remind me how talented I am, and point me back in the right direction. I feel that the film came out to be a great artistic masterpiece with a lot of help from a lot of people that I will never forget.
What do you do when you're not creating book trailers or writing or making movies?
Ha ha ha ha! That is quite an interesting question. The truth is…not much. I hang out with my friends like any other normal teenager. I like to go see movies, and go out for pizza, and have sleepovers, and talk about my latest crush, and all of the normal things.
But the truth is, when I am not creating, I get really frustrated. It's a way of relieving a lot of stress and anxiety and a way to express my widely colorful personality.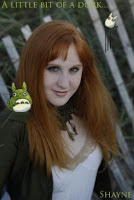 When I am not behaving like a normal teenager (which is hardly ever) and I am not writing, making book trailers, or making movies, then you can most likely find me playing in a musical or a play at school or at the local playhouse or taking acting classes or reading, or further enriching my imagination. And when I am not doing all of that, I'm daydreaming.
Are you the answer to the world's energy crisis? I'm wowed!
The answer to this question is yes. Once the government runs out of all energy sources, they are going to plug me in at Capitol Hill, and I am going to be responsible for lighting up the nation. Ha ha ha ha!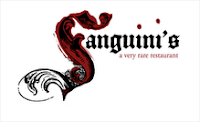 Cynsational Notes
Tantalize trailer music from Beatsuite.com Music Library, Sanguini's logo by Gene Brenek (illustrator interview), and images from Fotosearch: Stock Photography and Stock Footage, Stock.xchng: The Leading Free Stock Photography Website, and Public Domain Pictures.net.
Want to add the Tantalize trailer to your blog? Find the code here!
Guardian of Eden poster from Deep C-Star Productions.
Are you a teen writer? Check out Writer Interview: Elisabeth Wilhelm on Absynthe Muse from Cynsations.