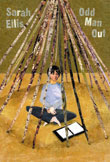 Author Receives $20,000 – One of the Largest Prizes for Canadian Children's Literature
TORONTO–TD Bank Financial Group (TDBFG) and the Canadian Children's Book Centre (CCBC) have announced that author Sarah Ellis is the winner of the TD Canadian Children's Literature Award for the most distinguished English-language book of the year. Ellis's book, Odd Man Out (Groundwood) was selected from five finalists who represent some of the leading authors of Canadian children's literature. Ellis was awarded $20,000, one of the largest prizes for Canadian children's literature.
All entries were judged on criteria including the quality of the text and illustrations, where applicable, as well as the book's overall contribution to children's literature. The book must also be an original piece of work written for a young audience.
"We are delighted to present Sarah Ellis with the 2007 TD Canadian Children's Literature Award and take great satisfaction in knowing parents and young readers across the country will enjoy Odd Man Out as much as our judges did," said Frank McKenna, Deputy Chair, TD Bank Financial Group and TD's Literacy Champion. "This award acknowledges and rewards Canadian children's authors and illustrators who produce creative and memorable stories that inspire the joy of reading in young Canadians."
Ellis is an author and librarian who resides in Vancouver. Raised in a family who loved to share stories and read books, Ellis transferred that passion to a career as a librarian at the Toronto Public Library and Vancouver Public Library before starting to write her own books. Odd Man Out has already been awarded the Sheila A. Egoff Children's Literature Prize (scroll) this year.
Odd Man Out is the story of Kip, a young boy spending the summer with his grandmother and five eccentric girl cousins. Ellis uses her trademark quirky characters, insight and wit to weave themes of family, memory and creative imagination into this story of a boy who struggles with his own ideas and memories.
In addition to the $20,000 awarded to Ellis, the remaining four finalists, Jan Thornhill for I Found a Dead Bird: The Kids' Guide to the Cycle of Life & Death, Hadley Dyer for Johnny Kellock Died Today, Linda Bailey and illustrator Bill Slavin for Stanley's Wild Ride, and Tim Wynne-Jones for Rex Zero and the End of the World, will share a $10,000 award.
Three additional children's literature awards were presented at the awards gala. Jan Thornhill, author of I Found a Dead Bird: The Kids' Guide to the Cycle of Life & Death received the Norma Fleck Award for Canadian Children's Non-Fiction, author Sara O'Leary and illustrator Julie Morstad were the recipients of the Marilyn Baillie Picture Book Award for When You Were Small and Eva Wiseman took home the Geoffrey Bilson Award for Historical Fiction for Young People for her book Kanada.
"We're very proud to play an important role in recognizing the best in children's literature. No price can be placed on great books that encourage children to read, learn and ultimately improve their literacy," added McKenna.
This year's TD award judges included: Merle Harris, author and storyteller; Theo Heras, Children's Literature Resource Collection Specialist, Lillian H. Smith Library, Toronto Public Library; Dr. Dave Jenkinson, Professor, Faculty of Education, University of Manitoba; Norene Smiley, author; and Maya Munro Byers, owner, Livres Babar Books, Montreal.
"We congratulate Sarah Ellis on creating a story that will delight Canadian youth again and again," said Charlotte Teeple, Executive Director, Canadian Children's Book Centre. "We'd also like to thank TD for supporting the reading and writing of children's books in Canada and recognizing the strong talents of children's authors and illustrators."
The TD Canadian Children's Literature Award for the most distinguished French-language book of the year will be presented in Montreal on October 25, 2007.
About TD Community Giving: Making a Difference Together
Children's health, literacy and education, and the environment are the three primary areas of focus for TD's community giving. The major flagship programs within these areas are: TD Children's Hospital Fund, TD Friends of the Environment Foundation and the TD Great Canadian Shoreline Cleanup, TD Canadian Children's Book Week, TD Canada Trust Scholarships for Community Leadership, and the TD Summer Reading Club. In addition, through the support of our customers and employees, TD is involved with a host of national, regional and local programs in support of diversity, arts and culture and other causes. In 2006, TD donated $33 million to more than 1,600 charities and not-for-profit organizations across Canada.
About the Canadian Children's Book Centre (www.bookcentre.ca)
A national not-for-profit organization and registered charity, the Canadian Children's Book Centre (CCBC) was founded in 1976 to promote, support and encourage the reading, writing and illustrating of Canadian books for children and teens. With book collections and extensive resources in five cities across Canada, the CCBC is a treasure-trove for anyone interested in Canadian books for young readers.
Cynsational Notes
Sarah is the most recent of my colleagues to join the faculty of the MFA program in Writing for Children and Young Adults at Vermont College. Tim also is a member of the faculty.