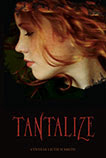 I found out yesterday that my new novel, Tantalize (Candlewick, 2007), which was released Feb. 13, is already in its third printing. Thanks to all for your support!
Thanks also to A Fuse #8 Production and Buried in the Slushpile for the kind words about my recent article "How to Throw a Book Launch Party" at Create/Relate.
Here's the latest:
"An Appetizing Gothic Fantasy:" a review of Tantalize by Norah Piehl of BookPage. She cheers: "Quincie's sarcastic narration and take-charge attitude, will appeal to fans—both teens and adults—of Buffy the Vampire Slayer. …readers will certainly be licking their lips at the end of Tantalize, their appetites whetted for Smith's next enticing adventure." Read the whole review.
In other news, I have launched a new MySpace! For now, I have selected the sunset lake design because it reminds me of Austin. Although there will be some crossposting, my plan is to emphasize YA lit on this site–both my own and books by other authors. Please surf by to check it out and consider adding me as a friend.
From Vermont
Union Institute, the current owner of Vermont College, is selling its three MFA programs (including the one in Writing for Children and Young Adults), the campus, and various buildings to the newly-formed Vermont College of the Fine Arts. See the article in the Barr Montpelier Times-Argus. Read interviews with past faculty chair Kathi Appelt and present chair Sharon Darrow.
More News & Links
"Building with Plot Blocks" by Jan Fields from the Institute of Children's Literature.
Learn more about Cecil Castellucci's graphic novel The Plain Janes, illustrated by Jim Rugg (DC Comics/Minx, May 2007). More soon on her fierce and amazing new prose novel, Beige (Candlewick, 2007); read a Cynsations interview with Cecil.
The Den of Shadows: author site by Amelia Atwater-Rhodes.
"Every picture tells a story in Selznick's 'Invention'" by Heidi Henneman from BookPage. See also "Recent graphic novels explore strange new worlds" by Becky Ohlsen from BookPage.
BookPage also offers reviews of the children's books Skyscaper by by Lynn Curlee (Atheneum), The Higher Power of Lucky by Susan Patron (Atheneum), Runaround by Helen Hemphill (Front Street), Feathers by Jacqueline Woodson (Putnam), and A Dog Called Grk by Joshua Doder (Delacorte). In addition to Tantalize, featured YA titles include Twisted by Laurie Halse Anderson (Viking), The Nature of Jade by Deb Caletti (Simon & Schuster), and Harmless by Dana Reinhardt (Wendy Lamb/Random House).
Congratulations to Brent Hartinger on the glowing review by USA Today of his new release, Split Screen: Attack of the Soul-Sucking Brain Zombies/Bride of the Soul-Sucking Brain Zombies (HarperCollins, 2007). Read a recent Cynsations interview with Brent.
"Increasing the Odds That the Book Will Be Read:" an exclusive Authorlink interview with Alan Gratz, author of Samurai Shortstop (Dial, 2006), by Susan VanHecke (March 2007).
Melissa Marr, author of Wicked Lovely (HarperCollins, 2007), visits the YA Authors Cafe. Read her interview and ask her a question. Visit Melissa's site, and learn more about Wicked Lovely.
Newly featured authors and illustrators at Children's Literature include Cynthia Kadohata, Walter Dean Myers, and Susan L. Roth. Read a Cynsations interview with Cynthia.
"Rising Star – Sy Montgomery" from the Bulletin of the Center of Children's Books. Here's a peek: "Sy Montgomery's enthusiastic and skilled nonfiction work first came to the attention of the Bulletin with The Snake Scientist [Houghton Mifflin, 1999], a look at the work of zoologist Bob Mason, who studies, among other subjects, the red-sided garter snakes that inundate Manitoba."
"Writing a Memoir: Should You Do It?" by Lisa Silverman at Absolute Write.