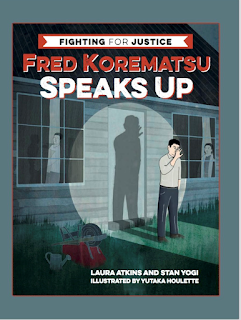 Laura Atkins and Stan Yogi are the co-authors of Fred Korematsu Speaks Up, illustrated by Yukata Houlette (Heyday, 2017). From the promotional copy:
Fred Korematsu liked listening to music on the radio, playing tennis, and hanging around with his friends—just like lots of other Americans.


But everything changed when the United States went to war with Japan in 1941 and the government forced all people of Japanese ancestry to leave their homes on the West Coast and move to distant prison camps.
Continue Reading Authors, Editor & Illustrator Interview: Fred Korematsu Speaks Up (Fighting for Justice) »