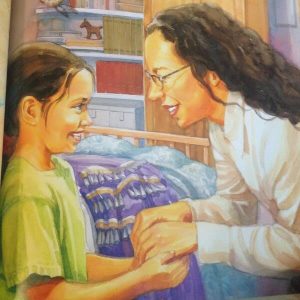 Overall, children's and young adult books with Native characters and themes have improved dramatically since I was a kid. We have a lot more to pick from than the Sacajewea and Pocahontas biographies, the tales of "savagery" on the prairie.
Looking at those writers who've focused a significant portion of their literary work in this area–Native authors and illustrators as well as non-Indians with strong community ties (or those who did their homework)–it's clear that there are some quality books now available. We absolutely must support them.
However, stereotyped depictions persist. Contemporary settings are in short supply. Certain Nations like the Navajo and Cherokee have a foothold of representation while–based on the body of literature–others don't appear to exist. Urban Indians, which represent about 80 percent of the total population, are almost ignored. Few biographies focus on Native people known for their service to their own Nations.
And Native authors and illustrators are represented in very low numbers (factoring out of the numberous books by distinguished Abenaki author-poet Joseph Bruchac, community representation is slight).
Meanwhile, it's interesting to note that First Nations authors, illustrators and books published in Canada consistently outnumber those Native creators and books published in the U.S., despite the lower population numbers up north. Also, those First Nations books and creators typically receive more industry acclaim and institutional support. That said, gatekeepers should look to Indigenous youth literature from across continent in building collections and framing curriculum.
What We Can Do
Vote for more quality children's and YA books with Native/First Nations characters and themes by purchasing them or checking them out of libraries. (For that matter, advocate for financing for schools and libraries).
Ensure the personal libraries of our children and teens (and those we care about) include quality books with Indigenous characters and themes (and make sure they have access to others at their libraries).
Educate ourselves and our children and teens about today's Native people and nations.
Advocate for accurate, integrated representation of Native peoples, contemporary issues, and history in school curriculums (through books, Native speakers, films, and more).
Encourage and support Native storytellers, authors, and illustrators.
Center and share stories inspired by #ownvoice Native communities and experiences.
Honor our commitments to the education of all children, including Native children.
See contemporary and historical titles, books by Native authors and illustrators, and teacher/librarian resources.