By Elisabeth Norton
for SCBWI Bologna 2016
and Cynthia Leitich Smith's Cynsations
Elizabeth O. Dulemba is an award-winning children's author-illustrator with more than two dozen titles to her credit, including her debut historical fiction, A Bird on Water Street (Little Pickle, 2014), which has been awarded thirteen prestigious literary honors, including Georgia Author of the Year and a Green Earth Book Award Honor.


Elizabeth splits her time between Roanoke, Virginia, where she teaches Picture Book Design as visiting associate professor at Hollins University in the MFA in Children's Book Writing and Illustrating program, and Scotland, where she is currently pursuing an MFA in Illustration at the University of Edinburgh.


Elizabeth maintains and active blog where she hosts author/illustrator guest posts each week and gives away free coloring pages. Her weekly newsletter has more than 3,600 subscribers.

Elizabeth, welcome to Cynsations! Thank you so much for taking time to talk with me today.
Thanks so much for having me!
Can you tell us a bit more about your background? How long have you been an illustrator? What led you to pursuing a career in children's books, and specifically in illustration?

Hoo boy. I've wanted to illustrate picture books since I was a little kid. I used to stare at Garth Williams' illustrations in The Golden Book of Elves and Fairies (1951) and wish I could create that same magic with my art.
As a kid, I always had a drawing pad and pencil with me. Of course, back then, I didn't know real people actually made books. And even though the adults in my life knew I was an artist and supported me with lessons my entire life, they steered me towards a more stable lifestyle.
I became a graphic designer for many years. I was always in-house illustrator, though, and I never stopped dreaming about creating books.
When I married my husband, I got the chance. We moved to be together, and I went freelance while I pursued my dream to illustrate books. Three years in, I got my first contract to illustrate The Prince's Diary (Lee & Low, 2005).
You have illustrated both your own stories, and those of others. Is there a creative difference for you as an illustrator when you are illustrating your own work, versus illustrating someone else's work?
It took me seven years to get my first contract as both author and illustrator, Soap, Soap, Soap (Raven Tree, 2009). Until that time, I had a lot of fun coming up with images for other people's writing – I still do. But yeah, it's a blast to come up with my own text and images.
Heck, I imagine it will be fun to have another illustrator use my words at some point. It's all about telling stories and creating! I love all of it!
What mediums do you work in?
I'm currently pursuing an MFA in Illustration at the University of Edinburgh College of Art. It's an introspective and experimental time for me. I feel like I'm in the thick of a creative chrysalis at the moment.
So while I was digital for my first 15 years, I've been working with more traditional media of late, getting messy with paint up to my elbows.
We'll see what style steps forward as my fave. I don't know yet!
Does this vary depending on the type of project?
Yes! I tend to follow the vision of the story rather than stick to one particular personal style (so far). Although, I've been told that when you look at my works on the whole, they all look like mine. Ha!
Do you have a favorite medium or illustration tool?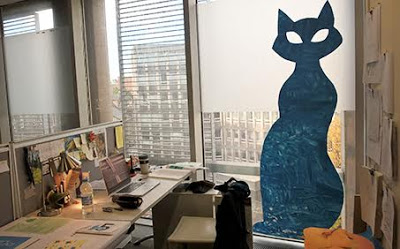 Elizabeth's studio
Not at the moment! I've been leaning towards dip pen and ink with watercolors. But I just discovered dyes, and I don't want to throw out the computer altogether, so we'll see!
Can you tell us about your typical creative process?
I'm right in the thick of a new project, so I can share exactly!
Right now, I'm in the research stage. I'm looking at images, costumes, architecture, landscapes, color palettes, trying to soak in the looks of the story I'll be working on – get it set in my head. I broke out the text into the key moments I think I'll need to illustrate. And I've done some very rough thumbnails to get an idea of how the story will visually break out.
Next, I'll start doing sketches – tons and tons and tons of sketches! Slowly, I'll start working out my compositions and get bigger and tighter with those. Then I'll start playing with whatever media I choose. I love the rendering stage the best, so I can't wait to get to that!
Does it vary depending on what kind of project you are working on?
Y'know, not really. I was sitting here doing online research, and for a minute I thought, "I'm not drawing, why am I wasting time?" And then I realized that I always do it this way and I'm not wasting time at all!
What is a typical creative session like for you?
There's no such thing as a typical creative session! It's always different.
Even though my processes remain similar, I might be researching, sketching, painting, digitally rendering – all while listening to music, an audiobook, or requiring absolute quiet so that I can concentrate. It all depends on what stage I'm in.
Do you have a dedicated place that you like to create? Has that changed for you over the years?
Right now, my dedicated space is my desk at the university. It's a big change from my dedicated studio/office bedroom in the states! But I love the energy of being surrounded by creative students.
I also love that I have to walk through beautiful Edinburgh every day to get here (1.6 miles from my flat). My view is of 17th and 18th century buildings, and lunch often involves meandering into one of the loveliest and oldest areas of the city (Grassmarket). Yeah – it rocks.
You are also the author of a middle grade novel, A Bird on Water Street (Little Pickle, 2014). What was that creative process like for you, in contrast to the very visual medium of picture books?
Completely different. I didn't realize I was writing a novel when I started it, but dozens of interviews, rewrites, and ten years on, I'm a novelist!
A Bird on Water Street has gotten fantastic reviews and even won 13 literary awards and honors! I'm so proud of the novel, it's done some wonderfully positive things for the community in which it took place, and for me personally. It has its own web page at http://ABirdOnWaterStreet.com.
As far as the creative process when writing – it has to be dead quiet outside my head because it is so loud inside my head! Now that the writing muse has been set loose, there's no stopping her.
Sadly, she doesn't get along very well with my illustration muse. They are constantly battling for my time.
Do you have plans for more middle grade works?
I do! I have about three or four other novels that are at various stages. It's hard to concentrate on novels right now, though. School is keeping me unbelievably busy, and I don't get unified chunks of mental space where I can focus on one project.
Instead, I'm working on dozens of projects all the time right now (including personal projects – mostly picture books – and school projects). But spring break is coming, then two months of summer before I head to Hollins University where I teach in the MFA in Children's Book Writing and Illustrating program, then over a month free before school starts back.
I'm planning to do some concentrated creating in those windows!
I loved your recent TED talk. Like you, my husband and I sold our house and most of our possessions to make a move from the U.S. to Europe. For those who haven't seen your TED talk yet, can you tell us what led you to make that move?
Thanks! I've received the nicest emails from folks who feel the same way or have experienced something similar. It's been a tangent from my children's books and school studies, but equally as gratifying. I think a lot of folks are experience-based people trapped in stuff-based lifestyles and could do what I did… I sold almost everything I own to move overseas and go back to school.
Truly, the best way to understand my journey is to actually watch my TED talk.
While it's not specifically about children's books, it describes the motivation behind how I live my life, which is all about children's books!
So you're currently studying children's illustration in the masters of fine arts program at Edinburgh University in Edinburgh, Scotland. Can you tell us more about your plans once you complete that program?

I'm going to pursue a PhD in Picture Books! Several reasons have come together in my life to make an advanced degree make sense for me. And who knows, I might actually become an expert!
Through it all, I'll continue to teach at Hollins University in the summers (it's a summer MFA program).
After that, I really don't know. That's one of the nice things about being mobile. I don't feel trapped by anything anymore. The future is exciting and shiny!
What is the one piece of advice you would give an aspiring illustrator or author?

Follow your heart, not the trends. The only thing you can control is yourself. Heck, you can't even always control your own creativity.
Be willing to jump down rabbit holes and see where creativity leads you. More often than not, your instincts will take you someplace good – especially if you get your pesky brain out of the way.
Thank you so much for spending time with us today! It's been an absolute pleasure to talk to you.

Thank you! I'm honored!
Cynsational Notes
Elisabeth Norton grew up in Alaska, lived for many years and Texas, and after a brief sojourn in England, now lives with her family between the Alps and the Jura in Switzerland.
She writes for middle grade readers and serves as the regional advisor for the Swiss chapter of the Society of Children's Book Writers and Illustrators.
When not writing, she can be found walking the dogs, playing board
games, and spending time with family and friends. Find her on Twitter @fictionforge.
The Bologna 2016 Interview series is coordinated by Angela Cerrito, SCBWI's Assistant International Advisor and a Cynsational Reporter in Europe and beyond.