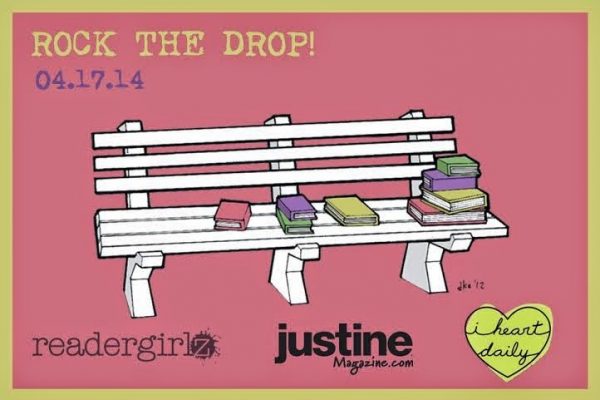 By Melissa Walker of readergirlz
In conjunction with Support Teen Literature Day, top young adult authors, editors, teen lit advocates, and readers will "Rock the Drop" by leaving their books in public places for new readers to discover and enjoy.
In recognition of the readergirlz's seventh birthday of promoting literacy and a love of reading among young women, our fans and followers are also encouraged to donate YA books (or time, or even monetary contributions) to seven very worthy literacy philanthropies.
The groups include: First Book, The Lisa Libraries, Girls Write Now, 826 National, Room to Read, Reading is Fundamental, and World Literacy Foundation.
For this year's Drop, we are also teaming up with Justine Magazine and I Heart Daily to help spread the world and build enthusiasm for this always-enjoyable kick off to spring reading season!
A nationwide effort of authors, publishers, librarians, educators, and readers
In its sixth year, Rock the Drop is part of a massive effort by librarians, young adult authors, educators, publishers, and avid readers to spur reading on a nationwide scale. The day aims to encourage teens to read for the fun of it.
In past years, more than 100 young adult authors—including David Levithan, Sara Zarr, Libba Bray, Sarah Dessen, and Cynthia Leitich Smith—have "rocked the drop," leaving copies of their books in public places for teens to find.
Publishing houses both "Big Six" and indie alike have donated tens of thousands of books to dedicated literacy philanthropies, in addition to rocking the drop, too.
Teens, librarians, teachers, and other fans of YA literature are also invited to rock the drop, on their own or as a group.
Participants are encouraged to donate to any of our seven suggested philanthropies – or one of their own! Post on the Readergirlz Facebook page to update us on some of your favorite worthy causes.
"Operation Teen Book Drop aims to reach a large number of teen groups," rgz diva Melissa Walker said. "We're thrilled to be celebrating our website's seventh birthday with this fun, festive day!"
How to support Rock the Drop:
About Support Teen Literature Day
In its sixth year, Support Teen Literature Day is April 17, 2014, and will be celebrated in conjunction with ALA's National Library Week. Librarians across the country are encouraged to participate in Support Teen Literature Day by hosting events in their libraries. The celebration raises awareness that young adult literature is a vibrant, growing genre with much to offer today's teens. Support Teen Literature Day also seeks to showcase award-winning authors and books in the genre, as well as highlight librarians' expertise in connecting teens with books and other reading materials.
About readergirlz
readergirlz is a literacy and social media project for teens, awarded the National Book Award for Innovations in Reading. The rgz blog serves as a depot for news and YA reviews from industry professionals and teens. As volunteers return full force to their own YA writing, the organization continues to hold one initiative a year to impact teen literacy.
Launched in March 2007, in celebration of Women's National History Month, readergirlz was cofounded by acclaimed YA authors – Dia Calhoun, Lorie Ann Grover, Justina Chen, and Janet Lee Carey. Readergirlz is currently maintained by awarded YA authors – Micol Ostow, Melissa Walker, and co-founder Lorie Ann Grover.
rgz Operation Teen Book Drop has donated over 30,000 new YA books to under-served teens.