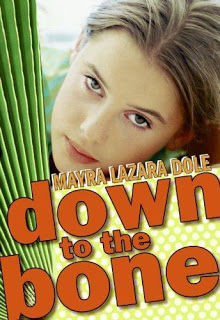 Suggested for Hispanic Heritage Month.
Books for National Hispanic Heritage Month by Kim Baccellia from Diversity in YA Fiction. Peek: "I looked for some of my favorite reads that show Latinos in a positive image. I hate the gangbanger stereotype and feel it's important, especially now with some of the anti-sentiment out there, to share books that reflect what it's like to be Latino."
Tips for a Better Book Signing by Theresa Meyers from 1rst Turning Point. Peek: "Handouts! You can still be helpful and make a personal connection to this person with a few very important handouts." Source: Jon Gibbs.
Process Talk: Tami Lewis Brown on The Map of Me from Uma Krishnaswami at Writing with a Broken Tusk. Peek: "Most great juvenile road novels start out at home then enter a transitional space—neither here nor there. The unsettling experiences on the road give the protagonist the power to return home with greater strength or knowledge. Sociologists and literary theorists call this a liminal journey."
Thoughts on Middle Grade Voice by Stacy Whitman from Stacy Whitman's Grimoire. Peek: "…self-consciousness can sometimes work in YA, at least more than middle grade, because teens are more likely to notice things comment on them in a snarky way. Middle graders aren't expected to be jaded just yet." Note: Stacy is the editorial director of Tu Books, an imprint of Lee & Low.
The Continued Accumulation of Post-Book-Deal Stuff by Mike Jung from EMU's Debuts. Peek: "It's having these souvenirs of the publication process that still feels like a new thing, even though I'm actually not so far away from the first anniversary of my book deal."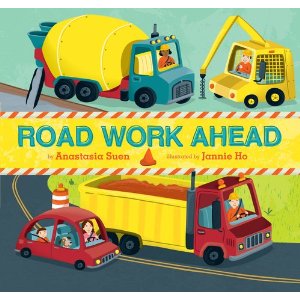 25 Years in the Making!
Picture Book Revision Takes 25 Years by Anastasia Suen from Darcy Pattison from Fiction Notes. Peek: "Yes, this one has been a lo-o-o-ong time coming. I started this book when my son was 2…and now he's 27!"
Interview with Kate O'Sullivan, Editorial Director at Houghton Mifflin Books for Children by Aline Pereira from PaperTigers. Peek: "Houghton is known for creating picture books that appeal across generations, so while there are increased expenses now associated with warehousing slow-selling books, it's always our intention when signing a book that it has a long, vigorous life."
How to Write Fiction Without the "Right" Ethnic Credentials by Mitali Perkins from Mitali's Fire Escape. Peek: "I don't want to write only about Bengali-American girls growing up in California — been there, done that. So why should I protest if a topnotch Korean writer features a Bengali-American girl growing up in California and does it astoundingly well?" See also What Does "Authentic" Mean Anyway? from Malinda Lo and Authenticity and Authority from Kate Elliot.
Gradual Exposure from Kristi Holl from Writer's First Aid. Peek: "Gradual exposure simply allows you to take actions toward your daily and long-term writing goals little by little. These small actions build on each other over time and form habits (such as daily writing, networking with other writers, writing a novel, etc.)."
Graphic Novel Book Clubs from Good Comics for Kids at School Library Journal. Peek: "Formats force all of us to pay attention to stories in different ways, and it's always a great discussion to try to articulate why formats work differently."
Interview with Kelly Milner Halls on Searching for Sasquatch (Houghton Mifflin Harcourt, Oct. 2011) by Deborah Heiligman from INK: Interesting Nonfiction for Kids. Peek: "Many of the legends seemed unlikely to be real, but a few were surprising in that credible evidence did exist to support the possibility of their being true, undocumented new species of animals. Sasquatch, also known as Bigfoot, was one of those surprises."
Banned Books Month: Author Jessica Lee Anderson on Celebrating Our Freedom to Read from E. Kristin Anderson at The Hate-Mongering Tart. Peek: "Too worried to cause a rift which could compromise my job, I let the conversation move on naturally. And to this day, I still regret not saying something that might've assuaged my supervisor's fears or made her rethink the consequences of having the book removed."
Why Your Story Might Need a Gandalf or an Obi-Wan — Adding a Sage Character from Project Mayhem. Peek: "There's a long tradition in fiction of the Sage character. Joseph Campbell describes the wise old man or old woman, the Mentor, as appearing throughout history in storytelling, drama, and mythology."
Oh, Internet… by Kiersten White from Kiersten Writes. Peek: "I've been thinking lately about my online activity and how it impacts me. I went ahead and illustrated my worst tendencies for you, because I'm honest like that." Note: unicorns for everybody! Source: rockinlibrarian.
SCBWI Midsouth Conference: read posts (keep clicking back in time) to "virtually" attend this conference. Highlights include insights from Emily Mitchell on Voice, Alexander Cooper on Developing a Character, Elizabeth Dulemba on Technology and the Future of Books, Michelle Poploff on the Acquisition Process, and much more!
This Pig Wants to Party: Maurice Sendak's Latest from National Public Radio. Note: audio and scroll to read text coverage. Peek: "Bumble-ardy is an orphaned pig, who has reached the age of 9 without ever having a birthday party. He tells his Aunt Adeline that he would like to have a party for his ninth birthday, so Aunt Adeline plans a quiet birthday dinner for two. But Bumble-ardy instead decides to throw a large costume party for himself after his aunt leaves for work — and mayhem ensues."
On Traveling Libraries and Heroic 'Book People': Inspiring children's books about getting books to people in remote places and difficult circumstances by Abigail Sawyer from PaperTigersBlog. Peek: "I wonder how many lives are better today because a poor child of Appalachia or a German war orphan discovered books 50 or 60 years ago at the hands of an intrepid librarian."
Open Call for Submissions for YA Humor Anthology Open Mic, to be edited by Mitali Perkins and published by Candlewick. Peek: "…a compilation of funny short pieces written by some of today's best YA authors, people who grew up along the margins of race and culture in North America."
Jacqueline Woodson Fellowship for a Young People's Writer of African or Caribbean Descent: a $1,000 fellowship for The Solstice Low-Residency MFA in Creative Writing Program of Pine Manor College. The award will be based on the quality of a writing sample. Applications are due Oct. 14 (not a postmark date; materials must be received before or on Oct. 14). Applicants are strongly encouraged to apply early. Notification letters will be mailed to winners only on Nov. 15. Awards must be applied toward the winter residency/spring semester directly following acceptance; fellowships cannot be deferred or applied toward a summer residency/fall semester start.
Using Powerful Cliffhangers in Quiet Times by Chris Eboch from Write Like a Pro. Peek: "If you don't have an action novel, you can still have dramatic chapter endings, whether or not the characters are in physical danger."
Publicity Beyond Your Book Launch by Crystal Patriarche from Writer Unboxed. "Accept that not everything is going to work, that if you get a "no" it has nothing to do with your abilities or work (reviewers turn away more good books a day than books they actually review) and go back to the drawing board to come up with some additional ideas and keep going." Source: Phil Giunta.
See also Best Articles this Week for Writers from Adventures in Children's Publishing and the ever-eclectic and brainy Thursday Hangovers from Gwenda Bond.
Cynsational Canadian News
From Lena Coakley
Evolution: How We and All Living Things Came to Be wins Lane Anderson Award from The Canadian Children's Book Centre. "The two winners of the 2010 Lane Anderson Award were announced last night by Hollister Doll and Sharon Fitzhenry, Directors of the Fitzhenry Family Foundation, at a celebration dinner in Toronto. The annual Lane Anderson Award honours two jury-selected books, in the categories of adult and young reader, published in the field of science, and written by a Canadian. The winner in each category receives $10,000. Evolution: How All Living Things Came to Be by Daniel Loxton, published by Kids Can Press, won the young reader category."
TD Canadian Children's Book Week: TD Canadian Children's Book Week will run from Saturday, May 5 to Saturday, May 12, 2012. Twenty-nine English-speaking authors, illustrators and storytellers will visit schools, libraries, bookstores and community centres in every province and territory across the country. Apply to host a reading.
Bookweirder by Paul Glennon (Doubleday Canada) wins 2011 YA Sunburst Award from Locus Online News. See link for finalists. Peek: "The annual Sunburst Award for Canadian Literature of the Fantastic is a juried award. It is based on excellence of writing and awarded to a Canadian writer who has published a speculative fiction novel or book-length collection any time during the previous calendar year. Named after the novel by Phyllis Gotlieb (1926-2009), one of the first published authors of contemporary Canadian speculative fiction, the award consists of a cash prize of $1,000 and a hand-crafted medallion which incorporates a 'Sunburst' logo, designed by Marcel Gagné." Note: more on Bookweirder.
Cynsations Canada reporter Lena Coakley is a full-time writer living in Toronto. Witchlanders is her debut novel. Lena contributes news and interviews from the children's-YA creative, literature and publishing community in Canada. See also Lena on Why Fantasy Saved Her Life.
This Week's Cynsations Posts
Cynsational Giveaways
Last call! Enter to win one of three Snuggle Mountain apps (IPhone and IPad users only). To enter, comment on this post (click link and scroll) and include an email address (formatted like: cynthia at cynthialeitichsmith dot com) or a link to an email address. Or you can email Cynthia directly with "Snuggle Mountain app" in the subject line. Author sponsored. Deadline: Sept. 26.
For extra entries (itemize efforts in your entry comment/email with relevant links): blog about this giveaway; share the link to this post on facebook; share the link to this post on Twitter; share the link to this post on Google+; like Lindsey's Facebook author page.
The winner of Liar, Liar and Flat Broke by Gary Paulsen (Random House, 2011) is Irene in Alabama. See also Gary Paulsen on Writing About Boys.
Enter to win a copy of the 2012 Children's Writer's & Illustrator's Market from Donna Gephart at Wild About Words.
Solve a Cynsational title mystery to enter to win Firelight by Sophie Jordan and Through Her Eyes by Jennifer Archer from Joy Preble at Joy's novel idea. Peek: "In the above post I have included the titles for three of Cyn's YA paranormal books!! If you want to play today, email me…and tell me those titles and the phrase in the post in which I hid them." Deadline: Sept. 26.
More Personally
The highlight of this week was fellow Austin author Jessica Lee Anderson at Book People and my school visits/bookstore trip to Blue Willow Bookshop in Houston–full photo report and bowing thanks to come soon! In the meantime…
Reflections on Influences for Blessed by Cynthia Leitich Smith from Undercover: The Best YA Fiction from Walker Books (U.K.). Peek: "…it was time for me, research-wise, to kick it old school. This was well before the paranormal trend in YA literature, so I started with the few YA Gothics and worked all the way back to Stoker." Note: the Walker release date is Oct. 6.
Young Adult Authors Thrive in Austin by Joshunda Sanders from The Austin-American Statesman. Peek: "The convergence of that growing e-book market with tech-savvy, engaged young readers has drawn more and more voices to Austin's young-adult author community."
Bloggers on Blogging: Cynthia Leitich Smith from Megan Frazer. Peek: "It's critical to put positive energy into any creative community, and blogging is one way to do that. By positive, I don't mean superficial or Pollyanna, but rather being consistently substantive and uplifting."
Personal Links:
From Greg Leitich Smith:
Cynsational Events
Austin Teen Book Festival is scheduled from 10 a.m. to 5 p.m. Oct. 1 at Palmer Events Center in Austin. The event is free! No need to register, just show up! Students do not need to be accompanied by an adult.
Illustrator Ming Doyle will be signing Tantalize: Kieren's Story at 2 p.m. Oct. 2 at Brookline Booksmith (279 Harvard Street) in Brookline, Massachusetts. Guests are invited to participate in a vampire/werewolf costume contest.
Cynthia Leitich Smith will be appearing at Austin Comic Con, scheduled for Nov. 11 to Nov. 13 at the Austin Convention Center.