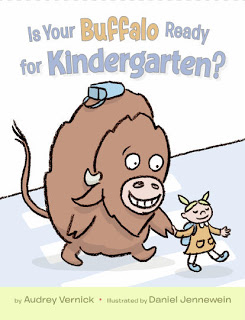 Daniel Jennewein is the debut illustrator of Is Your Buffalo Ready for Kindergarten? written by Audrey Vernick (Balzer+Bray/HarperCollins, 2011). From the promotional copy:
Your buffalo is growing up. He plays with friends. He shares his toys. He's smart! But is he ready for kindergarten? (And is kindergarten ready for him?)
Is Your Buffalo Ready for Kindergarten? is a hilarious look at first-day-of-school jitters.
How did you discover and get to know your protagonist? How about your secondary characters?
When I was approached by Martha Rago, the Creative Director at Harper Collins, the book in question was about a buffalo who wants to learn how to play drums (which is now the second book, Teach Your Buffalo to Play Drums, planned for Spring 2011).
Martha had seen my work at the SCBWI Bologna Symposium & Showcase in 2008 and thought my style would complement the very zany story. I knew that the Buffalo would have to look a lot friendlier than actual buffaloes, and I wanted to give him very exaggerated expressions.
Originally, I imagined him as an Asian buffalo, but the publisher preferred to have him be an American Bison.
When I began the character design, I studied the anatomy of a real buffalo by visiting a wildlife park nearby and doing a ton of sketches of wisents, the smaller European cousin of the American bison. Then, I read the manuscript carefully to gain inspiration for his oversized personality.
The secondary characters include the girl who "owns" the Buffalo as well as her classmates and teacher. I modeled some of them on close friends and family of mine. The Asian girl and red-haired "naughty" boy are based loosely on the looks and personalities of best friends of mine, the boy with glasses resembles my father, and the pig-tailed owner of the buffalo is based on my host sister when I was an exchange student in the U.S. This little girl is a fun and confident character, just like I remember my host sister being.
It was important both to me and the publisher to show the growing diversity of kindergarten classrooms in the U.S. That's why the children are all different races. It's part of showing that everyone can feel comfortable in kindergarten, even an enormous Buffalo – who is the only one in the group with horns, a mane and a hump!
As a picture book illustrator, how did you learn your craft? What were your natural strengths? Greatest challenges?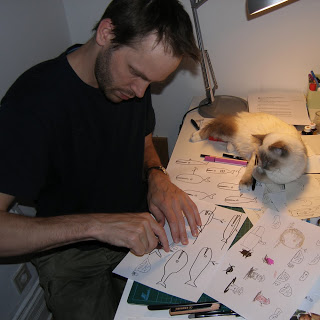 Ever since I learned how to pick up a pencil, I've been drawing–whatever my imagination comes up with. Illustration is something that cannot be forced. It's unpredictable. Sometimes, even trying very hard doesn't lead to good drawings. It just has to happen, which makes it the process rather mysterious and difficult to explain.
Of course, getting a good artistic foundation can really enrich your personal drawing style. That's why I value my art school background and also try to draw realistic animals, people, houses or landscapes from life as much as I can.
I also draw from my years of experience as a graphic designer for discipline and integrating the feedback of others into my work.
I buy a ton of picture books and study the work of artists I really admire, such as Tomi Ungerer, William Steig, and Disney and Pixar animators.
Impressions from my childhood, traveling, and people-watching are a big source of inspiration.
SCBWI has been essential to my development as a picture book illustrator, and I've been so grateful to be mentored by fellow illustrators there such as Bridget Strevens-Marzo (interview).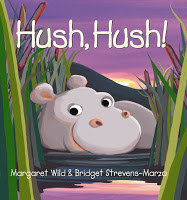 My natural strength is to make people laugh through my drawings. The Buffalo is enormously large and exuberant. He sometimes has a slightly wild expression, but I tried to convey that he is well-intentioned and a good pal. Kids not only find him an endearingly funny character, they also seem to be convinced that he belongs at kindergarten by the end of the book.
One challenge for me is not to get discouraged. There are so many amazing artists around, which can be very intimidating, especially for a new illustrator like me. I feel very lucky for the wonderful opportunities I've had so far, and I look forward to growing as an illustrator and meeting new challenges in the years to come.