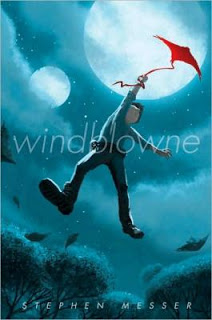 Stephen Messer is the first-time author of Windblowne (Random House, 2010). From the promotional copy:
Every kite Oliver touches flies straight into the ground, making him the laughingstock of Windblowne.
With the kite-flying festival only days away, Oliver tracks down his reclusive great-uncle Gilbert, a former champion. With Gilbert's help, Oliver can picture himself on the crest, launching into the winds to become one of the legendary fliers of Windblowne.
Then his great-uncle vanishes during a battle with mysterious attack kites—kites that seem to fly themselves!
All that remains is his prize possession, a simple crimson kite. At least, the kite seems simple. When Oliver tries to fly it, the kite lifts him high above the trees. When he comes down, the town and all its people have disappeared.
Suddenly, the festival is the last thing on Oliver's mind as he is catapulted into a mystery that will change everything he understands about himself and his world.
Inspired by the work of Diana Wynne Jones, debut author Stephen Messer delivers a fantasy book for boys and girls in which the distance between realities is equal to the breadth of a kite string.
What were you like as a young reader, and how did that influence the book that you're debuting this year?
Like a lot of avid young readers, I read everything I could lay my hands on, without much discernment or filtering.
There was lots of classic children's literature–like The Story on Doctor Doolittle by Hugh Lofting (1920) and Mary Poppins by P.L. Travers (1934) and The Chronicles of Narnia by C.S. Lewis (Harper, 1950-1956)–but also loads of books on baseball, astronomy, and even a few historical romances (which I didn't really understand).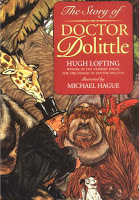 I read a lot of things that were over my head as a 10-year-old boy, like Les Misérables by Victor Hugo (1862) and Are You There God? It's Me, Margaret by Judy Blume (Yearling, 1970). But I still read them and was shaped by them.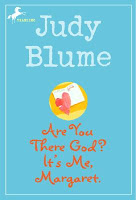 Eventually, I grew up and something terrible happened–I became picky about books.
But I still want to be like that un-picky young reader and read outside my narrow interests and also bring that spirit of eclecticism to my writing. It helps to have all those different resources to draw from.
When writing Windblowne, I kept a stack of books at hand, not only reference works on kites and tree houses, but also volumes of P.G. Wodehouse and The Art of Final Fantasy IX by Dan Birlew (Brady Games, 2000), and whatever else struck me as fun or conducive to sparking that unexpected idea. I want to pull lots of disconnected bits into my work and link them together.
We do this easily when we're kids, and it's a good challenge for us when we're grown.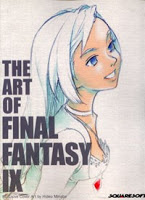 As a fantasy writer, how did you go about building your world?
There's a woodblock print by the Japanese artist Hokusai called "Caught By the Ejiri Wind" (1831-1833), in which a group of travelers on a road have been caught by a wind gust. They lean hard into the blast as papers fly from their hands, their clothes billow, they lose their hats, leaves blow from the trees. It's a powerful evocation of the unpredictable force of nature.
The mountain town of Windblowne in my book is constantly buffeted by vigorous winds, and everything from the construction of homes to the daily life of the inhabitants is influenced by this fact. All buildings in Windblowne are built up in the branches of giant oak trees, which are the only things that can reliably withstand the winds, particularly at night when the winds blow strongest.
In order to help me summon this sense of omnipresent wind and nature, I surrounded myself with art and objects and music that conjured up this world.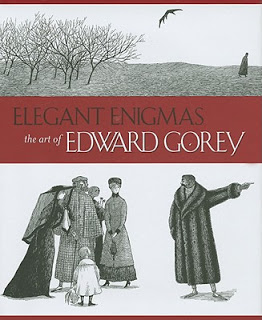 Above my desk in my study I hung a framed print of "Ejiri Wind" and a crazy colored dragon kite that reminded me of kites used in the book.
The list of music goes on and on, but one work that always helped put me in the right frame of mind was Sibelius's 5th symphony, which has a motif inspired by the sight of 16 swans taking flight.
For my next book, The Death of Yorik Mortwell (Random House, summer 2011), I did the same thing, with a completely different set of artifacts — spooky art by Edward Gorey and spacy music from Terry Riley.
I sort of trick out my study in this way, so that when I go in to write, I'm entering the world of the book.