On Sept. 1, about 40 Austin writers and illustrators gathered at my house to celebrate Anne Bustard's and Lindsey Lane's recent completion of their MFA degrees in Writing for Children and Young Adults from Vermont College of Fine Arts. Anne and Lindsey graduated in the July 2010 class. Both are published picture book authors.
Though my husband Greg and I have hosted many community events over the years, this one was more personal. We invited folks who've known them over the years and a few new friends, too.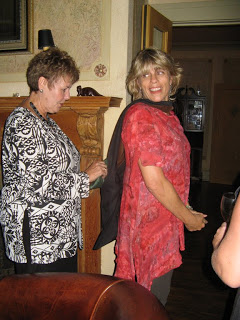 Here, VCFA alum and Austin SCBWI RA Debbie Gonzales (in black and white) helps Lindsey (in fuchsia) with her hood.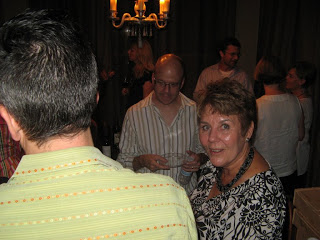 Anne was so mobbed by well-wishers that she was hard to catch on camera. But if you look behind Debbie and the right of illustrator and web designer Erik Kuntz, you can spot her back (white top, dark slacks). She's talking to VCFA student Sean Petrie.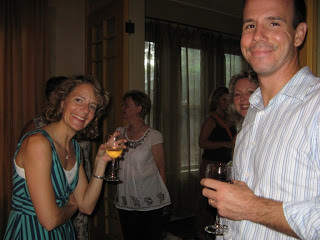 Austin SCBWI founder and VCFA student Meredith Davis chats with author Chris Barton. You can catch a glimpse of Austin SCBWI ARA Carmen Oliver behind Chris and author Kathi Appelt from College Station behind Meredith. Kathi was Anne and Lindsey's original children's writing teacher, and she led the guests in a heartfelt toast to the graduates.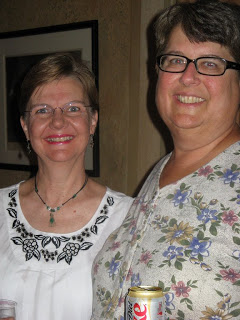 A closer look at Kathi with librarian and author Jeanette Larson.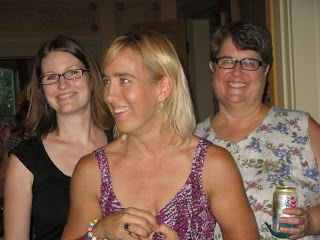 Here's Jeanette again, with authors Jessica Lee Anderson (in black) and P.J. Hoover (in purple).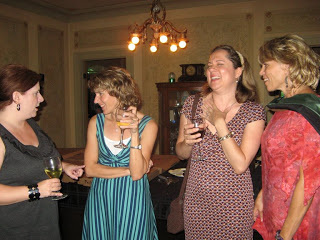 VCFA alum and author Bethany Hegedus, Meredith, author Jennifer Ziegler, and Lindsey.
Kathi and illustrator Mary Sullivan.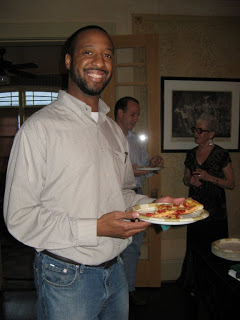 VCFA alum and author Varian Johnson. In the background, Chris and author Janice Shefelman.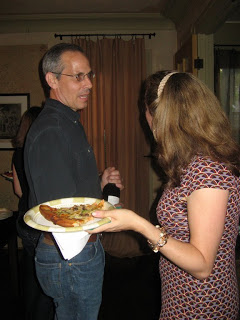 VCFA alum and author Brian Yansky chats with Jenny.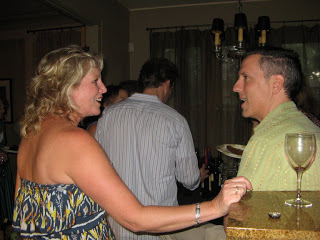 Carmen and VCFA alum Gene Brenek.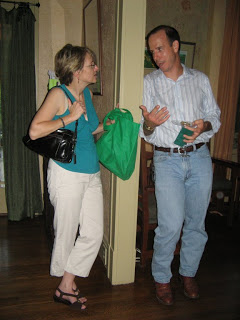 Chris with former Austin SCBWI RA and author Julie Lake.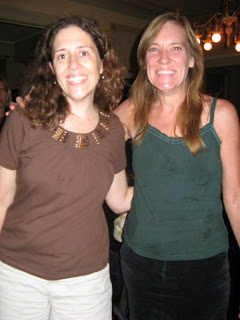 Authors Shana Burg and Lisa Railsback.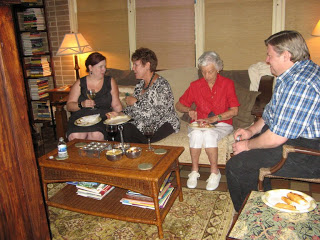 Bethany and Debbie with author Betty X. Davis and former Austin SCBWI RA Tim Crow.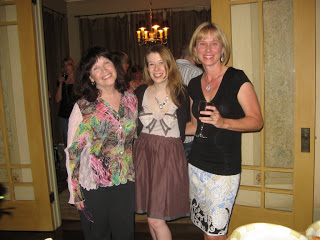 Authors Frances Yansky, Margo Rabb, and April Lurie.
Cynsational Notes
This is by no means a peek at every guest at the party! I'm respectful of the camera shy and have a firm policy against posting photos of people chewing pizza. This is why I'm allowed to continue taking pictures.