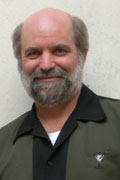 Interview by Laura Watkinson for SCBWI Bologna 2010
Hello, Doug. You're both an illustrator and a writer. How does combining these skills work for you? Do you prefer projects where you're responsible for creating the whole story, both the words and the pictures? Or do you enjoy the challenge of putting your own spin on someone else's words?
It's all different. Another writer's words will make me stretch my art a little more, which is good. I love to illustrate my own work, but I tend to write the same kind of book as most authors do, so I tend to paint the same kind of pictures.
Of course doing both the writing and illustration of a book lets me keep more of the royalties….
Which picture books that you read as a child have stayed with you? Do you think any of those early encounters influenced your art and your decision to work as a professional author and illustrator?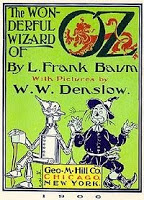 I grew up with a lot of the old Golden Books. I read the classics like The Wonderful Wizard of Oz [by L. Frank Baum (George M. Hill, 1900)], etc.
Of course my biggest influences were the newspaper comics and comic books.
I'm still a fan of Sendak.
My heroes are Arnold Lobel and James Marshall, to name a couple others, but I still go back to some of the old masters of painting and drawing, A.B. Frost, N.C. Wyeth, Winslow Homer, etc.
But there is a lot of non-art influences as well, music, music, music and food with some travel and the occasional art gallery and music and a museum visit thrown in. And music.
Cafes are a great inspiration with all the weird characters strolling in.
Did I mention music?
Which modern illustrators and artists do you particularly admire? Are there any up-and-coming illustrators or writers of books for young readers that you would recommend we keep an eye open for?
I confess that I haven't kept up with any of the new trends and new talent.
I work pretty much in a bubble which is a good and bad thing, I suppose. It keeps one focused but also out of the loop.
Do you find that as you've advanced in your career you've had more freedom to select the projects you work on and the style you want to use? Is there a particular project that you're most proud of? Which of your books prompts most responses from readers?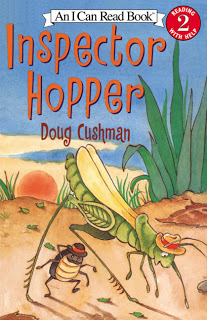 I love mysteries and love to play with the genre.
My most successful books have been variations on the mystery genre; the beginning reader Aunt Eater series and Inspector Hopper I Can Reads for Harper have done well.
My Dirk Bones I Can Reads are another variation, a detective character, but this time he's a skeleton in a spooky town.
Then of course there's The Mystery at the Club Sandwich (Clarion, 2004), my take on hard-boiled detectives, this time with an elephant P.I.
One of the first full-blown picture books I wrote and illustrated was The ABC Mystery (HarperCollins), an ABC book with rhyming couplets and anthropomorphic antagonists.
Could you tell us what you're working on at the moment? What new books are we going to see from you in 2010?
I've a new book with Henry Holt I wrote and illustrated that will be out in fall called Halloween Good Night and a book with Harper written by Arthur Yorinks called The Invisible Man.
You divide your time between northern California and Paris, France. Could you tell us a little about how these two different places have influenced your art and your career?
To use the old cliché, I draw for the child I was. I've always believed that there is no drawing, no art, especially geared for children. It's all either good art or bad art.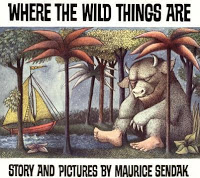 I think it was Sendak who said, "You cannot write for children…you can only write books that will interest them."
So, environment doesn't matter a whole lot.
I'm an American, born and bred, so those cultural influences and experiences will always be with me. For instance, one of my memories of sixth grade was my science-fair project.
Do French school kids have science fairs? I have no idea.
So whether I live in California, Connecticut, Paris, Texas; or East Chicken Back, Pango Pongo; I'll always be writing with an American sensibility.
Do you have any tips for aspiring illustrators and authors who are hoping to catch the attention of a publisher or agent?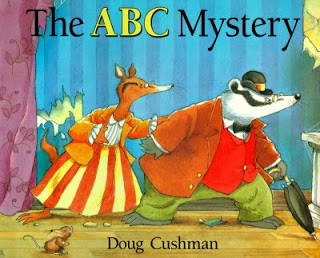 Patience! And never be afraid to utterly fail; one can learn more from one failure than a string of successes.
Don't be afraid to try something new.
And avoid getting involved with trends. Trends are just that, something hot one moment and cold the next.
Write and illustrate what interests you, and be honest; what you're after (I'm assuming) is longevity. A book is something you'll have to live with almost daily for a least two-to-three years before it's published; and that's assuming it's been sold. I've had projects making the rounds for six-to-seven-plus years….and counting.
Can you still be enthusiastic about a book after seven years?
Have you visited the book fair in Bologna often before? What have your experiences there been like? Do you have any advice for illustrators who are visiting Bologna for the first time?
The Bologna Book Fair can be overwhelming for a first-timer; it was for me. I've been there four or five times now and it's still an amazing event; five halls each the size of a football field filled with children's books from all over the world.
It's a veritable orgy of children's literature. I'd suggest for a first timer to take time and just slowly look at specifically what interests them; picture books, YAs, merchandising, whatever.
Look at what is being done by each publisher; see if you can pick out a trend or a philosophy (the worse thing is to submit a story about a duck in a bathrobe to a publisher that has a forty-book series of a duck with a bathrobe).
Bologna is a rights fair so not many air directors or editors show up; it's very focused on selling rights. But one can talk to a sales person, if only for a few minutes between meetings. Ask for cards and catalogs and study websites.
Cynsational Notes
Doug Cushman was born in Springfield, Ohio; and moved to Connecticut with his family when he was 14 years old.
While in junior high and high school, he created comic books lampooning his teachers, selling them to his classmates for a nickel a piece.
Since 1978 he has illustrated over 100 children's books, thirty or so of which he wrote as well.
Among his many honors, he has gained a place on the New York Times Children's Best-Sellers list and on the 2003 Children's Literature Choice list. He has received a National Cartoonist's Society Reuben award, the 2004 Christopher Award for his book illustrations, the 2007 Maryland Blue Crab Award and the 2009 California Young Readers Medal.
He is a fan of mystery novels and enjoys cooking, traveling, eating and absorbing French culture and inspiration, as well as a few extra kilos, in his new part-time home in Paris, France.
Laura Watkinson is a translator, from Dutch and Italian into (British) English, and an occasional writer. She translates children's books for all ages, from picture books to YA/cross-over novels, and has recently completed projects for Piccadilly in the U.K. and Arthur A. Levine in the States. She's a champion of books in translation and loves making different cultures accessible to younger readers.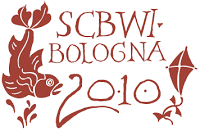 The SCBWI Bologna 2010 interview series is brought to you by the SCBWI Bologna Biennial Conference in conjunction with Cynsations. To register, visit the SCBWI Bologna Biennial Conference 2010. Note: Special thanks to Angela Cerrito for coordinating this series with SCBWI Bologna and Cynsations.