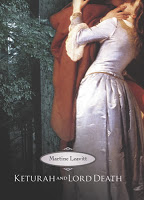 Last call: enter to win an autographed hardcover of National Book Award Finalist Keturah and Lord Death by Martine Leavitt (Front Street, 2006) from Cynsations. To enter, email me (scroll and click envelope) with your name and snail/street mail address and type "Keturah and Lord Death" in the subject line. Deadline: March 30! All Cynsational readers are eligible! Note: there is a slight uneveness to the cut of the back of the cover and a couple of slightly bent page corners, but it's otherwise in great shape.
More News
Congratulations to the finalists for the Texas Institute of Letters Award for Best Young Adult Book: Varian Johnson for My Life as a Rhombus (Flux), Anne Estevis for Chicken Foot Farm (Arte Publico/Pinata), and Jo Harper for Birth of the Fifth Sun (Texas Tech Press). The TIL winners in all categories will be announced at the organization's annual meeting in April.
Marvelous Marketer: Harold Underdown (Author of The Complete Idiot's Guide to Publishing Children's Books) from Shelli at Market My Words: Marketing Advice for Authors/Illustrators from a Marketing Consultant & Aspiring Children's Book Author. Peek: "Some books can be effectively and efficiently promoted by their authors, while others can't. Some authors aren't good promoters. There are times when writing is a better use of your time, and writers shouldn't feel guilty about that."
Check out NYPL's Stuff for the Teen Age 2009. Categories include The Undead, Girl Drama, For Real, Urban Stories, It Hurts, For Guys, LOL, Sci Fi/Fantasy, and RIP.
Attention Young Readers: vote in the Children's Choice Book Awards. Note: teachers/librarians may also want to highlight this link to their students/patrons.
Writing and School-Age Kids by Kristi Holl from Writers First Aid. Peek: "You may also work full- or part-time. More demands are made on your evenings and weekends. At this stage, the key is to be flexible and disciplined."
A Rotten Resolution from Stephanie Green at Through the Tollbooth. Peek: "The ending is where you tie up loose ends. The resolution is the moment when your main character realizes the circumstance she has created and accepts the consequences of her actions and acts accordingly."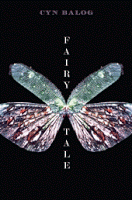 Fairy Tale Contest from Cyn Balog, author of Fairy Tale (Delacorte, 2009), at the B-log Blog. Peek: "Grand Prize: A signed copy of Fairy Tale (hot off the presses, before you can buy it in stores!) AND A hand-crafted, silver fortune cookie necklace with a special message, Believe. This is just like the one that Morgan wears in Fairy Tale!"
Parent Ex Machina from Editorial Anonymous. Peek: "Parents swoop in to solve kids' problems, give them things they couldn't have gotten by themselves, and save them from danger. That's real life. But it's not real storytelling."
A Chart & A Checklist from Helen Hemphill at Through the Tollbooth. Peek: "So let's randomly say that a novel is 200 pages. If it's longer or shorter, you can figure out the percentages on your own. Here's a story sequence chart that I made up from my notes…" Note: tons of insight into pacing a novel! Read a Cynsations interview with Helen.
Skype an Author Into Your Library or Classroom from library media specialist Sarah Chauncey and author Mona Kerby. Peek: "This Wiki provides a page for each author who joins the network. A template has been designed to ensure consistency of content among authors and to keep things simple for authors, teachers, and librarians. The author pages provide procedural and contact information." Source: Elizabeth O. Dulemba.
Erik Kuntz-One Bad Mouse from Lindsey Lane at This and That. Peek: "I blog about my art, I create tutorial blogs for computer graphics and web issues, and I sometimes write about pop culture. I also post a regular webcomic, which is sort of a blog."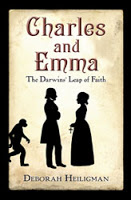 Charles and Emma: The Darwins' Leap of Faith: About Writing and Researching the Book from Deborah Heiligman. Peek: "I have been to England and visited Down House. I loved to be able to walk in the rooms where Charles and Emma sat and worked. Walking into Charles's study was amazing and walking on the Sand Walk with my husband and children was a true experience. But when it came time to write the book…" Note: Charles and Emma, a YA nonfiction book, (Henry Holt, 2009) has received starred reviews from School Library Journal, Publishers Weekly, Booklist, Horn Book and The Bulletin of the Center for Children's Books." Source: Deborah Sloan at The Picnic Basket.
"Dying to be Thin" a podcast reading and interview with Laurie Halse Anderson from Boston NPR.
Online Social Networking for the Busy Writer: How to Blog, Tweet, and Friend (and Still Have Time to Write): an online class from author Susan Taylor Brown. Note: " May 4th – May 7th That's Monday, Tuesday, Wednesday, and Thursday." Cost is $60.
Library-lovin' challenge from Jennifer R. Hubbard. Peek: "Why not open up a blog post in which I promise to donate 25 cents per comment (per unique commenter, that is–no getting 100 comments from the same person!) to my local libraries?" Also: "I'm going to do this starting the evening of March 26 and ending around noon on March 28." Note: Bloggers, let her know if you'd like to host a challenge, too. Source: Jama Rattigan.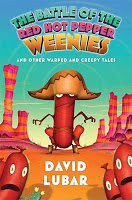 Getting All Blogged Down by David Lubar. Peek: "A great trailer or a killer essay might get attention. But even then, I'm not sure it translates into increased book sales or even return blog readers. I'm pretty sure it is much better to have a blogger with tons of readers mention your book." Learn more about The Battle of the Red Hot Pepper Weenies (Starscape, March 2009). Read a Cynsations interview with David.
Maggie Stiefvater: the newly designed official author site. Read a Cynsations interview with Maggie.
Writing the Query Letter: a Q & A with Wendy Burt-Thomas, author of The Writer's Digest Guide to Query Letters (2009), from The Stiletto Gang. Peek: "I remember telling someone about a really high-paying writing gig I got and he said, 'Wow. You have the best luck!' I thought, Luck has nothing to do with it! I've worked hard to get where I am." Source: Susan McBride's Blog.
The Writer Mama Two-Year Anniversary Blog Tour Giveaway: each day in March, Christina Katz, author of Writer Mama: How To Raise a Writing Career Alongside Your Kids (Writers Digest) is blogging and offering a giveaway copy at a new location. See schedule. From Zook Book Nook: "So, whom will you lean on while you write your book? Pick a few people so you don't wear any one person out. And don't include your agent, your editor, or any of the others on your professional team on your list."
Lisa Yee talks about Absolutely Maybe (Arthur A. Levine, 2009) at readergirlz TV. See a related interview with Lisa from Teenreads.com.
New Voices Award: "Lee & Low, award-winning publisher of children's books, is pleased to announce the tenth annual New Voices Award. The Award will be given for a children's picture book manuscript by a writer of color. The Award winner receives a cash grant of $1000 and our standard publication contract, including our basic advance and royalties for a first time author. An Honor Award winner will receive a cash grant of $500." Note: "Manuscripts will be accepted from May 1, 2009, through September 31, 2009 and must be postmarked within that period." See eligibility, submissions, and announcement information. Source: The Brown Bookshelf.
Encouragement For Writer Wannabes a video interview from Mitali Perkins. Peek: "Each rejection means you can learn. Each rejection means you can pick yourself up and try again." Read a Cynsations interview with Mitali.
First Color eBook Reader is Here! from Tracy Marchini at Curtis Brown. Peek: "…does mean that perhaps we'll see beautiful e-picture books? Or maybe, depending on the resolution, beautiful books on the arts that can reproduce an image as well as the print edition?"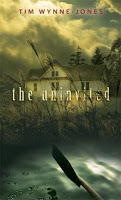 The Uninvited by Tim Wynne-Jones: a recommendation by Greg Leitich Smith of GregLSBLog. Peek: "…a richly atmospheric story of stalking, suspense, lies, and family ties."
Tenners, Writing Communities, and a Tsunami Story: "an interview with Heidi R. Kling, author of the upcoming novel Sea and a co-founder of the Tenners, a group of debut novelists" from Jennifer R. Hubbard. Peek: "It's rare, even in live writing groups (which I'm a member of locally) to find other writers in your exact same stage of writing. We are going through the same things at the same time. I liken it to a new mommy group. I mean, no one else can relate to you the same way as someone experiencing the same exact thing."
For Children's Authors: Need a teacher's guide for your book? Ideas for school visits? from Natalie Dias Lorenzi. Peek: "I'll show you how to present your book as an essential link to learning, not merely an 'extra.'" See sample guides, highlighting A Sock is a Pocket for Your Toes by Liz Garton Scanlon, illustrated by Robin Preiss Glasser (HarperCollins, 2004) and My Father The Dog by Elizabeth Bluemle, illustrated by Randy Cecil (Candlewick, 2006), both PDF files. Source: Liz Garton Scanlon. Peek: "eachers are given less and less discretionary time to devote to these sorts of non-standards-based enrichment activities. And PTAs, librarians and districts are likely to see less and less discretionary funding made available for the same. I'm lucky in that I actually love doing school visits. They exhaust but inspire me and remind me of exactly what it is I'm doing and why."
Mark McVeigh has announced the formation of The McVeigh Agency. Mark has a long career in publishing as an editor and was most recently at Simon & Schuster/Aladdin. Mark may be contacted at: mark@themcveighagency.com Note: Mark was the editor for Santa Knows (Dutton, 2006)(available from Scholastic Book Club).
Cynsational Tip: if you are running a giveaway contest, please include the deadline. Note: at least for me, when I'm trying to decide whether or not to feature the link, it helps to know whether the online promotion is still ongoing.
Celebrating Joy Fisher Hein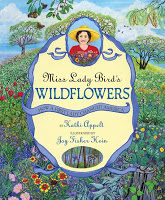 Congratulations to illustrator Joy Fisher Hein on her recently redesigned website! Peek: "Joy and Kathi [Appelt']s, Miss Lady Bird's Wildflowers: How a First Lady Changed America [(HarperCollins, 2005)], has received numerous awards, including, Growing Good Kids Award 2006, June Franklin Naylor, Honorable Mention 2006, Children's Crown Award Finalist 2006, Teddy Award 2005." Read a Cynsations interview with Joy. Note: an interior painting from the interior of Miss Lady Bird's Wildflowers is featured in the header at Cynsations at Blogger.
Congratulations also to Joy on her artwork being featured in celebration of 2009 Texas Reading Club Libraries: Deep in the Heart of Texas! ¡Bibliotecas: En lo más profundo del corazón de Tejas!, a project of the Texas State Library and Archives Commission. Peek: "The Texas Reading Club is designed to encourage youth to read for pleasure and to promote library usage. A statewide theme is selected each year. The theme for 2009 is Libraries: Deep in the Heart of Texas! The artist is children's book illustrator Joy Fisher Hein."
More Personally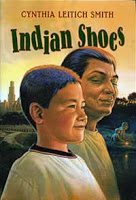 Via the Native American Student Services' program (NASS), I'm thrilled to report that Native students in Lawrence (KS) public schools will be reading Indian Shoes (HarperCollins, 2002). Note: "565 students [are] enrolled in Native American Student Services, (Pre-K-12) which is about 5% of the total population of the school district." See a free readers' theater for Indian Shoes.
Walker U.K. has tentatively slated Eternal for a fall 2009 release. It will also be published in hardcover by Walker Books Australia and New Zealand in May 2009. See more information.
At Writers Read, Kathi Appelt says of Eternal: "Romance, sorrow, longing … lots of longing … all lead up to a story of redemption in the darkest place imaginable, the soul."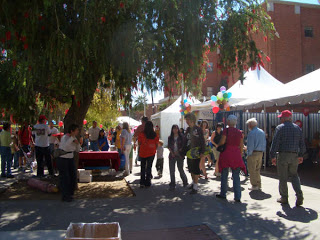 Thanks so much to everyone at the Tuscson Festival of Books for their hospitality, especially my escort, Aimee! Thanks also to author pals Janni Lee Simner and Jennifer J. Stewart for making me feel extra welcome!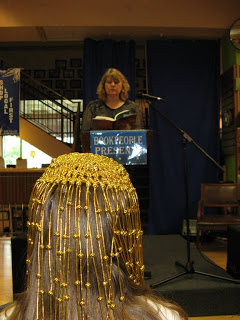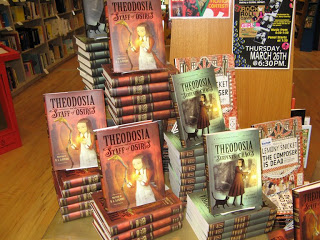 Highlights of this week included R. L. LaFevers signing at BookPeople. See R.L.'s and P.J. Hoover's reports.