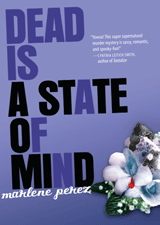 Enter to win one of four ARCs of Dead Is a State of Mind by Marlene Perez (Houghton Mifflin Harcourt, Jan. 2009)(author interview).
To enter the giveaway, email me (scroll and click on the envelope) with your name and snail/street mail address by 10 p.m. CST Dec. 31! OR, if you're on MySpace or Facebook, you can message me on that network by 10 p.m. CST Dec. 31! But DON'T send in your contact information on MySpace or Facebook. I'll contact you for it if you win. Please also type "Dead Is a State of Mind" in the subject line. Note: one copy will go to a teacher, librarian, or university professor of YA literature; two copies will go to any Cynsational readers, and two copies will go to members of Tantalize Fans Unite! at MySpace. Please indicate your entry status (if you qualify in more than one category, you get a separate entry for each).
More News
Congratulations to Lisa Schroeder on the release of Far From You (Simon Pulse, Dec. 2008)! Here's a peek at the promotional copy: "Do you believe in angels? Far From You is a story of love and loss, and reminds us what's really important in life. Fans of I Heart You, You Haunt Me are sure to enjoy this novel-in-verse featuring 16-year-old Alice, a singer/songwriter who's had her share of hard times, and unfortunately, has more to come. What will pull her through? Her music? The love of her boyfriend, Blaze? Or perhaps, an angel, here on earth?" Read a Cynsations interview with Lisa.
Teen Fiction Cafe is now available via LJ syndication.
Macmillan Announces Formation of a Children's Publishing Group: Dan Farley Named President; Simon Boughton and Jean Feiwel Apponited Senior Vice President and Publishing Directors of Macmillan Children's Publishing. Source: A Fuse #8 Production.
VLog: Seven Books You Should Definitely Read in 2009 (Including Mine) from Saundra Mitchell (below). Note: Saundra is the author of Shadowed Summer (Delacorte, Feb. 2009).
Seven Books You Should Definitely Read in 2009 (Including Mine)
Your Identity, for the Internet from Editorial Anonymous. Peek: "Your website, in the very lucky event that an editor decides to look you up, should tell the editor more about who you are as a person– your other pursuits, anything that makes you particularly well suited to write for kids, your sense of humor, that sort of thing."
Fifth Annual Novel Writing Retreat at Vermont College of Fine Arts will be March 27 to March 29, 2009. Featuring: author Kathi Appelt; author Elise Broach; and editor Cheryl Klein of Scholastic. Includes: lectures; organized workshops; writing exercises; one-on-one critiques with one of the guest authors; one-on-one critique with guest editor (extra fee); open mike; discussions; room and board. Cost: $450. Registration begins Dec. 1.
2008 Top 10 Books from Linda Joy Singleton. Peek: "I notice that my favorite books tend to be both midgrade and YA, mostly fantasy and mysteries." Read a Cynsations interview with Linda Joy Singleton. See also 2008 in Review (Haiku) from Emily Reads.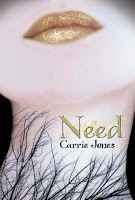 Interview with Carrie Jones, author of Need (Bloomsbury, Dec. 2008) from Jeri Smith-Ready. Peek: "I think fear works both ways. You know how at slumber parties everyone would freak themselves out because they heard noises in the kitchen or outside? I was always the kid who grabbed a weapon, made the other kids form a line behind me and investigated." Read a Cynsations interview with Carrie. Note: congratulations to Carrie on her new release!
Don Tate Stuff: a great store for images for digital scrapbooking from illustrator Don Tate. Read a Cynsations interview with Don.
Kids Books: The Best Gifts for Grown-Ups: recommendations from Emily at BookKids Recommends. See also Favorite New Books for December.
Looking for New Writers? Arizona Wants to Catch Your Eye from GalleyCat. Peek: "'Look Book,' an anthology of fiction, nonfiction and poetry from 26 writers who'd completed the two-year program. Epstein, who also orchestrated the book's production, says she sent copies to more than 80 agents earlier this month, and some of the writers have already gotten their first contact." Note: not an MFA in writing for young readers, but included as part of the "larger" discussion about graduate programs.
So How Do You Know When You Suck (Or Just Haven't Made It) by Allison Winn Scotch from Ask Allison. Peek: "Obviously, writing is a subjective thing, and what is good to one person will certainly suck for another (just read any author's reviews and you'll see a wide range), but on the whole (and yes, there are exceptions, where universally, everyone says, how the hell did that get published), most published writers have a certain something that appeals." Note: a candid, give-and-take (with no clear answers) on a question heard a lot from folks in their apprenticeships.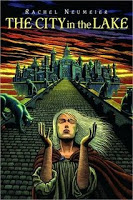 The City in the Lake by Rachel Neumeier (Knopf, 2008): a recommendation from Greg Leitich Smith. Peek: "In this elegant first novel, Neumeier presents an atmospheric world of intrigue and treachery."
Austin illustrator Clint Young and author Deborah Noyes are now at JacketFlap. Peek at Clint's bio: "Born 1971 in Dallas, Texas, but now call Austin Home. I spent several years in the San Francisco Bay area as a senior artist for LucasArts/Lucasfilm. Currently I have found a home as a concept artist for Bioware, Austin." See also a Cynsations interview with Deborah.
Archived Video of the 2008 Charlotte Zolotow Lecture featuring Judy Blume is now available from CCBC. Read a Cynsations interview with Judy.
Eco-Reading: Selected Books for Children and Teens about Our Earth and the Environment compiled by Tessa Michaelson and Megan Schliesman from CCBC. Peek:"highlights books for children and teens that enhance appreciation for nature and the earth, increase understanding of environmental challenges, and inspire action for change."
Five Questions for Kevin Henkes from Notes from the Horn Book. Peek: "My then-editor, Susan Hirschman, wisely said something like, 'I don't think this is good enough for you. Anyone would publish it and it would do very, very well. But in the long run, I don't think you'd be happy.' I keep those words as a guiding principle."
More Personally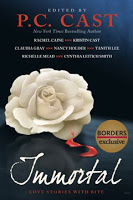 Exclusive Q & A with Author Cynthia Leitich Smith from Teen Book Blog: maintained by the Palatine Public Library District as an online extension of services to young adult patrons. Peek: "I popped corn for a movie theater back during the 1980s blockbusters. Lines would wrap around the theater. One night someone broke in with a gun and stole our copy of 'Indiana Jones in the Temple of Doom.' That job was my inspiration for my short story, 'Haunted Love' in Immortal Love Stories with Bite, edited by P. C. Cast."
I'm going to take a few days of hiatus and will be back Dec. 29! Happy Holidays! Here's a little cheer from my wintery kitty. Meet Blizzard!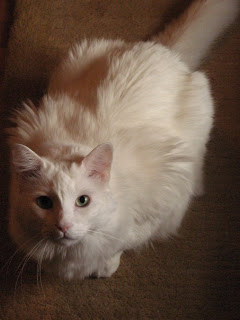 Events
Cynthia and Greg Leitich Smith will be speaking on "First Drafts" at the February monthly meeting of the Writers' League of Texas at 7:30 Feb. 19 at the League office in Austin (611 S. Congress Avenue).
Due to a technical difficulty, Cynthia's discussion of Tantalize (Candlewick, 2007, 2008), Eternal (Candlewick, 2009), and related forthcoming books on the teen grid of Teen Second at Second Life has been rescheduled for 3 p.m. Feb. 24. See more information.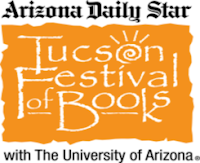 Cynthia will be speaking on "Writing and Illustrating Native American Children's Literature" (with S. D. Nelson) and "Monsters and Magic: Writing Gothic Fantasy Novels for Teenagers" on March 15 at the Tucson Festival of Books.
Cynthia will visit the YA book club at the Cedar Park (Texas) Public Library at 11 a.m. May 30.