Rose Treviño is youth services coordinator for the Houston Public Library and a consultant in the area of youth services. She believes that all children deserve the best library services possible regardless of first language, socioeconomic status, ethnic background, or education and has developed several initiatives to reach hard-to-reach communities in Houston.
What kind of young reader were you?
I loved reading, thanks to my mother who made going to the library an exciting outing for us. As the oldest of five children, I had a chance to read to my younger sisters and brother. I memorized so many stories that I would retell them to my siblings.
I also loved poetry. Mom would select some poetry books, and we'd learn and memorize poetry, which we would then recite to our grandparents and other family members on Christmas Day as our gift to them.
What led you to become a librarian?
It was the love of books that my mother shared with me. I remember that she would give each of us her undivided attention as we read together.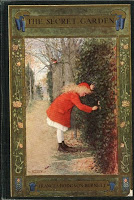 Snuggling in bed with her and reading The Secret Garden [by Frances Hodgson Burnett(1909)] together is one of my favorite memories.
One summer, I was inside the bookmobile and I just remember deciding that I wanted to work in that same bookmobile when I grew up. And guess what? I did!
What inspired you to make children's-YA literature your career focus?
I want to share my love of books with children very much like my mom did for me. Children are our future, and those of us who work with children have an opportunity to engage them in so much that the library has to offer. I want every child to have the same opportunity I had.
I am in a position to train and mentor new children's librarians, and I aim to share that passion with them.
What do you love about it?
I love the joy I see in the faces of the children at storytime.
I love the excitement they share when they finally get the book they've been anxious to read.
I love knowing that reading will help improve their listening and learning skills.
I love working with parents and showing them the importance they have in being their child's first teacher.
I love working with new moms and sharing songs, rhymes, and finger plays they can use with their babies, in English and in Spanish.
I love working with new children's librarians and getting them excited and passionate about their work.
I love the literature which I feel is the absolute best.
What are its challenges?
There are a few challenges, which include budget allocations for children's librarians with an MLS. Libraries need children's librarians with an MLS who can provide the best services possible.
Funding to provide ongoing training for those who work with children can also provide a challenge. It is often difficult to reach some communities, especially those whose first language is not English. Not all libraries have staff members who speak languages other than English, and this is sometimes a challenge for immigrants who face many challenges.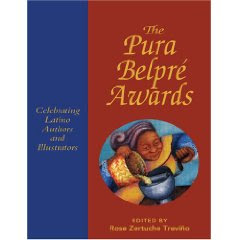 Congratulations on the publication of Pura Belpré Awards: Celebrating Latino Authors and Illustrators (American Library Association, 2006)! First, could you tell us a bit about the history and purpose of the Belpré award program?
The Pura Belpré Award, established in 1996, is presented biennially to a Latino/Latina writer and illustrator whose work best portrays, affirms, and celebrates the Latino cultural experience in an outstanding work of literature for children and youth.
It is named after the first Latina children's librarian for the New York Public Library.
It is co-sponsored by the Association for Library Service to Children (ALSC), a division of the American Library Association (ALA), and the National Association to Promote Library and Information Services to Latinos and the Spanish-Speaking (REFORMA), an ALA affiliate.
In 2009, the award will be given annually.
How does your book support and celebrate the program?
The book is targeted at librarians and educators who work with children and includes a history of the award, plus sections by Belpré founders, Sandra Balderrama and Oralia Garza de Cortés.
Each of the award-winning author and illustrator books are introduced along with the honor books in those categories.
A chapter on book talking the award books is a feature as is the chapter on activities to complement each of the award-winning books.
A biography of the award-winning authors and illustrators rounds out the book.
How did you come to write it? What inspired your particular interest in the topic?
As a member of ALSC and REFORMA, I have a personal obligation to know all of the award-winning literature for children. I want to get these books into the hands of children.
I have been a long-standing member of REFORMA's Children and Young Adult Services Committee, which tackles subjects related to services to Latino children. Each year, this committee plans and presents a program at the ALA Annual Conference on a subject relevant to programs and services for Latinos and the Spanish-speaking.
I was honored to be appointed to chair the Pura Belpré Awards Committee, which allowed me to work with a distinguished group of librarians who shared my passion of great literature for children.
What was the timeline between spark and publication, and what were the major events along the way?
The book's publication was timed to be published and available at the 10th anniversary celebration of the Pura Belpré awards in 2006.
Several exciting things happened–two of the Belpré awards founders, Sandra Balderrama and Oralia Garza de Cortés joined the team of writers and included a rich history of the development of the award for the book; John Mason of Scholastic contacted me to say that his company would like to produce a short DVD which included photos of Pura Belpré plus interviews with some who worked with her and this DVD is packaged with the book; and Yuyi Morales [illustrator interview], winner of the Belpré award agreed to illustrate the cover of the book.
What were the challenges (research, psychological, literary, and logistical) in bringing it to life?
We were a team of five writers: Sandra Balderrama, Oralia Garza de Cortés, Jean Hatfield, Ana-Elba Pavon, and me–all located in different parts of the country.
Assignments were given, and this really worked well. I had a good, conscientious group that followed through and met deadlines. We encountered a few challenges finding a couple of the authors so that we could interview them, but aside from that, I have to say that the project went smoothly.
Without Sandra and Oralia on board, we would have missed out on the early stages of getting the award established.
Of the Belpré winners and honor books, which are your favorites and why?
This is a very difficult question.
There are a few that I like best to use at storytime, and these include the following:
Just A Minute: A Trickster Tale and Counting Book by Yuyi Morales (Chronicle, 2003);
The Bossy Gallito / El Gallo de Bodas: A Traditional Cuban Folktale retold by Lucía M. González, illustrated by Lulu Delacre (Scholastic, 1999);
Doña Flor: A Tall Tale About a Giant Woman with a Great Big Heart by Pat Mora, illustrated by Raul Colón (Knopf, 2005).
Each of these three books give me an opportunity to have kids join in with certain lines.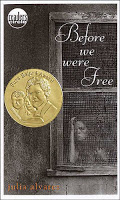 These are ones I love to book talk:
The Tequila Worm by Viola Canales (Wendy Lamb, 2007);
Before We Were Free by Julia Alvarez (Laurel Leaf, 2004);
Esperanza Rising by Pam Muñoz Ryan (Scholastic, 2000).
I use these three with middle-school children and will include reading a few passages to get them hooked.
In Latino youth literature more globally, who are "the big names," the "rising stars," and the red-hot newcomers?
Here are my thoughts. When I think of the big names, I think of Pam Muñoz Ryan, Pat Mora, Julia Alvarez, Gary Soto and Alma Flor Ada.
Rising stars include Yuyi Morales and Monica Brown.
I consider Viola Canales one of the red-hot newcomers, and I would also list Yuyi Morales in this category as well as the rising-star category.
What topics, geographic regions, and communities within the larger whole are still underrepresented in Latino youth literature?
I feel that we are just beginning to get a taste of what's to come. There is so much more to share and so many more communities to read about.
One day, we'll read about communities in more of the South American countries like Uruguay and Bolivia. We'll find out about traditions in the Mexican states of Guanajuato and Guerrero. We will enjoy learning and singing some of the traditional songs and rhymes from Chile.
In what areas, is the body of literature strongest?
There are certainly gems to be read and re-read in so many different genres, and I feel that books written with female protagonists are where there is an abundance of strong literature.
More books have been written with ethnic characters recently, and I think this is reflective of the diverse country we live in.
I am happy to see that stereotypes that once existed in older publications are no longer tolerated.
What do you do outside the world of youth literature?
I love to swim and try to do daily laps which gives me time for myself.
I also love to travel, and my best memories include waking up and looking out my cabin window and seeing the Grand Canyon, playing in the snow with my family in Santa Fe, and looking up at the Duomo in Florence.
Is there anything you would like to add?
I have two grown children, Steven and Jaclyn, and they are my proudest achievements.
When I was growing up, my parents never talked about college. While my kids were growing up, we spoke about when, not if…and I'm happy to say that they are both college graduates, both happy and successful in their chosen careers.