By Gail Langer Karwoski
Courtesy of Sylvan Dell
When did you start doing school visits?
As soon as my first book was published, I began visiting classrooms, schools, and libraries to talk to young readers about writing. I'm a former teacher and a mom, and my colleagues–as well as my children's teachers–invited me to speak to their students and library patrons.
At first, these visits were favors to people that I knew, so I visited at no charge. I love children (of course–that's why I write for them!), and I found that doing an "Author Visit" was a heady experience. The kids were so enthusiastic–they made me feel like a rock star!
At a bookstore signing, the owner asked if I'd be willing to join her "Authors in Schools" team. I gladly agreed, and since she arranged stipends for her author-speakers, I suddenly had a source of income while I waited for my royalties to "earn out."
How do schools learn about you?
At most schools, author/illustrator visits are arranged by the media specialist. Eventually, word-of-mouth will be your best advertisement. Many school media specialists subscribe to list-servs in their district or state, and–if they are pleased with your visit–they'll transmit information about you to others. Note: Most schools only invite one author per year, so the word-of-mouth method snowballs gradually.
How do you begin?
When you present programs or autograph at public libraries, stores, and conferences, hand out your business card or author brochure to teachers and librarians. (You can arrange your own book signing events or ask the publicist at your publishing company to help.)
You can reach out to teachers and librarians by presenting a workshop at conferences, as well. To apply to be a presenter at state, regional, or national conferences, you will need to submit a proposal. Go to the organization's website and download the application form. Consider starting with the International Reading Association (IRA), the National Science Teachers Association (NSTA), and the Association of School Librarians (ASL). Remember that the application deadline will be about six months before the conference, and your proposal stands a better chance of acceptance at a state/regional conference than at a national conference.
A website is also a great way to spread the word. Be sure to list "key words" that will help school media specialists locate your website when they search.
If there is a children's bookstore in your area, contact the owner to see if s/he books authors/illustrators into schools.
Some author/illustrators send out postcards/brochures to schools in a district, or they pay to join up with a service, such as http://www.author-illustr-source.com/ that advertises to schools. Others employ a booking agency. These services can be very expensive, so you would need to be available for many visits to pay off the initial investment.
What do you do in your school programs?
One good way to develop a school program is by watching what other author/illustrators do. Call the media specialists at schools in your area to see if they are hosting a visit and ask if you can join the audience.
You will discover that many authors/illustrators talk about their experience (their creating/publishing "journey") – how their first book was researched, written/illustrated, and published. Getting a story published is a rarity, and both kids and adults are usually intrigued by the process.
People are astonished to learn, for instance, that writers usually do not find their own illustrators or that the sale price of a book does not go directly and entirely into the author's and illustrator's pockets.
If your book's topic has a relationship with the school curriculum, you may want to build your program around the information that you researched when you created your story.
Include audiovisuals in your programs to illustrate what you are saying. Nowadays, most schools are able to project PowerPoint programs. All schools have an overhead projector to project transparencies.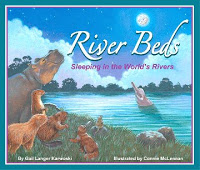 Kids love props. I bring stuffed animals to show children the marine and river mammals in my bedtime stories, Water Beds: Sleeping in the Ocean and River Beds: Sleeping in the World's Rivers (both Sylvan Dell). I pass around quartz crystals, like the "sparkly rock" that Julie finds in my Earth Science book, Julie the Rockhound (Sylvan Dell).
Keep your programs short enough to fit into the school schedule. Forty-five minutes is a good length for grades 3 and older. But primary schoolers (Grades pre-K through 2) get squirmy after 30 minutes. Allow a brief amount of time for questions and answers at the end of each program.
Be sure the school schedule includes 10-15 minute breaks between programs. (You may need a bathroom break. Plus, it takes time to get a group of children out of the room and bring a new group in.)
As you accumulate more books, you may want to offer different programs geared to your various titles or to the age/grade of your audience. Often, schools want authors/illustrators to do a hands-on program (a writing workshop or a drawing class) for selected participants.
It may sound like a lot of work to prepare several programs, but you can add new programs gradually. Eventually, you will probably enjoy having several programs so that you don't find yourself saying the same thing over and over.
In addition to creating a program, do you do anything else to prepare for a visit?
Yes! I usually exchange at least four emails or phone calls with the person who is arranging my visit…
• I ask to see the day's schedule so I can make suggestions, like grouping children by age/grade and allowing "travel time" between programs.
• I ask for directions to the school–including landmarks to help me find my way in an unfamiliar area–and instructions for parking.
• I help the media specialist arrange for my books to be on hand, if the school wants to offer book sales and autographing.
• I ask what room I will speak in. (I think that media centers provide the best atmosphere for an author/illustrator program. But a larger room may be necessary. A multi-purpose room is the next best facility. Gyms and cafeterias are often noisy and hot; they offer poor acoustics and awkward seating, but they may be the only available rooms in a school.)
• I let the school know what equipment I will need, such as a microphone if I will address large groups or speak in a gym.
• I exchange home and mobile numbers with the school contact person, in case of last-minute problems, such as a traffic jam.
What do you wear to a school?
The best advice that I've ever received about wardrobe in school is: Wear comfortable shoes!
Choose clothes that would be appropriate in an everyday setting where you meet the public – think conservative skirts or nice slacks. In many schools, teachers are not permitted to wear jeans (except on special occasions), so you should avoid them, too. Schools frown on revealing clothing–no cleavage or midriffs showing, no short shorts, and no skin-tight clothes.
Children enjoy bright colors, and it's easier to pay attention to a speaker who is dressed in colorful clothes.
Since you don't know whether you'll be speaking in a too-cold or too-hot room, dress in layers and avoid heavy sweaters. (Generally, school rooms are overheated, rather than too chilly.)
What about book sales?
Most schools offer books for sale to students and faculty while an author/illustrator is on campus. For the children and faculty who can afford to buy a book, this is a special souvenir of your visit.
Where does the school get a supply of your books? The media specialist may:
• order books directly from the publisher;
• ask a nearby bookstore to supply them;
• request that you bring books along.
Book sales can be used as a fundraiser by the school to partially or totally offset the cost of your visit. How does this work?
The supplier provides your books at a discount (usually this is up to 20% off the cover price) to the school. The school may choose to pass on all or part of this discount to the book buyers. Or it may decide to sell the books at cover price and keep the difference. (Since schools are nonprofit organizations, they do not need to charge sales tax, so–even at cover price–buyers still receive a little savings from school book sales.)
If a school contacts your publisher to get a supply of books, it will also receive a shipping label to return any unsold books. Some schools think that returning unsold books is a hassle, so they prefer to use a nearby bookstore or request that you supply your own books.
If you are willing to bring along boxes of books, this is a great convenience for the school since you will take home any unsold copies. (Note: Usually, it will take a week or more for the school to issue a check to you to cover the cost of all books sold during your visit.)
What happens if you run out of copies when you are at school?
I take orders and send the autographed books after my visit.
You will be very busy on the day of your visit and so will the media specialist, so you will need a helper to take charge of book sales. Suggest that the media specialist designate a paraprofessional or a parent volunteer to take book orders, collect checks and money, issue change, and sort books into piles by grade and homeroom.
Be sure to bring along a pen for autographing. I like to use black click-top Sharpies since they make clear, sweeping, fast-drying lines on my picture books. (I always bring an extra, in case the first Sharpie runs out of ink.)
How much money do you receive as a stipend?
My stipend has increased over time. When I began, I charged $300 per day. That included four-to-five programs of 45-minutes each, plus autographing and lunch with selected students. Over time, I raised my rates–usually by $50-100 each year.
Today, with nine books in print and a decade of experience as a visiting author, I average about 25 school visits each year, and at the end of the year, my stipends usually exceed my income from royalties.
In general, authors and illustrators charge more as they accumulate:
• years of experience doing author visits;
• books;
• awards.
Most authors/illustrators set a stipend based on a certain number of programs per day. Typically, the base rate seems to be for three programs per day, with an extra fee for a fourth program. (I learned the hard way that it's wise to specify how many programs you are willing/able to do. When I first started, I sometimes let schools cram in as many programs as they wished. I discovered that I was inviting abuse–some schools scheduled me for seven programs, with no breaks, and by the end of the school day, I could barely utter a sentence.)
Usually, authors/illustrators agree to autograph books while on campus, for no extra charge. You may be asked to have lunch with selected students or to be interviewed by the school news team; if you are willing, these "extras" are also part of the basic fee for the day.
Distance is also a factor in setting a fee. Most authors/illustrators charge less, as a courtesy, for schools in their home district. By the same token, they usually charge extra if an airplane ride is involved. Some speakers build travel/lodging/meals into their "long distance" rate; others specify the stipend and add "plus travel/lodging/meals."
Who makes the arrangements for lodging and who purchases airplane tickets?
Usually, the author books his/her plane, but the school arranges the lodging at a nearby motel. The school usually provides lunch on campus.
Before you visit a school, discuss the amount of your stipend. Some schools will need you to create a simple contract, so they have a "paper trail" for their bookkeeper's records. At most schools, a check for your stipend will be ready for you on the day you arrive.
If you don't need the money, is there any reason to do author visits to schools?
My goodness! Is there an author/illustrator who does not need the money?
In addition to income, author visits are beneficial in many ways:
• Writing/illustrating is a solitary occupation. It's reinforcing to meet the youngsters, teachers, and librarians who are enjoying your books.
• Being around kids is the best way to keep current about what kids are learning, laughing about, and interested in. Your stock of info about kids will help you select future writing topics and create age-appropriate imagery.
• Usually, schools sell copies of your books for you to autograph while on campus. These book sales are nothing to sneeze at–at one school visit, a hundred or more books may sell! While bookstores return "older" books to make room for the newest titles, your books are the latest and greatest whenever you visit a school. Many authors manage to keep their books in print because they visit many schools.
• School visits forge lasting relationships between teachers and librarians and your books. These adults are likely to follow your career, recommend your books to others, and purchase your future titles.
• Best of all, school visits transform kids into lifelong readers. When a child can "touch" the human hand behind the printed page, books become deeply personal and important. After meeting an author/illustrator, a child feels a special connection with a book. Eventually, this spark grows into a fire that lights a lifelong love for reading.
What if you have stage fright?
If you are nervous about speaking in public, you are not alone–lots of people hate to stand up and speak in front of a group of people, especially strangers.
If you are worried about public speaking, start small. Offer to pay a free visit to one classroom. Notice what the kids react to, what makes them giggle or gasp. Adjust your program so that you know it has audience appeal. Nobody is forcing you to become an author/illustrator in a speaking environment, so stick one toe in the water and see how it feels. You'll probably be surprised and delighted by the result.
I think that public speaking gets easier the more you do it, and children are reassuring listeners. They wear their enthusiasm on their faces. Kids think that all adults are confident experts on every topic–they do not expect grownups to make mistakes or be nervous. Their confidence in you will be contagious–pretty soon, you'll feel it, too!
About Sylvan Dell Publishing
"Sylvan Dell picture books with science, math and nature themes excite children's imaginations through fun stories, vibrant artwork and a three-to-five page 'For Creative Minds' educational section in the back of each book. But that is just the start…what really makes the books unique, is their tremendous amount of free, online educational material available for cross-curricular learning, including: 30-80 page Teaching Activities, Interactive Reading and Math Quizzes, and much more. They have 57 authors and illustrators on the Sylvan Dell team, and their 35 titles have been honored as nominees, finalists, or winners of more than 50 book awards. Sylvan Dell eBooks, available in English and Spanish, are wonderful for use with in-classroom projection or interactive whiteboards (Smartboards) and are ideal for Spanish language classes and ESL students at all grade levels."