The 2007 Friends Medallion Book Award is chosen by the elementary students at Virginia Beach Friends School from twenty nominees. After more than a month of reading and critiquing each submission, the two books that the children felt best reflected the theme of friendship were:
Scaredy Squirrel Makes a Friend by Mélanie Watt (Kids Can Press). Read a Cynsations interview with Mélanie. From the promotional copy:
"That lovable little worrywart is back. And he's as scaredy as ever! In his latest adventure, Scaredy Squirrel sets out to make The Perfect Friend.
"And once he's spotted a perfectly safe candidate (with no teeth), Scaredy's ready. Armed with a name tag, mittens, a mirror and a lemon, he's prepared to make The Perfect First Impression. But just when every detail is under control, Scaredy's Action Plan takes a surprising—and "toothy"— turn. Will he survive this ordeal? Will he find his kindred spirit? Will he discover the true meaning of friendship? Read Scaredy's nutty story to find out…"
and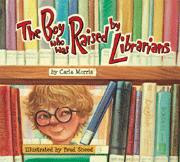 The Boy Who Was Raised by Librarians by Carla Morris, illustrated by Brad Sneed (Peachtree). From the promotional copy:
"Every day after school Melvin goes to the library. Everything has its place in the library and Melvin likes it that way. And his favorite people–Marge, Betty, and Leola–are always in their places, behind the reference desk.
"When something interests Melvin, his librarian friends help him find lots and lots of books on the subject. When he collects creepy bugs in a jar, they help him identify, classify, and catalog the insects. When he is cast as the Enormous Eggplant in the school play, Betty reads aloud from Organic Gardening to help him find his motivation. As the years pass, Melvin can always find the answers to his questions–and a lot of fun–in the library. Then one day he goes off to college to learn new things and read new books. Will he leave the library and his friends behind forever?
"Readers will enjoy Brad Sneed's delightful illustrations that colorfully capture the fun-loving spirit of Carla Morris's story about the contagious enthusiasm of learning."