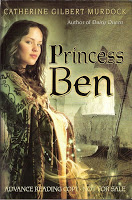 "Catherine Gilbert Murdock's first two YA novels, Dairy Queen (Houghton Mifflin, 2006) and The Off Season (Houghton Mifflin, 2007), feature laconic Wisconsin farm girl–and football player–DJ Schwenk. Murdock's latest novel, Princess Ben (Houghton Mifflin, 2008), stars a very different type of character in an imagined fantasy world." Horn Book executive editor Martha Parravano interviews Catherine about "this shift from contemporary realism to fairy-tale fantasy." Listen to the Horn Book podcast!
"All Answers are Yes" from Editorial Anonymous. [On pre-contract revisions,] peek: "This is also a test: the good writers are the ones who are good at rewriting. Some people are only good at first drafts, or terrible at using feedback effectively, and I'd like to know that about someone before I commit to working with them for months/years and spending many thousands of dollars on their project."

"Going on Recon…" from Brooke Taylor. Peek: "If you know an ill or injured teen or one with sick family members or friends, the following books are recommended by YALSA librarians…"
Kids Q&A with Justine Larbalestier from Powell's Ink. Peek: "I remember that feeling when I was a young reader, finding books that were set in Sydney with Australian characters was incredibly exciting." Read a Cynsations interview with Justine.
"From the Mixed-up Files of Agent Manners–age and writing" by Jennifer Jackson at Et in arcaedia, ego. Peek: "Age is unlikely to get you noticed. Brilliant writing and marketable concepts will. If you don't mention your age in an inquiry, it's unlikely an agent will ascribe any weight to such a statistic." See also "Multiple Offers of Representation." Peek: "…do keep in mind that the object here is not to play the agents off each other but to find the best match for yourself as author."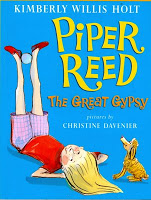 April Giveaway: Enter to win a copy of Piper Reed: The Great Gypsy by Kimberly Willis Holt, illustrated by Christine Davenier (Henry Holt, 2008). Read a Cynsations interview with Kimberly about the first book in the series, Piper Reed: Navy Brat (Henry Holt, 2007). Peek: "I'm a Navy brat. Like Piper's dad, my dad was a Navy chief. And also like her, I'm one of three girls. However I'm the oldest daughter. I was a pretty serious kid, and I wasn't sure if that would be a fun point of view for young readers. My middle sister was the clown in the family. She was clever and funny. She certainly inspired Piper, although as I wrote the character became different."
A Rose By Any Other Name by Susan E. Goodman from I.N.K. (Interesting Nonfiction for Kids). Peek: "As we all know, words matter. So what about the one that describes our genre of writing: nonfiction. I used to feel just fine about it, but now I have a slight twinge. After all, it does have a negative point of reference. The 'I'm not fiction' instead of the 'I am something' kind of writing." See also "To Quote or Not To Quote: Invented Dialogue" from Tanya Lee Stone, also at I.N.K.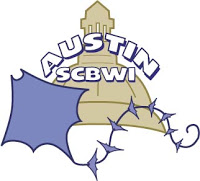 Austin SCBWI offers a great line-up for its April 26 conference. Speakers include: author and editor Deborah Noyes Wayshak from Candlewick Press (author-editor interview); Alvina Ling from Little Brown (personal blog); agent Erin Murphy (interview from Olswanger.com)(interview by Pam Mingle from Kite Tales, Rocky Mountain chapter, SCBWI); artist's agent Christina Tugeau; and writing professor Peter Jacobi. See details at Austin SCBWI. Note: I hope to see you there!
Writing to Deadline by Liz Garton Scanlon. Peek: "Yes, I capture phrases out of dreams and pound out plots while I walk and generally try to stay in a muse-induced state as frequently as a mother of two with a marriage and a mortgage can. But I still produce most effectively when someone's expecting something from me. " Read a Cynsations interview with Liz.
More Personally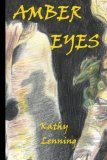 Congratulations to Kathy Lenning on the publication of Amber Eyes (Book Surge, 2008). Note: Kathy was in my original critique group in Austin. She will be signing from 10 a.m. to 2 p.m. April 19 at Java Stop, 301 Main St., in Longmont, Colorado.