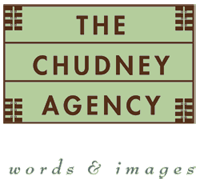 Steven Chudney founded The Chudney Agency of Briarcliff Manor, New York in 2002.
What inspired you to become a literary agent?
Well, I've always loved books, of course, and I had long enjoyed working in children's book marketing. For me, it was also a timing issue. I had committed the cardinal sin of resigning from a job without another one already lined up. This was three days before Sept. 11…
Needless to say, all of New York and the world came to a standstill, and so most NY companies were not doing any hiring for many months. A wise friend urged me, again, to consider being an agent. In the past, I had dismissed the idea, but in 2001 it seemed like a good plan and I was ready for the challenge. So, I had my letterhead and business cards printed, made some calls, sent out tons of emails, and hung my agency shingle outside my door–The Chudney Agency was born.
What led you to specialize in youth literature? Could you give us a snapshot of your career?
My first job…was selling paperbacks for Dell Publishing in their small telemarketing department–so I have always believed that if I can sell a book over the phone from New York, sight unseen, to a book buyer somewhere in Des Moines or Anchorage, then I can sell just about anything.
Since then I have held various sales and marketing positions at Viking Penguin, Farrar, Straus & Giroux, and Simon & Schuster. My last publishing position was with (the now defunct) Winslow Press where I held the position of Senior Director of Marketing, Sales & Subsidiary Rights.
I have sold and marketed every imaginable type of book–adult and children's, hardcovers, pop-up books and paperbacks–to wholesalers, independent bookstores and chain stores alike, but spent the last 10 years of my corporate publishing years in children's books.
How long have you been in the business? How has it changed?
I'm in the midst of my fifth year in business [as an agent]. In this period, I've seen the great slow down in picture book business. Also, when I first began agenting, fantasy was still hugely in demand, thanks to Harry Potter and other books like the Golden Compass. More recently I'm seeing less demand for fantasy. But I continue to be impressed with how children's literature continues to evolve and change, how new sub-genres emerge from time to time.
I especially think we're in an era where middle grade and teen fiction for kids and teens is the richest in history.
Would you describe yourself as an "editorial agent," one who comments on manuscripts, or one who concentrates more exclusively on publishing issues? Why?
I'd describe myself as both, actually. I do get involved editorially on all my clients' manuscripts, both picture books and novels. I routinely work with my clients on as many revisions as it takes to bring out the best in every manuscript. Once I've placed a manuscript with a house, I then switch gears and begin to work with the client on marketing, promotion and sales concerns.
Is your approach more manuscript by manuscript or do you see yourself as a career builder?
I am definitely a career builder. Most agents typically like to know that there's more than one book in author. But sometimes there is only that first novel by a new writer–and that's all the material I have to judge their talents on. But I always ask if they're at least thinking or working on something else as well.
Why should unagented writers consider working with an agent?
One of the main reasons is that these days so many of the larger- and medium-sized houses are not accepting unsolicited material–and so if one wants to be considered by one of those houses, there really isn't much of a choice.
I also tend to think that agents really understand the process so much better than authors do and are better poised to negotiate terms and advances, as well as retain subsidiary rights like film/TV and foreign language rights. Of course, agents know the tastes of specific editors, and their likes and dislikes within the world of children's literature.
What do you see as the ingredients for a "breakout" book in terms of commercial success, literary acclaim and/or both?
This is a toughie. It really can depend on so many things: storyline, genre, timing, etc. We can look to Harry Potter for its influence on the fantasy genre, The Gossip Girl series for contemporary teen chick lit, The Invention of Hugo Cabret (by Brian Selznik) for a new type of novel with art/graphic novel, or Stephenie Meyer (author interview) and her vampire novels for really fueling the powerful supernatural genre that is now so popular–all these huge successes established not just the authors but also genres within children's literature. But in the end, I think it is the writing and execution that really makes or breaks most books in the marketplace.
In terms of markets (children's, YA, fiction, non-fiction, genres, chapter books, ER, picture books, etc.), what sorts of manuscripts appeal to you?
I love them all! Even though the picture book market is still soft, I enjoy working on those–and I particularly love those picture books that will appeal first to the child–not the parent or librarian.
The market for chapter books is not huge, and for early/leveled readers even smaller.
I like all the different age categories, especially middle grade and teen novels. Here I really love a meaty, wonderful novel with great and memorable characters. I tend to shy away from genre or "hot," trendy type books. I'm not a fan of fantasy and must be one of the few agents not looking for any of that or science fiction. So, to use gardening terminology (I just moved into my first house ever), I prefer to work on novels that will become perennials, rather than annuals.
Do you work with author-illustrators and/or illustrators?
Yes, I do. I don't handle illustrators, but I've recently begun taking on more author/illustrators, and I'm having great fun in the process.
Are you accepting unsolicited submissions? What is the best way for a prospective client to get in touch with you?
At the moment, I'm looking for author/illustrators only. However, that will change soon, and I'll be looking for other types of material. The best way for any prospective writer to reach me (or any agent) is to simply go their website and review the agents' site to see what they are currently looking for—as our needs can change from time to time. The beauty of websites is that we can change our requirements according to the vagaries of the business and if our needs change.
Do you have any particular submissions preferences or pet peeves?
I feel that the submission information and instructions on my website are pretty clear–yet I'm astonished at how many prospective writers don't take the time to read it properly. How can they not realize that they are doing themselves a great disservice by sending in something I'm not looking for, or not providing all the material requested?
How much contact do you have with your clients? Emails, phone calls, retreats, listservs? What kind of relationship are you looking to build and why?
I have as much contact as is needed. We communicate heavily via email, but I also schedule lots of phone chats, especially with my novelists. I like to consider what I have with my clients a partnership, and I value good communication and trust between us. I've become very friendly with some clients, not quite friends, but enough that our friendship certainly takes the hard business edge off our relationship.
What are the greatest challenges of being an agent?
Oh, let me count the ways… Really, it isn't that bad. I suppose working with so many creative types can present some challenges, but I tend to shy away from prima donnas (and primo dons)–I much prefer working with fun and level-headed talent!
Sometimes I puzzle greatly over a rejected manuscript, especially one I truly love and believe in. I had one middle grade novel I adored and finally sold on the 18th submission. It is always a drag waiting to hear back from editors, and I really loathe nudging them for responses. Many agents have their own personal list of "black hole" editors–and we tend not to send them material after a while, which truly is a shame….
What do you love about it?
I love all the reading, of course, but most of all I love discovering that diamond in the rough, assisting in it's polishing, and sending it out into the world. I consider myself very lucky in my chosen profession! I love being a part of the making of a good book. I also especially love the phone call I make when I break the news to a client that a manuscript has received an offer.
Would you like to highlight a few of your clients and/or their recent titles?
Well, since I cannot mention them all, and I value my life, I think I'll share with you some recent and forthcoming books of note:
—Hungry Monsters ABC (Little Brown), Susan Heyboer O'Keefe. Sequel to bestselling picture book—we hope to develop the monsters into a nice franchise;
—Merry Christmas, Cheeps! (Bloomsbury), Julie Stiegemeyer, illus. Carol Baicker-McKee (both clients);
—The Return of Light (Marshall Cavendish), Dia Calhoun, all ages. Lovely Christmas fable;
—Do the Math: Secrets, Lies, and Algebra (Greenwillow), Wendy Lichtman. A smart tween series about math and life;
—Stray (Delacorte), Stacey Goldblatt. Teen novel. Dogs, romance…and life;
—Blood Brothers (Delacorte), Shirley Harazin. Teen. Riveting medical drama/thriller;
—Choices (Roaring Brook), Deborah Lynn Jacobs. Teen. Paranormal; sister seeking dead brother.
Avail 2008:
–The Youngest Templar trilogy (Putnam), Michael Spradlin. Teen. We've sold the trilogy to six countries in Europe so far!
–Braless in Wonderland (Dutton), Debbie Reed Fischer. Teen. Modeling in hot Miami;
–Temptress Four (HarperCollins), Gaby Triana. Teen. 4 teens on a cruise after HS graduation;
–Prom Kings & Drama Queens (HarperCollins), Dorian Cirrone. Teen. About romance and alternative prom.
As a reader, which books have you enjoyed lately and why?
On the adult side I love John Irving, Richard Russo, and Anne Tyler in particular. On the kid's side, there are so many, but I love the Larry novels by Janet Tashjian, the novels of Blue Balliett, E.L. Konigsburg, John Green, Sarah Dessen. I suppose I could say that I like smart novels about smart kids. Some others I've enjoyed are:
—Bright Angel Time (Harcourt), Martha McPhee (published by an adult house, but features a young girl);
—Saint Iggy (Harcourt), K. L. Going;
—Memoirs of a Teenage Amnesiac and Elsewhere (FSG), Gabrielle Zevin;
—Al Capone does My Shirts and If a Tree Falls at Lunch Period (Putnam), Gennifer Choldenko;
—Absolutely True Diary of Part-time Indian (Little Brown), Sherman Alexie. One can't help fall in love with the protagonist, plus there's so little literature about Native Americans.